When it comes to graphic design, color plays an important role. In fact, selecting a great color palette is one of several graphic design tips we advocate.
But if you're not a designer, you might be a little low on design inspiration.
Not to worry…
In this post, we've curated a killer list of resources for color palette inspiration. From color palette generators to color palette ideas, now you'll never run out of colors ever again.
Let's dive in!
Pigment by Shapefactory is by far the best color palette generator on the internet and is recommended by designers everywhere.
Not only does Pigment by Shapefactory provide a wonderful user interface but it also provides an awesome user experience. You can easily choose the color palette of your choice and modify the palette directly from the browser by adjusting the pigment and the lighting.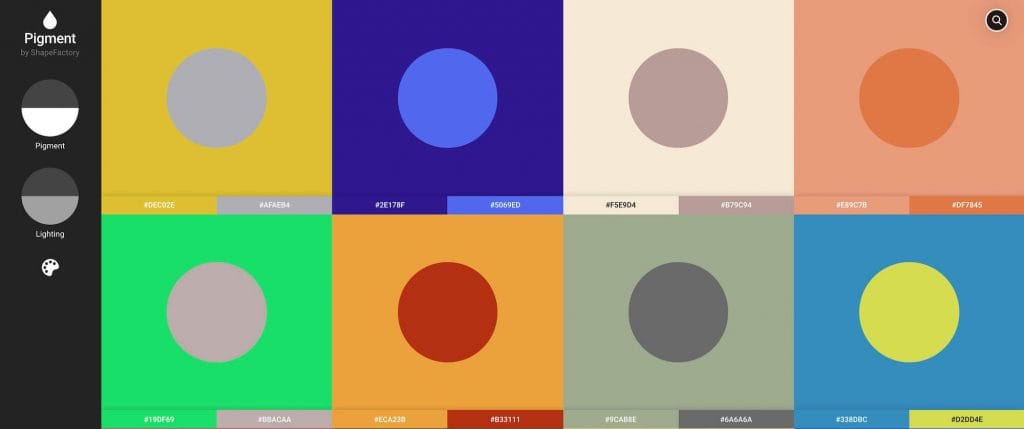 Once you've found the color palette that you want in Pigment, you can adjust the shade of the colors to your liking. The website allows you to copy a variety of color codes in RGB, Pantone, and HEX.
My favorite feature from Shapefactory is the ability to search duotone stock photos using the color palette that you picked. In addition to duotone images, you can also generate a gradient background based on the color combination too – such a game changer!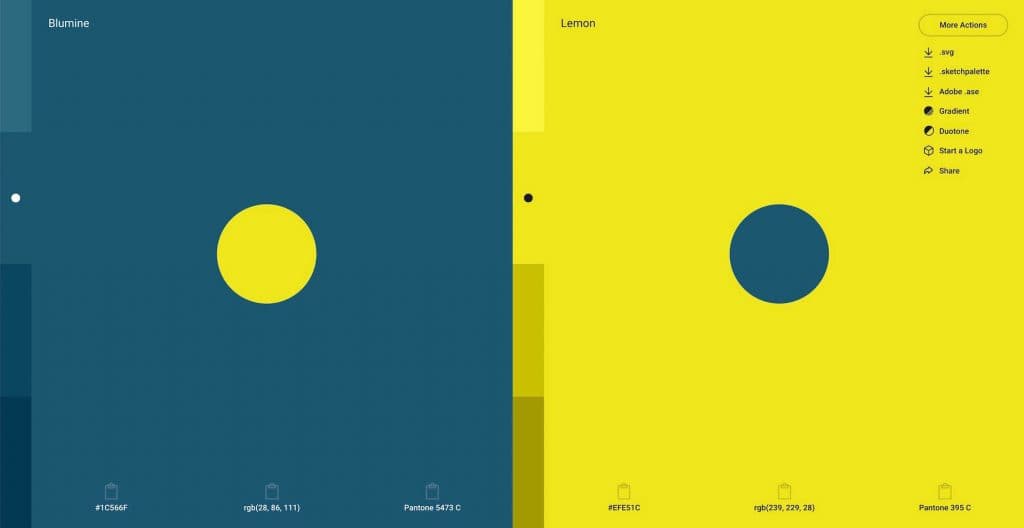 Coolors is a super fast color scheme generator that allows you to create, save, and share perfect palettes in seconds. You now have the ability to generate color schemes from an image and toggle different shades to match your design needs.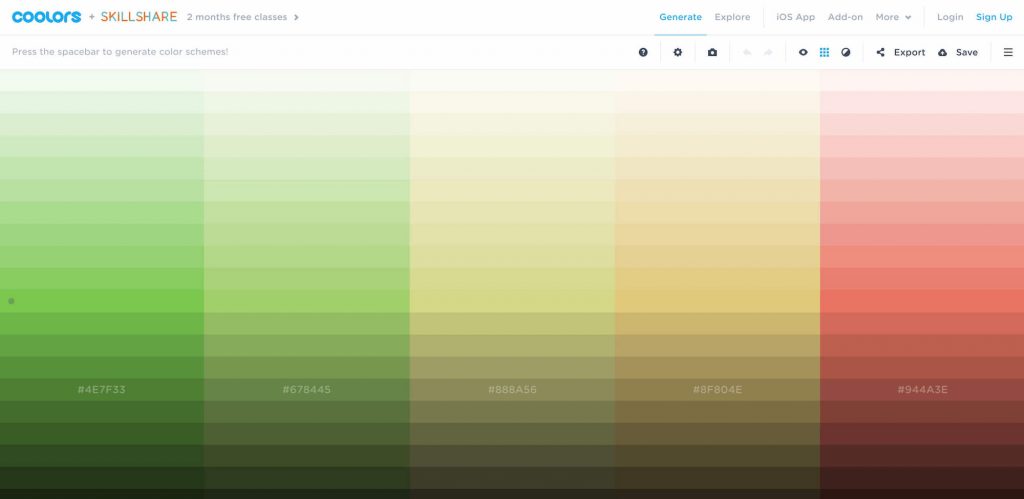 Additionally, you can also use their 'Explore' feature to browse thousands of color schemes created by the community.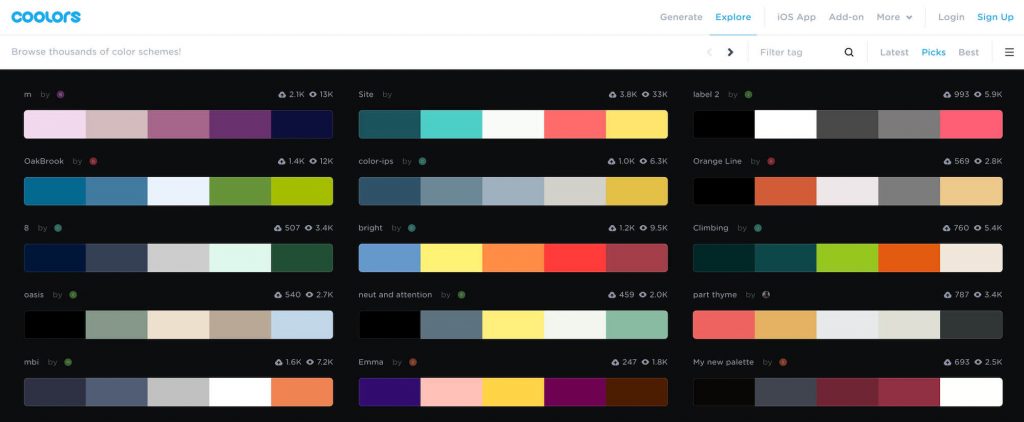 Coolors is a perfect way to find color palette inspiration since it allows you to explore new color combinations and sort through the best ones voted by the community. They also do a great job of providing daily color palettes on their Instagram page!
Adobe Color allows you to create color schemes based on the rules of color theory. With the updated version of Adobe Color, you can now generate and explore thousands of color palettes for inspiration.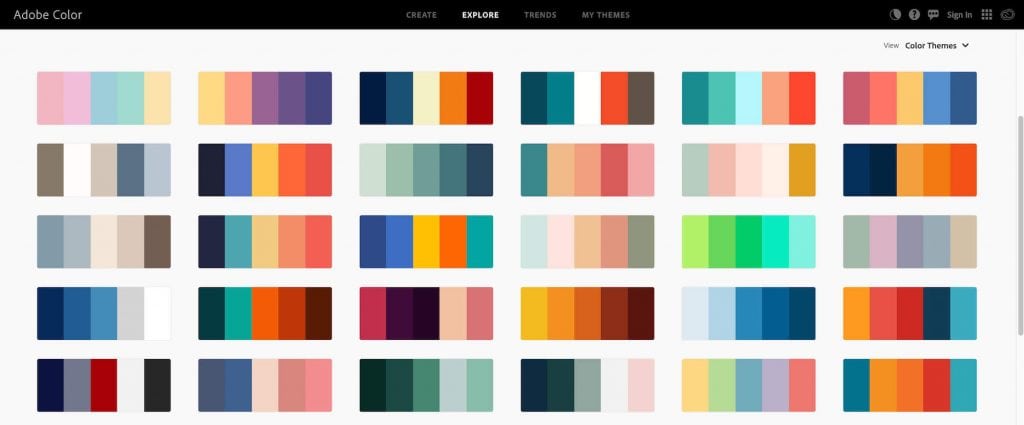 In addition, you can also explore thousands of color combinations created by the Adobe community. In addition to user-generated color schemes, you can now browse trending color palettes that fit your design needs.
Adobe has organized popular color combos based on industries such as graphic design, illustration, fashion, architecture, and much more!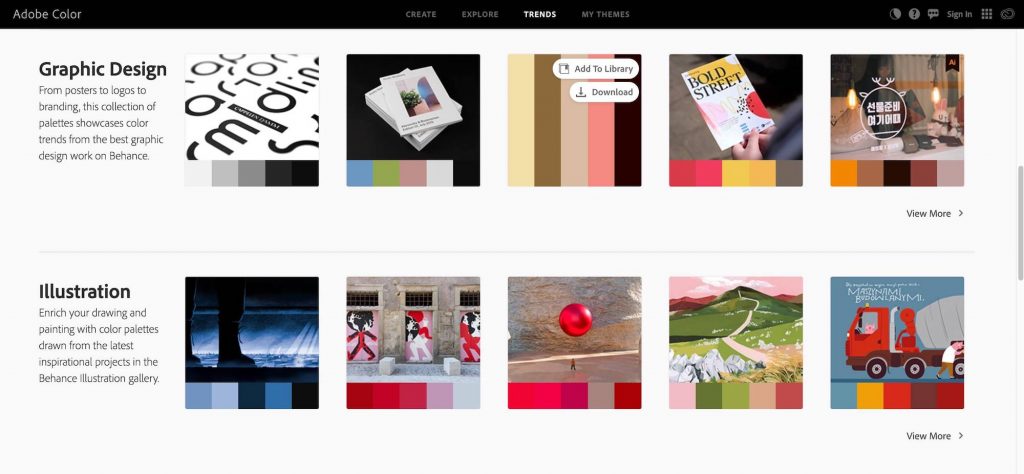 Color Hunt is a curated collection of beautiful colors schemes, updated daily. You can also sort colors by new, trending, random, and popularity (as voted by the community).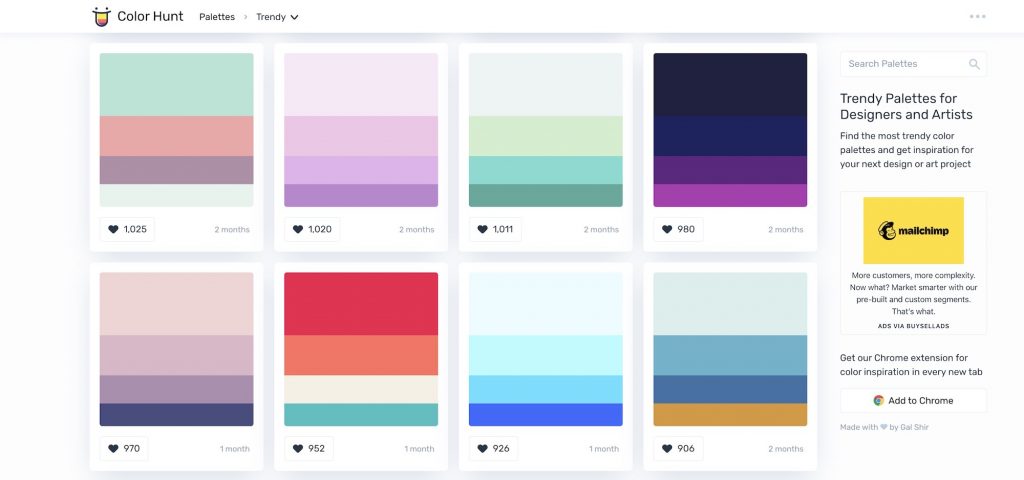 What I like about Color Hunt is that it's a simplified color generator. You have 4 colors that work well together and it's organized in a way that's easy for you to decide which combination to use.
You can even add the Google Chrome extension to help you get color inspiration with every new tab opened!
Design Seeds celebrates colors found in nature and the aesthetic of purposeful living. Jessica, the creator of Design Seeds, curates photos submitted on Instagram and creates color palettes around them.
The website is a great place to gain daily color palette inspiration for specific themes. Jessica does a great job of sharing color combinations based on what is currently trending.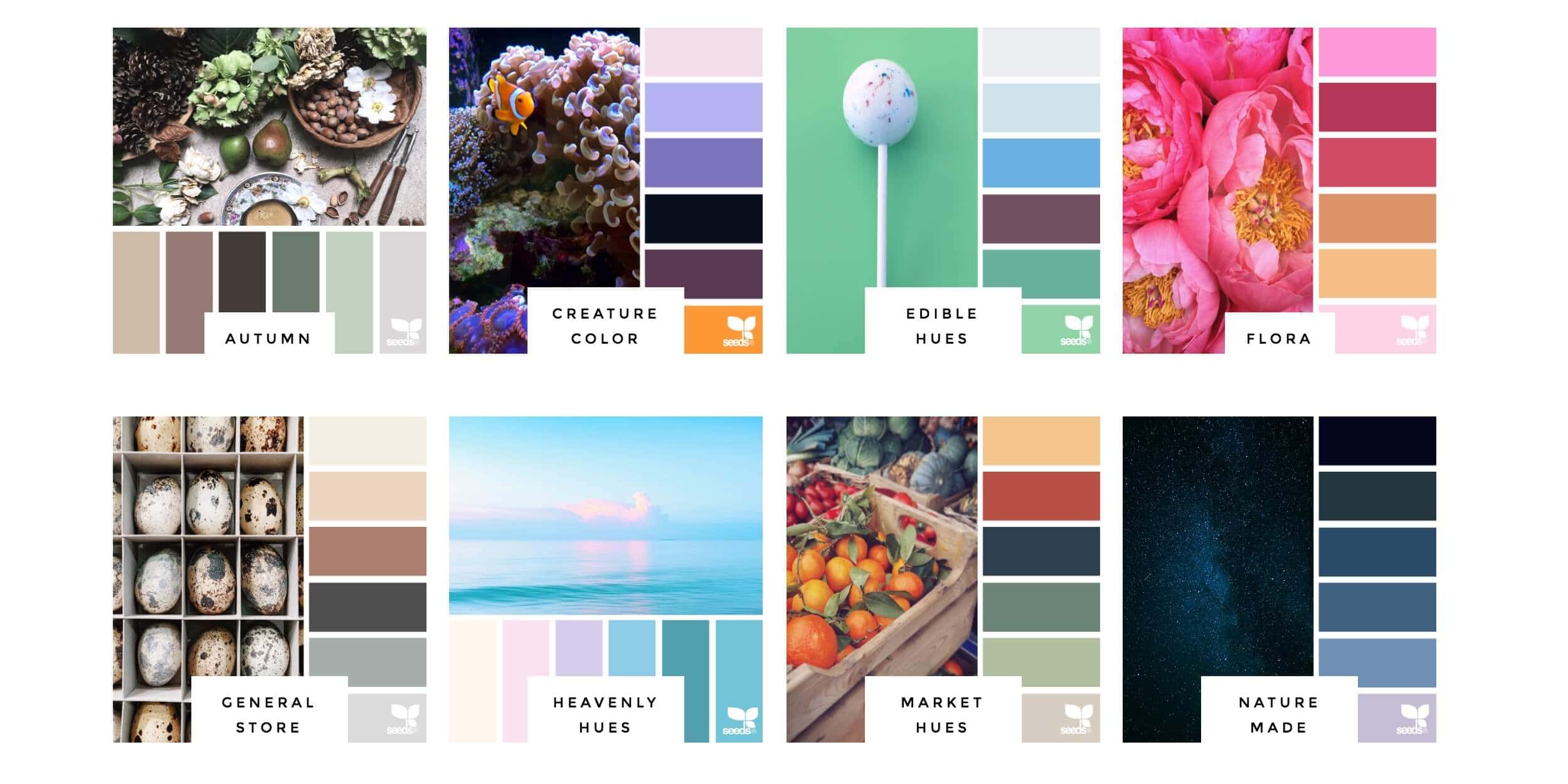 Not only is Dribble a great place for design inspiration, but Dribble is surprisingly a great source for color palette inspiration.
In Dribble, you have the ability to sort through designs based off the color of your choice. Not only will this help you decide what colors to use, you'll be able to get some general design inspiration as well!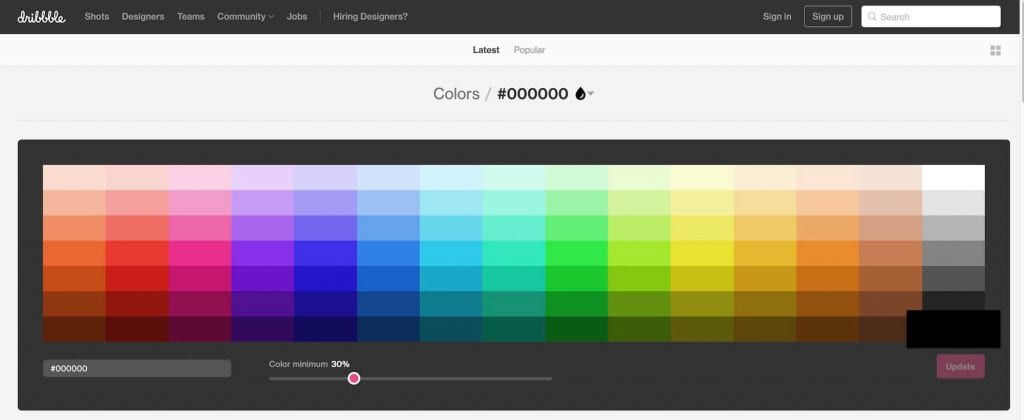 Additionally, what you may not know is that you can actually find color combos under a Dribble graphic right beside the comments.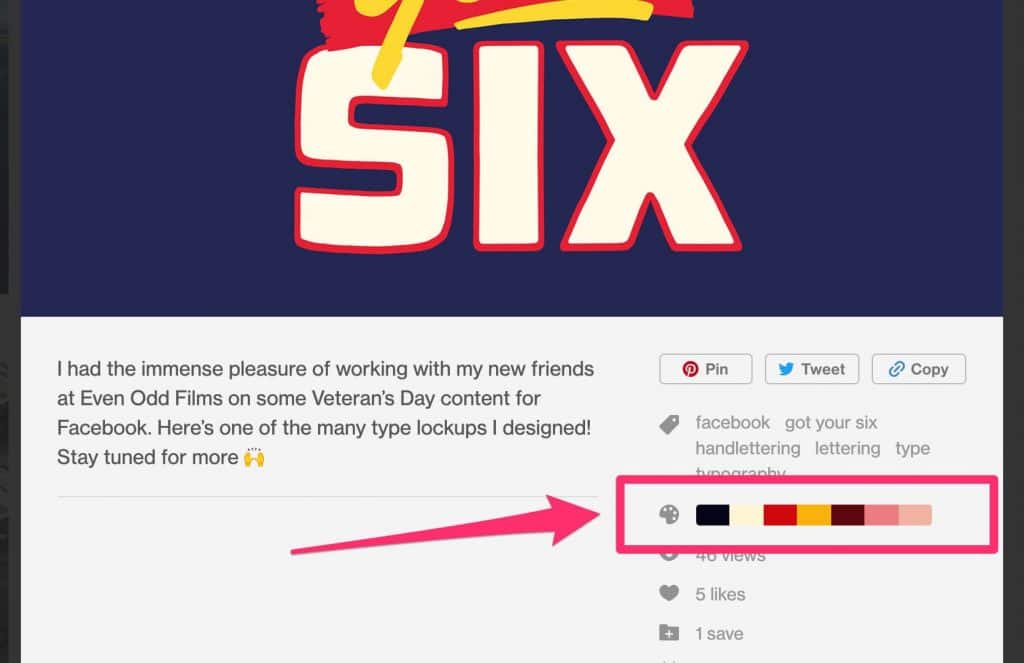 Muzli is a new color palette generator that I came across which has a great user interface. If you know what color you're looking to use, you can generate color schemes based on that. However, the website also has several color recommendations as you continue to scroll down.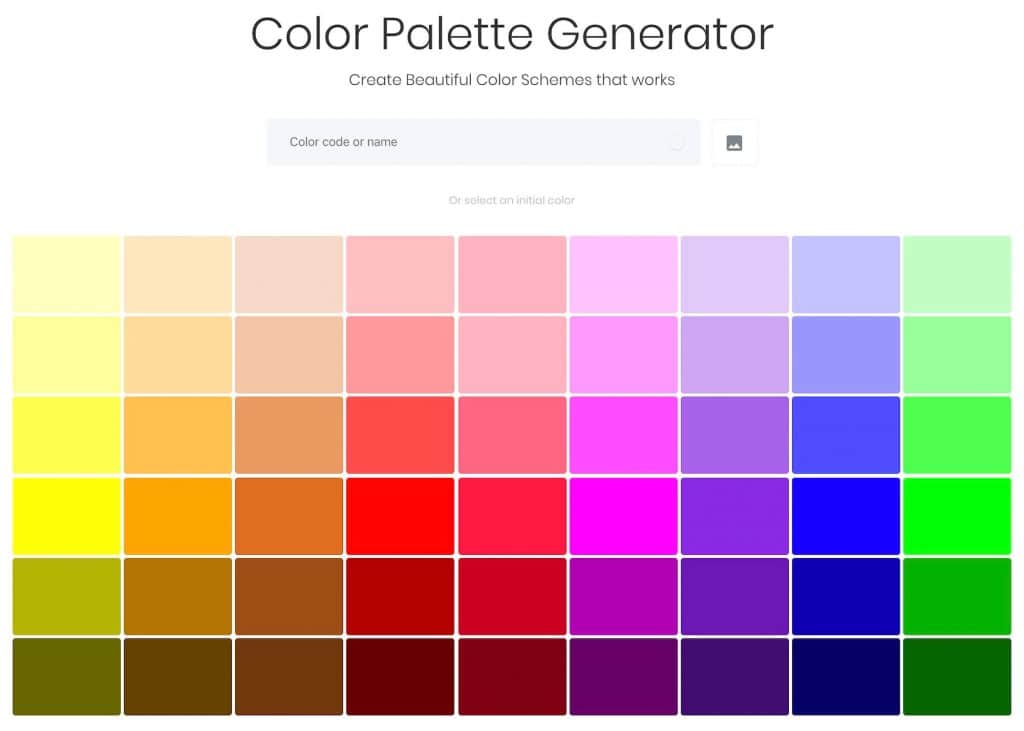 My favorite part about Muzli's color palette generator is the mockup within the dashboard that allows you to preview how the color palette might look on your project.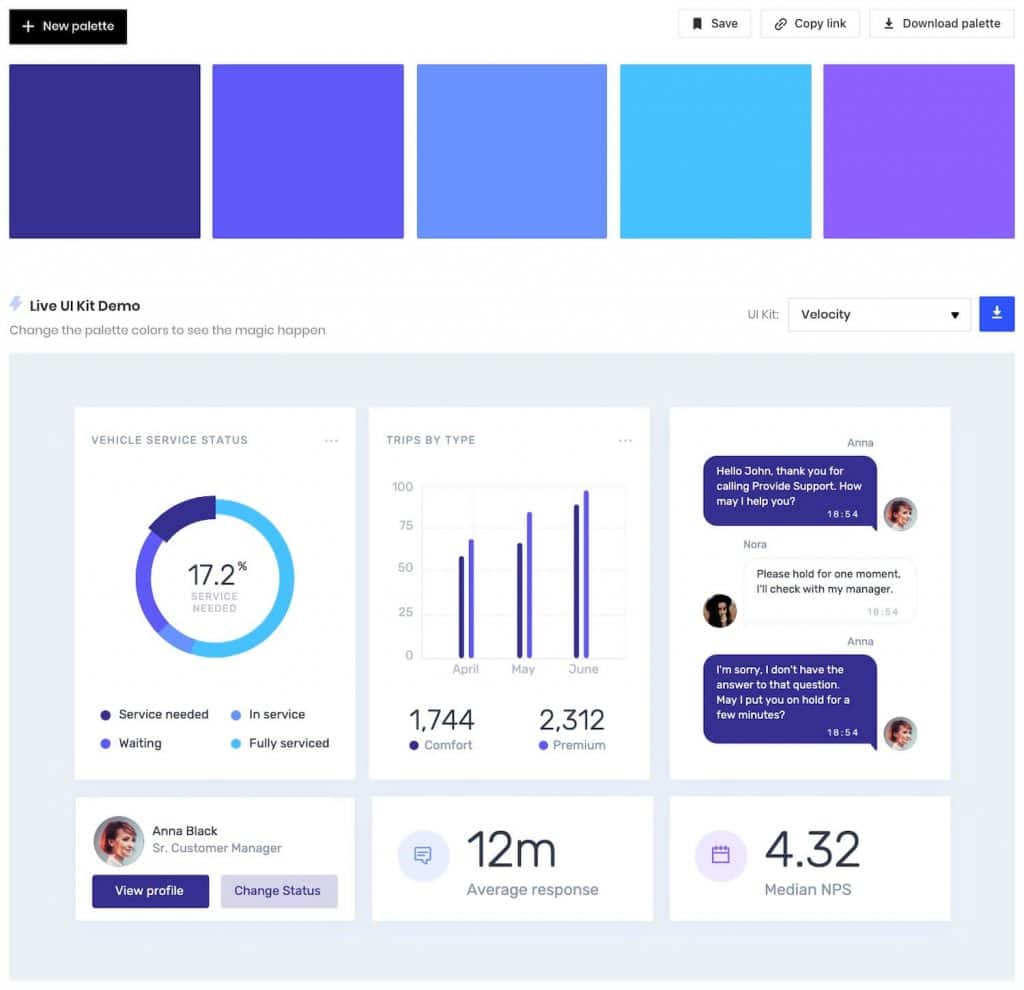 Colour Lovers offers over 1 million user-generated color palettes to inspire your design. What's great about this site is the ability to sort color combinations based on popularity in order to quickly identify stunning color palettes.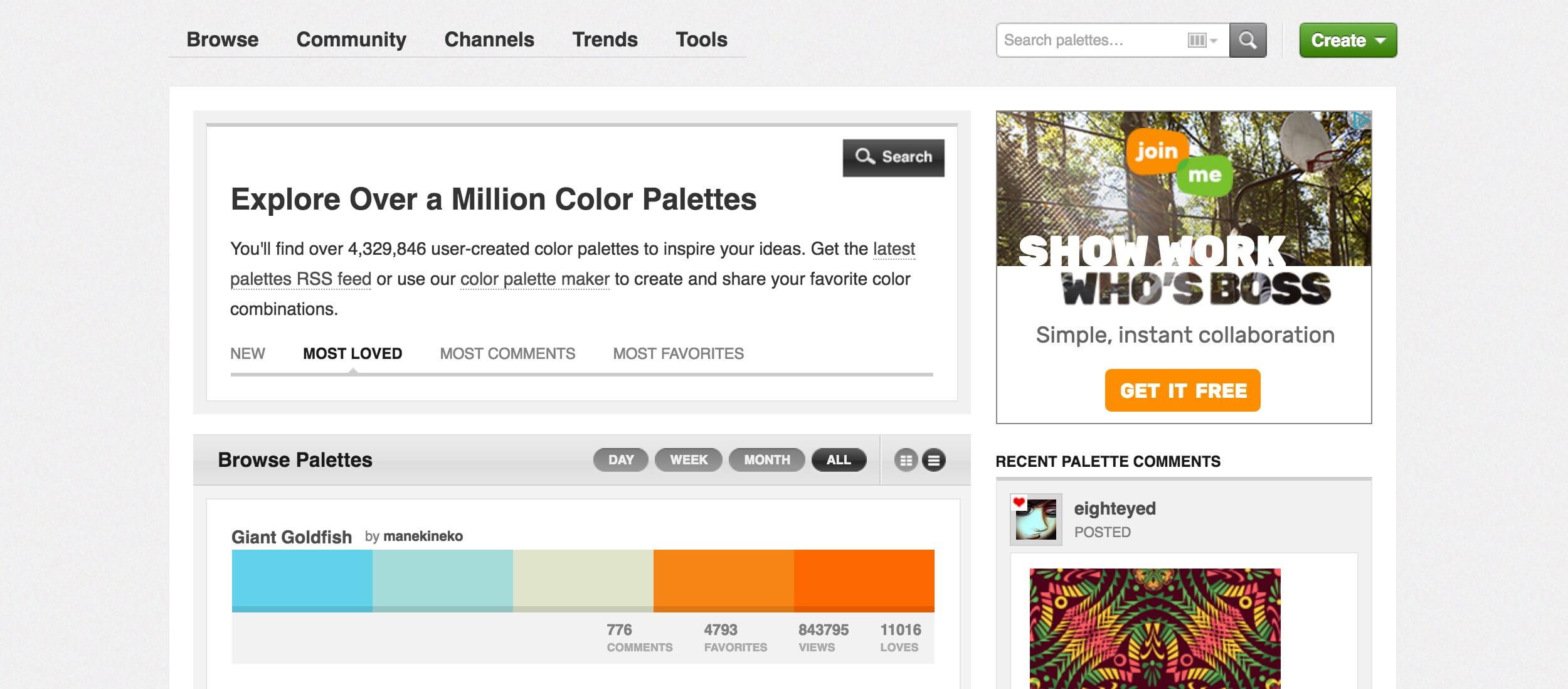 LOL Colors is a curated list of beautiful color palettes from designer Mackenzie Child. The color schemes are organized neatly and it's easy for you to browse and select the palette for your design needs.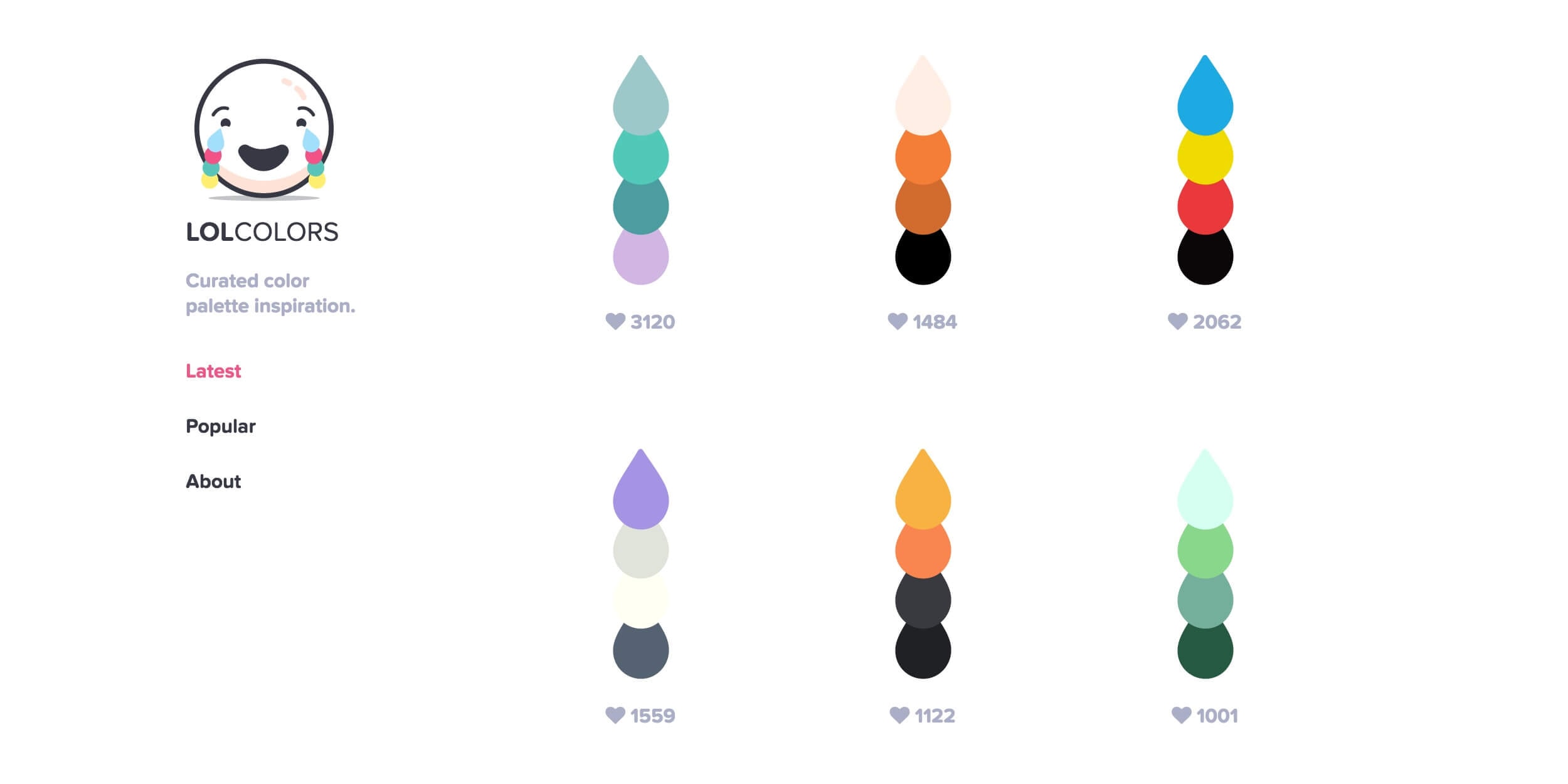 Material Palette allows you to choose your favorite colors and get a Material Design palette in return.
You will start by selecting a couple colors of your choice and the website will produce a color palette that is previewed on the right side for you.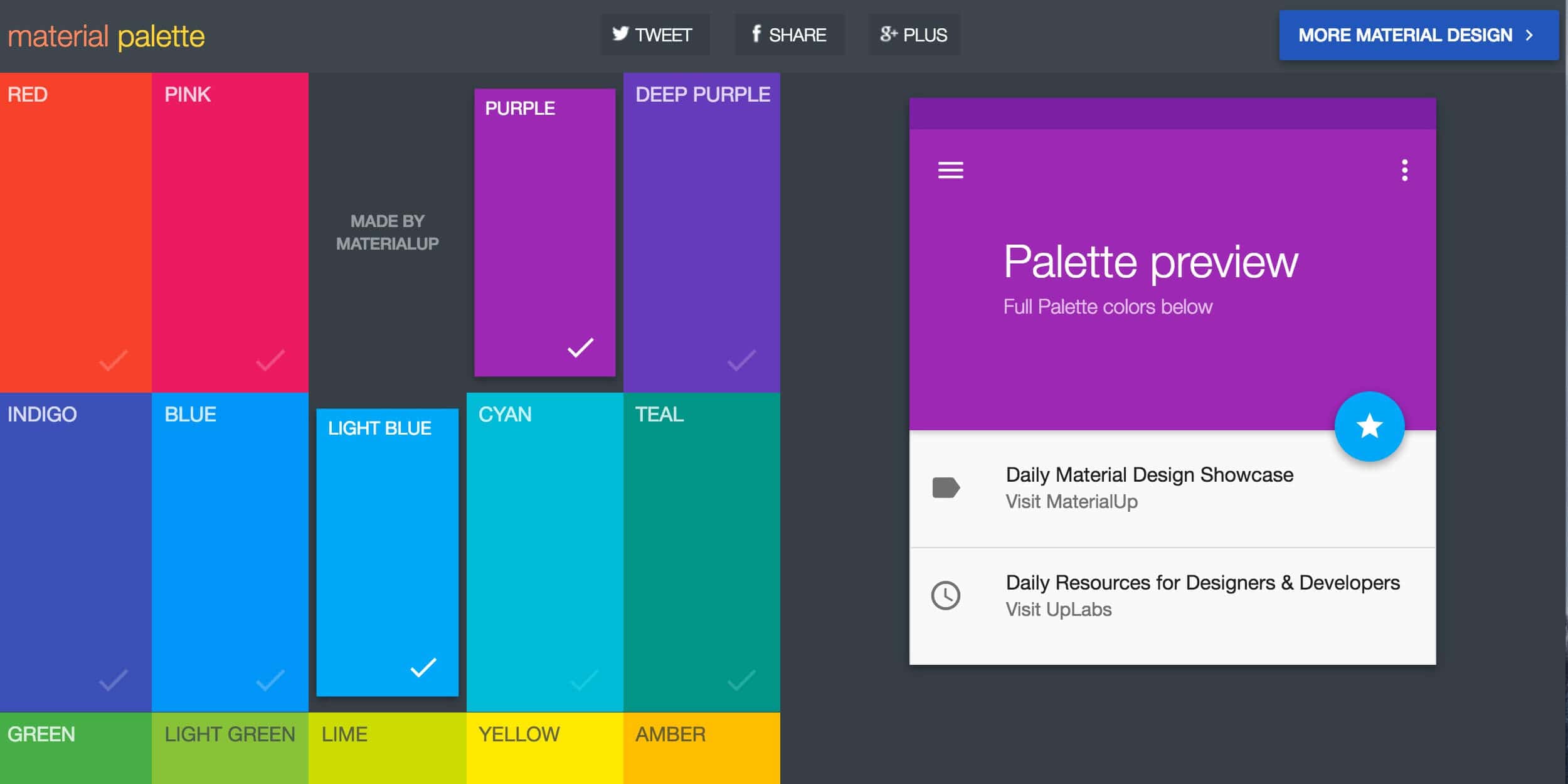 Hello Color is a simple color contrast generator. If you're looking for a simple color palette resource, this is the best website for you.
You can find two contrasting with a click on the website and you can continue to generate colors until you find the perfect one! The hex codes are provided so that you can easily incorporate these colors into your designs.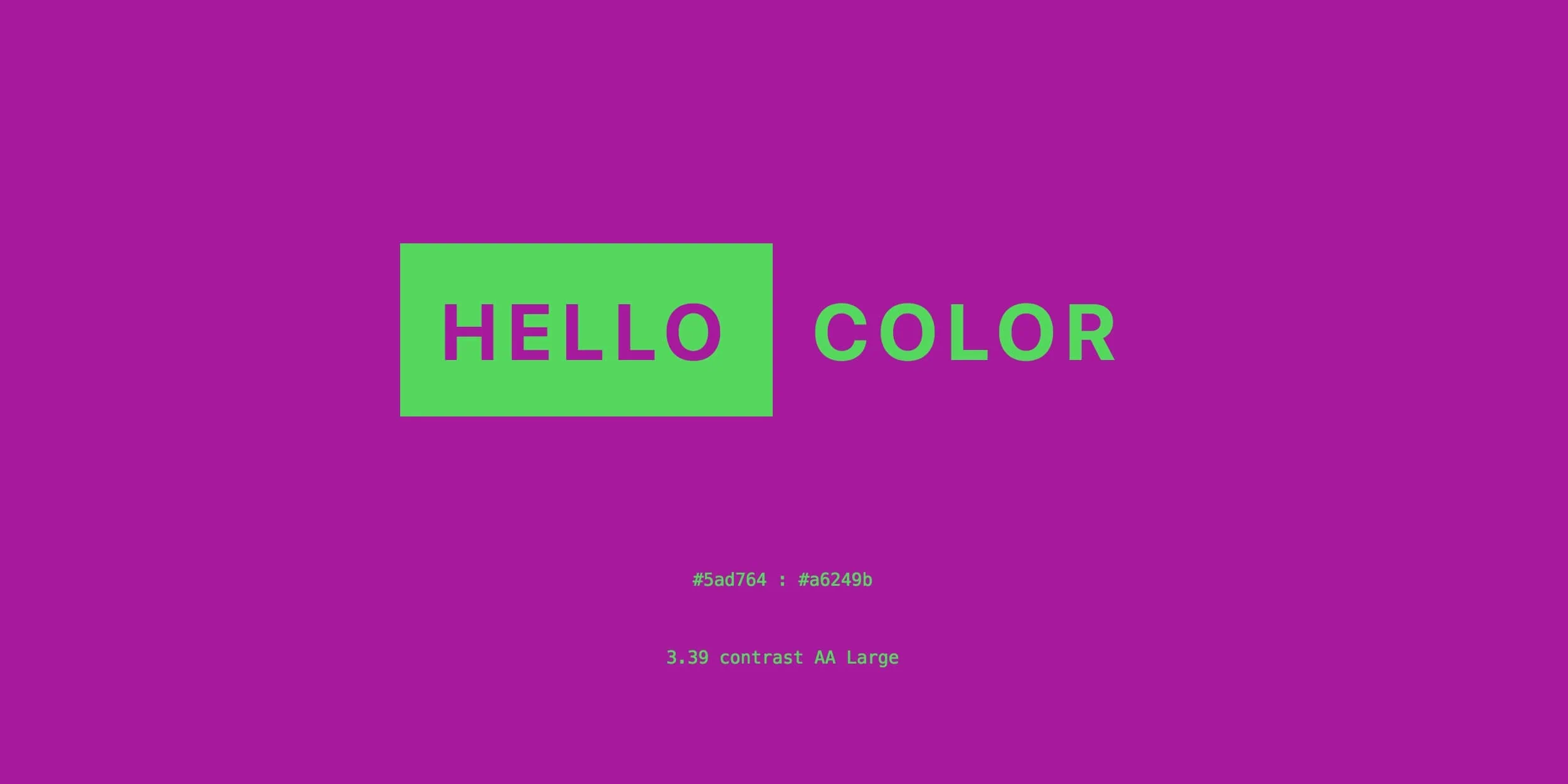 ColourCode is a tool that enables you to easily and intuitively combine colors. You can easily generate color schemes based on monochrome, analogic, complementary, triad, and quad combinations.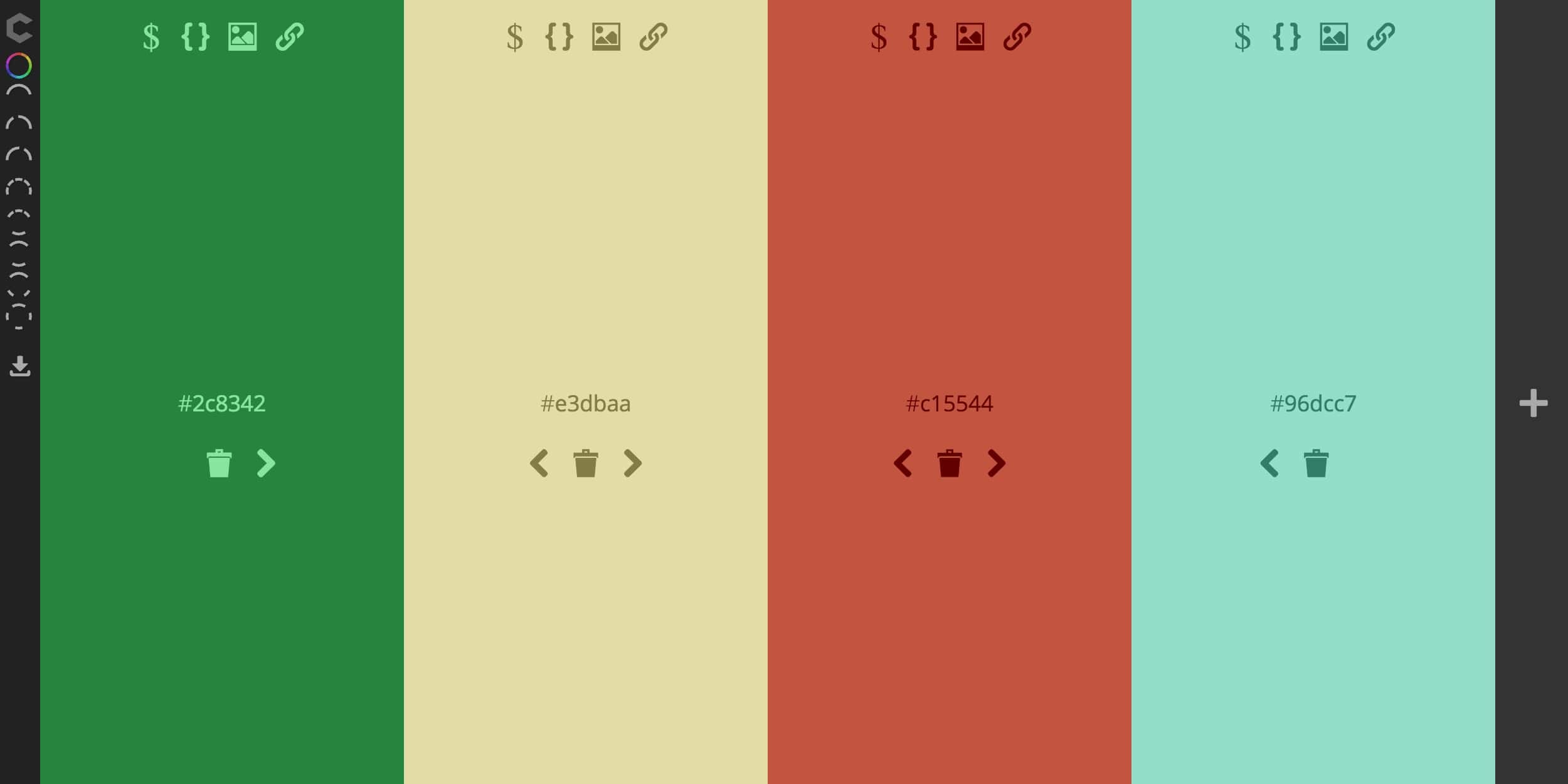 Colordot is an easy way to create color palettes with just a few clicks. You can create as many color combinations as you want and they even offer an iPhone app so you can create palettes on your mobile device!
Conclusion
And there you have it! 13 killer resources for color palette inspiration. Now you'll never run out of ideas for color ever again. With the 13 color resources listed, you'll be able to create some amazing designs.
Do you have any other suggestions for color palette inspiration websites or resources? Is there a color generator that you use for your designs? Comment them down below!