You just created an epic piece of content.
It's 1,000+ words, well researched, and full of visuals. But after you hit the publish button, no one is sharing or linking to it!
Now, you know that in order to gain traction, you need to promote the content. But if you don't have an email list or a large social media following, where do you even begin?
The answer is email outreach.
Email outreach is a great strategy for promoting your content because you don't need to rely on a big email list and you don't need to have serious influence in your space.
In this post, I'll lay out the exact outreach strategy I used to rank a previous article #2 in Google for my target keyword.
Ready to get more shares and backlinks to your content? Read on!
Step 1: Compile your prospect list
The concept of this strategy is very simple: People who've shared content similar to your post are likely to share your content as well (assuming it's good). So in this step, we're going to compile a list of people to contact once your post is live.
Using BuzzSumo
BuzzSumo is a great tool for doing content research and finding the right people to promote your content. However, in order to use the feature needed to perform this specific outreach, you'll need to upgrade to the $99/month Pro plan. Don't worry though, there's a free alternative in the next section.
Once you're logged in to BuzzSumo, enter the URL of a blog post that's similar to yours. In my case, I was writing an article on how to build backlinks from resource pages. So, I used this post from Search Engine Land about manual link building.
Once the results appear, click on "View Sharers."

Now you'll have a list of people who've shared that piece of content.

The nice thing about BuzzSumo is that it gives you a list of stats like number of followers, retweet ratio and reply ratio. These stats can help you filter which people are worth reaching out to and which ones are most likely to answer your email.
As you go through this list, start adding people to your spreadsheet.
Once you have a list of names, you'll need to find their email. Most of the time, they will list a website in their twitter profile so that's the first place to look. If you have a website domain but you can't find their email, you can use a tool like Email Hunter to find it.
Another great tool is Rapportive. When you have Rapportive installed, it will display the person's information in your Gmail sidebar so you can verify whether or not you have the right email address. Here's what it looks like when you have the right email: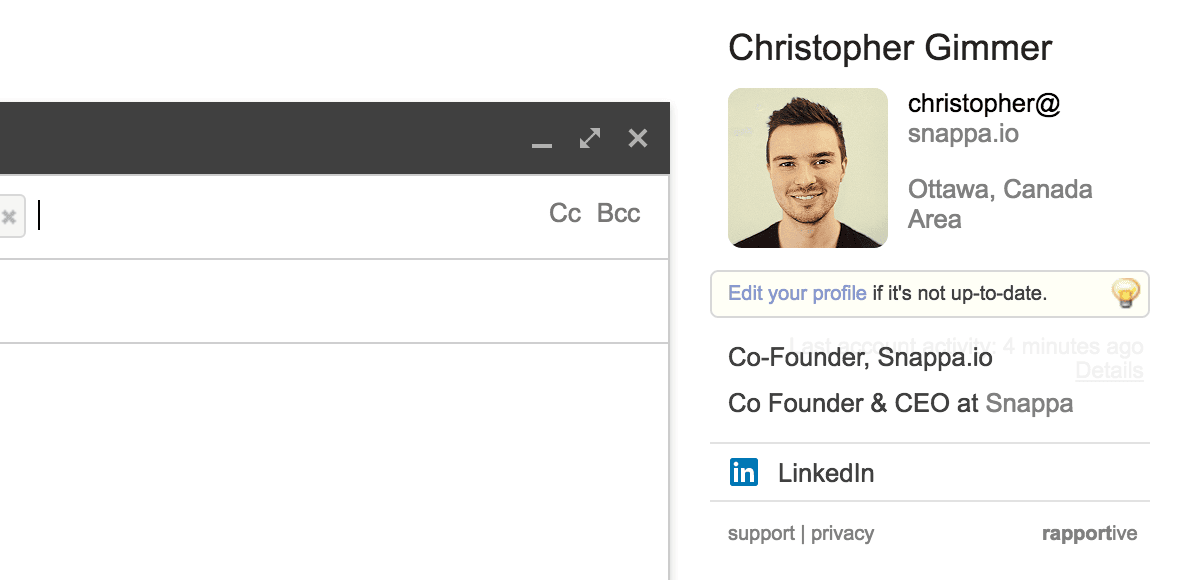 Most of the time, you can guess people's email by inputting various permutations in the "to" field. Using my name as an example, you could try:
If you really want automate this process, you can use a paid tool like SellHack which basically does all of this work for you.
One more tool worth mentioning would be Voila Norbert. It was elected the most accurate email finding tool out there according to ahrefs. Voila Norbert's email enrichment feature can give you incredibly valuable data points for your email list.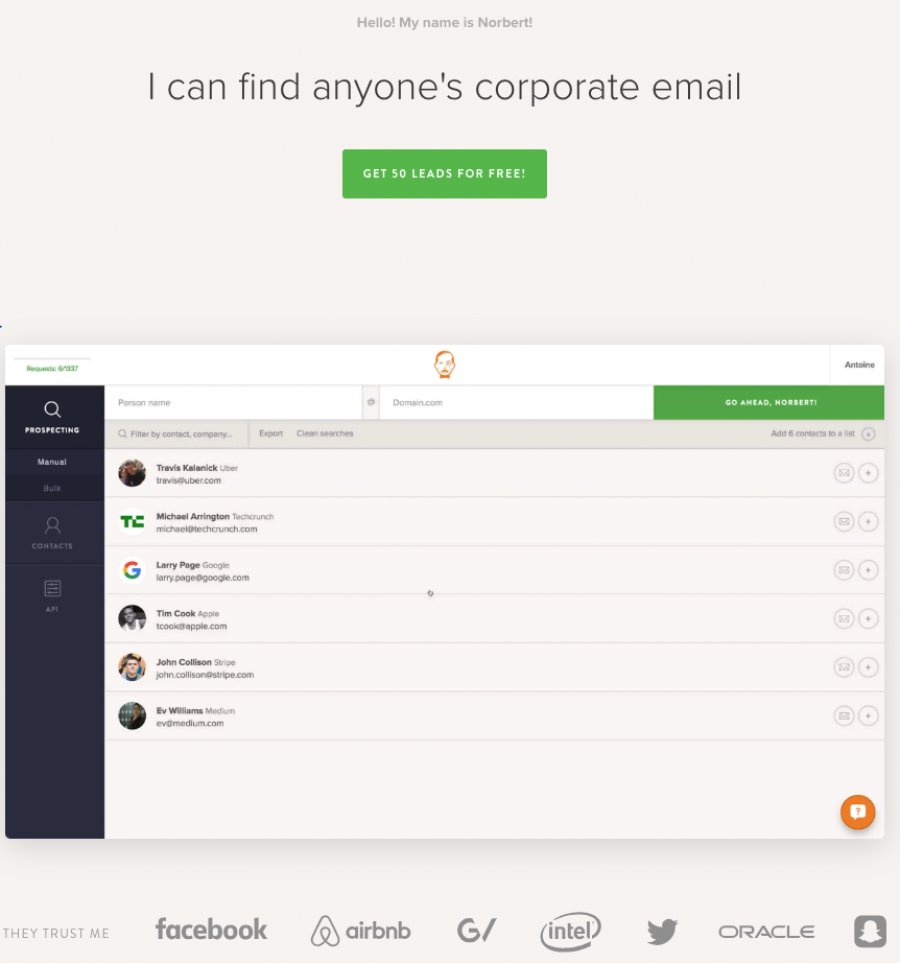 Using Twitter
If you don't have the budget for a paid tool like BuzzSumo, you can still use this same technique using Twitter.
First, head over to Twitter Advanced Search. Then, input the title of the article under "All of these words" and click search.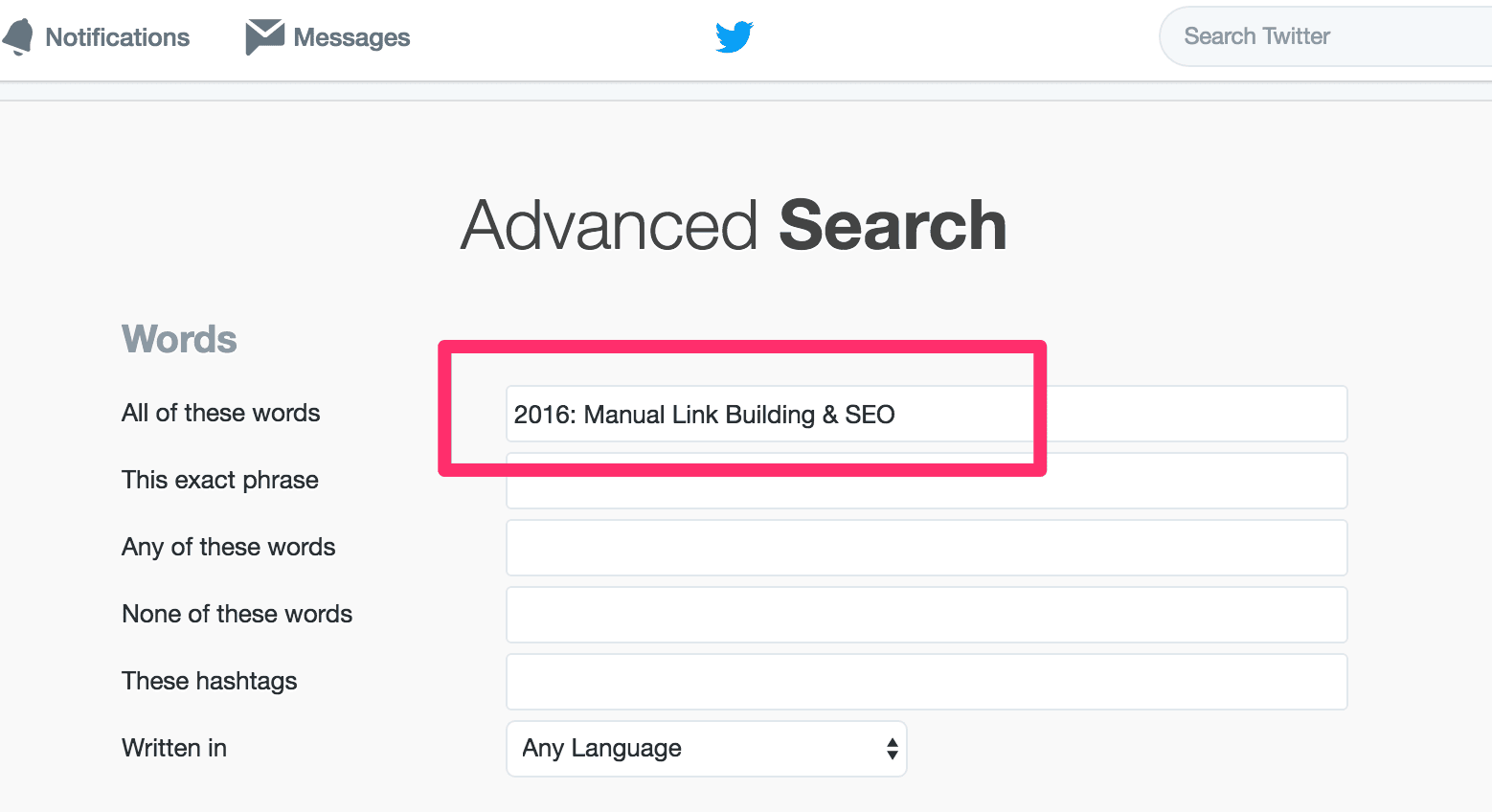 Then you'll see a list of people that shared that post.
Note: Make sure you click on the "Live" tab so it gives you the full list of everyone who shared instead of just the top shares.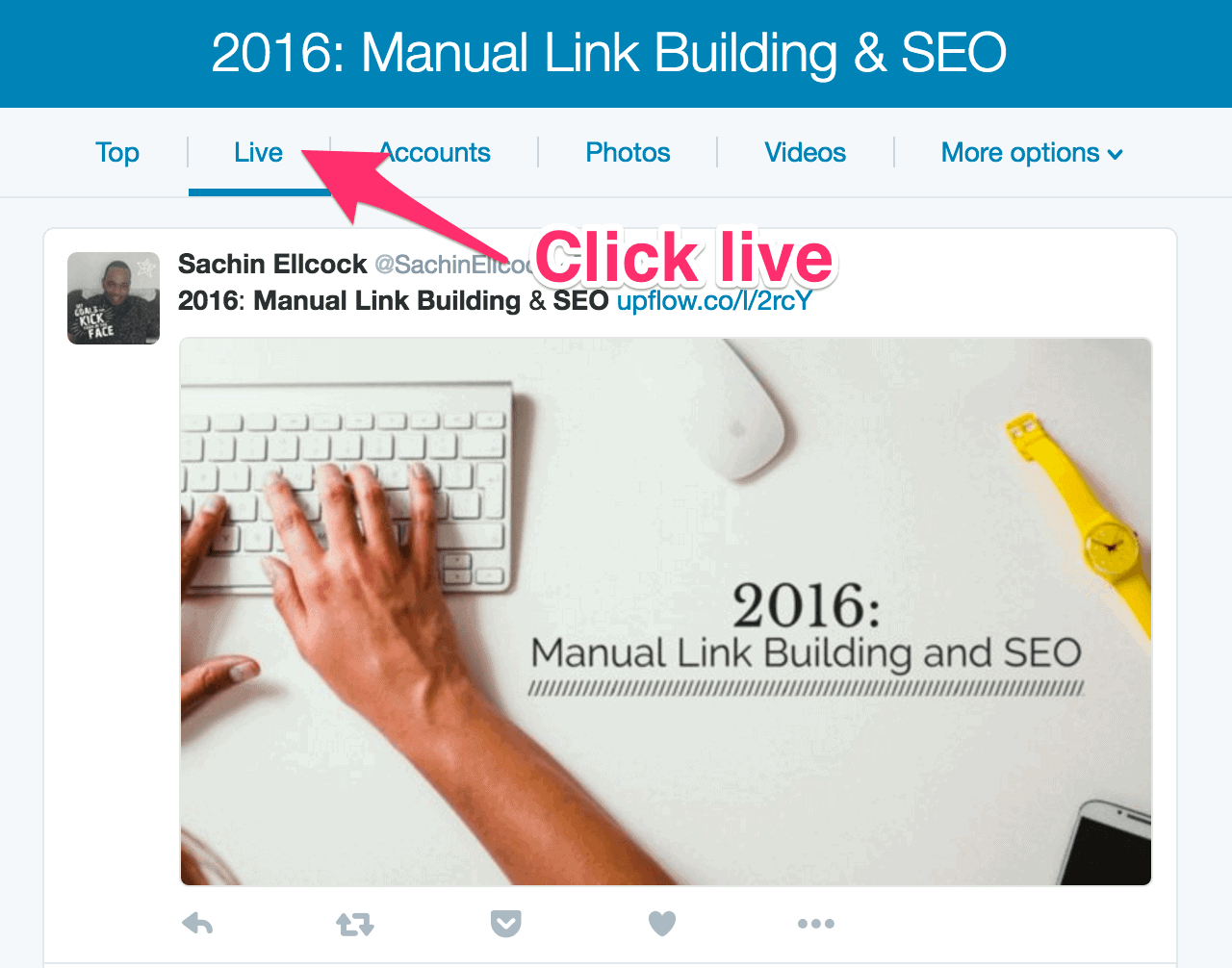 The drawback of using Twitter's search instead of BuzzSumo is that you don't get a neatly organized list that you can sort and filter. As a result, you may come across many duplicate listings and it just becomes more difficult to go through. But then again, it's free!
Step 2: Performing the outreach
Now that you've compiled your list of prospects, it's time to do the outreach. For this step, there's two different methods you can use.
Method 1: Pre-Outreach
Using this outreach method, you're going to reach out to your prospect before the post actually goes live.
The idea behind this method is to disarm the prospect by simply asking if he'd be interested in the post first. If the prospect replies back saying yes, they're much more likely to end up sharing the post. This is an example of the commitment principle of psychology.
When using this method, you can use a script like this:
Hey [name],

I recently came across a post you shared about [topic] on [blog]. Definitely some great tips in there! I personally use the [x] strategy all the time.

I wanted to reach out because I'm working on a post about [similar topic] and since you're a fan of [topic], I thought you might like it.

Want a heads up when it goes live?

Cheers,
Christopher
If they reply back saying they'd like to see the post, simply email them back with the link when it goes live.
Method 2: Post Outreach
Using this method, you're going to reach out to your prospects after you've published the piece of content.
I like using this method for two reasons.
It's less work for the other person. Using the pre-outreach method, they have to reply to your email which is an extra step. For a busy person, this could be a deal breaker.
It gives you some time to rack up some social shares thus improving the social proof of your article
When using this method, you can use a script like this:
Hey [name]

I recently came across a post you shared about [topic] on [blog]. Definitely some great tips in there! I personally use the [x] strategy all the time.

I wanted to reach out because I recently published an in-depth article on [similar topic]. Since you're a fan of [x], thought you might like it.

Here's the link if you want to check it out:

[Link]

Feel free to share it if you find it helpful.

Cheers,
Christopher
The key here is not to be pushy!
Step 3: Tracking the results
Although not absolutely necessary, I highly recommend tracking your results, at least in the beginning.
By tracking your results, you'll be able to measure the effectiveness of your outreach campaigns and determine whether it makes sense to scale them. Also, it might help you figure out what kinds of people are receptive to your outreach, what types of messaging is working, and what outreach methods perform best.
I like to keep track of the amount of people who shared and linked to my post, as well as the URL where they linked to it.

When I tested out this outreach campaign on my post about resource page link building, I was able to generate 2 backlinks and 6 social media shares out of 36 emails sent. That translates into a 22.2% success rate.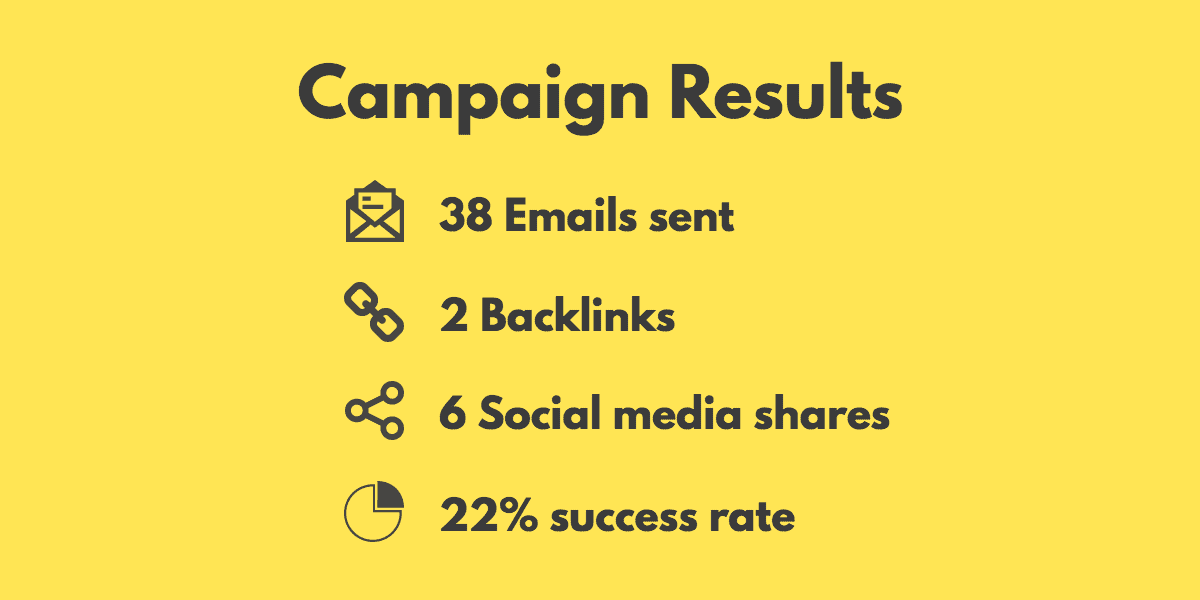 Here are some of the replies I got as a result of the outreach: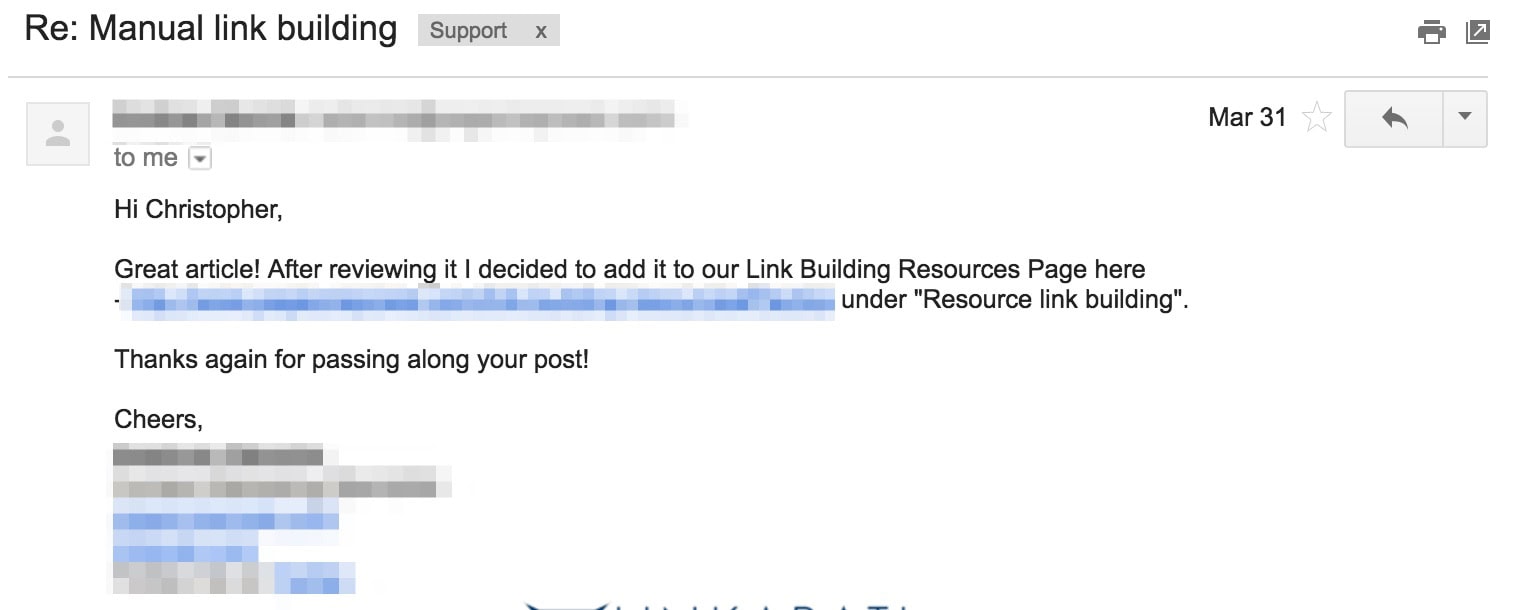 As you can see, some of the people I reached out to were very receptive to my article. Obviously, when you make your outreach emails as targeted as possible (as I've done using this strategy), your chances of success are much higher than a spray and pray approach.
Despite the success, it's still a numbers game. So if you want to accumulate a lot of shares using this strategy, you will need to send a lot of emails as well. A great way to scale this strategy is to use a virtual assistant to help you compile your prospect list so you just need to spend a few minutes to send out the emails.
Conclusion
If you don't have a big email list and you're not considered a thought leader in your industry, you're going to have to work hard to promote your content.
This outreach strategy should significantly improve your results and add some predictability to your share count.
Have you had success using this type of outreach? Let me know in the comments below!