Content is the new form of advertising. It works for fostering customer engagement, as much as it does for carrying out concise product promotion and organic brand exposure. The average reader is starting to get weary of cheap and thin content that only focuses on ad promotions.
As blogging continues to grow, we're also seeing the rise of alternative content types like infographics, slideshows, and podcasts to name a few. 
But here's the thing…
Your competition is likely doing everything it can to outperform your existing content and any upcoming content you've put in your schedule.
So to fight back, we're covering 5 simple tactics to help produce content with impeccable quality.
1. Understand your audience
If you plan to create truly meaningful and engaging content, it will be of immense help to create an outline of what your audience looks like and what kind of content would serve them best. The basic background check of your audience begins with understanding the persona-type of each of your readers.
What's their average age? Are they financially independent? What about their needs for products and their features? You can learn more about developing a buyer-persona from this helpful guide that's been fervently provided by Pamela Vaughan.
You can also rely on certain online tools that can be helpful in understanding who your target audience is, and the kind of content that would be easily consumed by such audience. One of my favorites for concluding demographic research on websites audience is Quantcast.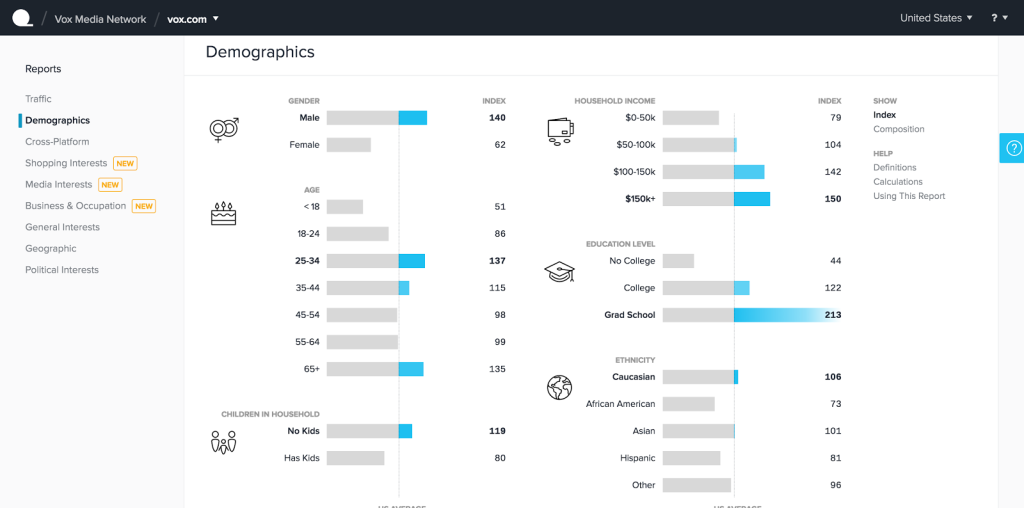 By simply looking up the Vox.com website statistics, we can get a clear view of the audience type that frequently visits Vox. This report shows us that Vox is predominantly visited by the male gender, the average household income is upwards of $75,000 and education level bridges between college and grad school — this means that Vox has the capacity to produce content that uses niche-specific jargon, and not all topics are required to be broken down into smaller pieces.
2. Grab the reader with your headline and intro paragraph
Since the average attention-span in the recent years has been going down versus going up, it's more important than ever to focus on crafting headlines and introductory paragraphs that capture the essence of what you're writing about, which will help to keep readers engaged and intrigued to continue reading.
What makes a good headline?
The art of copywriting doesn't just lie in the copy itself, oftentimes the headline of what you've written is going to determine the amount of readership that your content is going to get. Numerous studies have shown that readers are most comfortable with headlines that address the reader directly. Content that's original and authentic won't need to resort to clickbait headlines, because original content is self-explanatory and there's nothing else that needs to be added.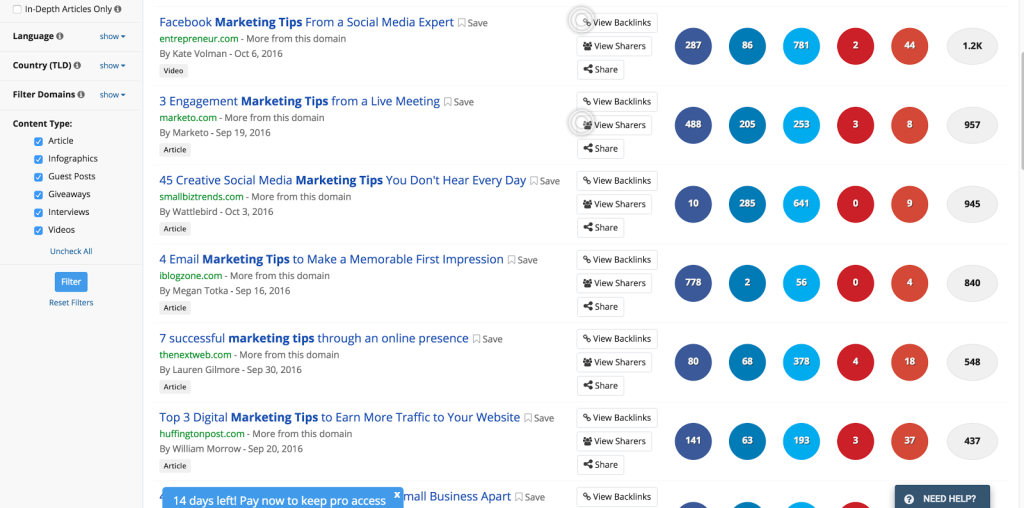 Finding inspiration for socially viral headlines is an absolute breeze thanks to tools such as BuzzSumo. With BuzzSumo's platform, you can search for content in any category or niche and see how well it is performing across different social media channels. This way you can understand how leading websites craft their headlines to cater to large numbers of readers.
What makes a good intro paragraph?
Headlines and intro paragraphs go hand in hand with capturing the reader's attention. If all fails at these initial stages then there's a very low chance that a reader will stick around for the whole performance.
Good intro paragraphs should be understood as concise information-packed snippets that can outline the end-result of your content in 2-3 sentences. Your intro paragraph should basically help answer: why should I bother to read this article?
If you want people to stick around then don't shy away from making a solid intro paragraph.
3. Create focus around the main point
Your content will work best when it serves a single point only, which should be the exact thing that you have outlined in your headline. It's easy to get distracted by producing quality content and begin to include numerous side-comments and alternatives of solutions that in the bigger picture are completely unrelated to your main point.
So, even before you have begun to write the whole thing, you should underline the very main point that you will discuss throughout your content — that way you can avoid going astray and instead focus on making every paragraph as insightful and meaty as possible.
If any ideas do come to your mind as you're writing, write them down in a notepad and perhaps they can be turned into a new content idea in the future. It's the insight and actionable tips that count, anything else will only distract readers from the main point.
4. Longer might be better
It's no secret that in-depth long-form content performs and ranks better than its opposite short-form thin-content. Ask yourself this, when you Google for "things to do with an avocado" — would you rather read an article that shows you 5 things or 25 things?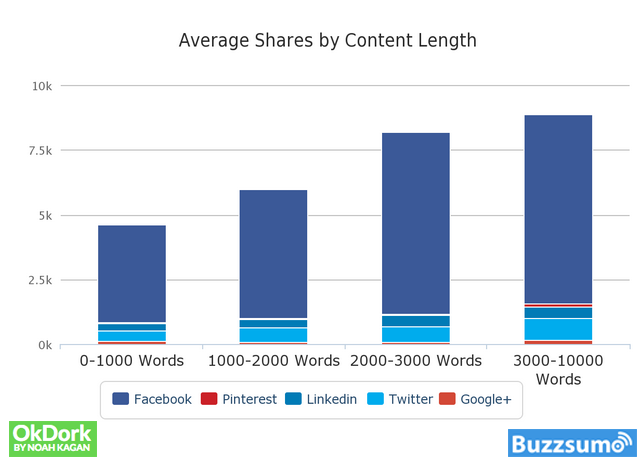 BuzzSumo did a remarkable study of analyzing 100 million links to see the correlation between content length and the impact length has on social media exposure. Read more here.
This is a very common opportunity that content producers are failing to recognize. Instead of racing to the finish line, it might be wise — and highly rewarding — to look into ways in which existing content could be amplified by adding more information; which often is sitting right in front of you.
How do you find more things to talk about in your content?
You resort to keyword research.
Through keyword analysis it's possible to learn about the additional questions that readers are asking about your particular content subject, and if it is in-line with your main point then it might be helpful to add extra information based on what you learned from keyword research. This approach will also help you have all of the information specific to that subject in one single place, rather than spread throughout numerous posts separately.
One of the easiest tools, and certainly one of the most effective, for doing keyword research is Google's very own Keyword Planner. (Another tool worth checking out is AHREF's keyword explorer).
Within this simple dashboard you can type in the keywords that you're already writing about and see if there are any additional keywords that could be implemented in your existing content.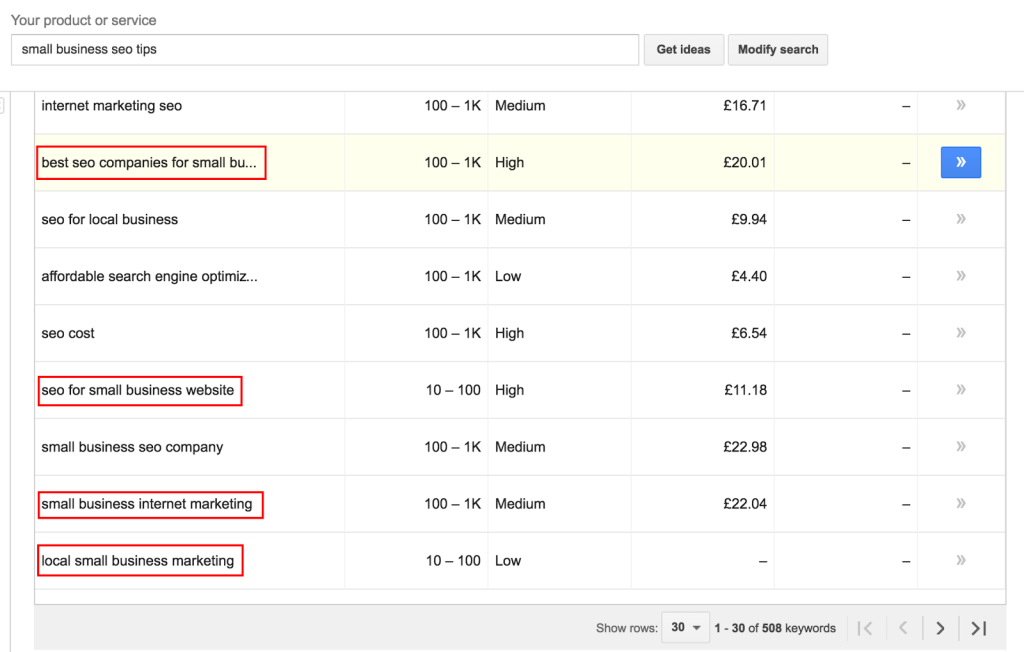 If for example you were to write about "small business seo tips" then you search for additional keywords related to "strategies", "tactics", and "ideas". So for example, "small business seo strategies" and see what consumers are searching for in those situations. Since you're already writing about "tips" you can easily implement "ideas" and "strategies" as part of your content.
5. Don't shy away from using content marketing tools
Tools for improving your content marketing efforts exist for one reason only — they do what they say, and they deliver results! It can be tricky to begin using tools to help you create better content, but they can be worthwhile assets to help you make the most out of your content marketing efforts.
What can content marketing tools help you with?
Do thorough keyword research.

Understand what works for your competition and learn from it.

Have clear understanding of latest trends for any topic imaginable.

Analyze your content for common errors, and gain advice on how to improve.

… and so much more.
If you'd like to understand more the types of content marketing tools that are most prominent at this time of digital marketing, head over to our guide about the best tools for content marketing.
Conclusion

As content marketing continues to get more competitive, increase the quality of your content will be of utmost important. We hope this post will help you do just that!