Whether you want to buy a pearl necklace, find the perfect grill for your patio, or are in the market for some new dishware, there's one thing that will be a crucial part of the buying process: Looking at images of the product themselves.
For some products (like the pearl necklace), aesthetics will be the primary factor in whether or not a customer buys, followed second by price, quality, and things like return or warranty policies. Even in those where the product's visual theoretically doesn't matter nearly as much as function (like that grill!), we're still visual creatures who naturally care about how something looks. All else being equal, if you simply like the look of one grill over another, you'd likely choose that one.
eCommerce images are so important, both for capturing user attention and actually driving sales. You want to have images that stand out on your site and in options like Google Shopping or Facebook Ad campaigns, appealing to users at every point of the process.
In this post, we're going to dive deep into how to create stellar eCommerce images that sell so you can optimize your online presence and marketing campaigns.
What Your eCommerce Product Images Should Accomplish
Your product images are really going to have one major goal: Sell your product by convincing users to purchase.
Aside from this all-encompassing goal, however, your image will typically need to accomplish other smaller goals to help reach this larger milestone. These include:
Your image should show the product fully. Typically, you'll want to have multiple images on each product page so users can see it on its own, in use, and from every angle. This helps them get a good idea of how the product works and whether it's the right fit for them. The more information they have, the better, because it means they'll be able to make a better buying decision. This can both boost sales and reduce return rates.
The picture should be easy to see. Plenty of users are browsing on mobile, so you need your product images (especially those that are thumbnails) to be easy to make out even from a small smartphone screen.
It should be visually interesting. You want your product to look great. Make sure that it's photographed in great light and that the product is positioned well to keep it looking great. You wouldn't want that pearl necklace all balled up, for example, it would be most appealing elegantly draped on a stand.
Where to Get eCommerce Product Images?
In the vast majority of cases, you'll have a professional photographer come in and take high-quality photos of each of your products. This is true if you both manufacture and sell the items in your eCommerce business, as opposed to receiving the products from a wholesaler or other third-party. That being said, even smartphones are capable of producing great images, so if you can manage your own photos, more power to you.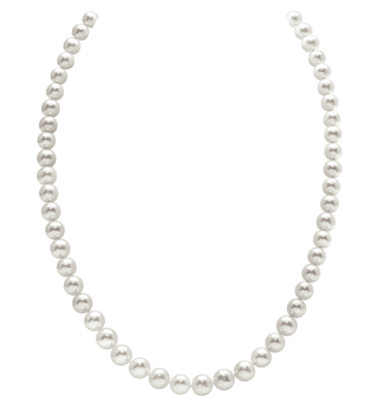 If you're a retail company, you may receive these images from a wholesaler, and then use graphic design software like Snappa to customize it, adding a brand logo or adjusting the framing in the image to give it a more branded, uniform look.
Some businesses will also hire a graphic designer for all or some of the products, having them draw illustrations of the product. This is interesting, and typically can perform exceptionally well on social media, but it gets pricey if you large inventories.
Some businesses may rely on stock photos when selling their eCommerce goods, but this typically isn't a great call. You want your specific product showing up in those pictures or you'll likely have high return rates. It's best to use stock photos for other areas of your site, including your blog or even customize them for display headers like this:
eCommerce Image Tips & Examples of Great Product Images
Ready to rock your eCommerce images and product photos to drive more conversions? Of course you are!
Let's take a look at a few eCommerce image tips and examples of outstanding product images that you can replicate for your brand.
Use Clean, White Backgrounds
This product from TooFaced makeup has multiple images that are placed on white simple backgrounds. This puts the subject of the image in clear focus, and makes it easy to view from a thumbnail. They do this for multiple pictures, including photographs of women with different skin tones wearing the makeup itself.
You can get as creative as you want with your secondary images, too. The broken makeup palette is visually stunning, for example, and immediately attracts user attention.
Show the Product In Use
Seeing a still image of the product itself is great, and it shows customers exactly what they're getting. This should always be the first picture you use as a thumbnail.
You'll also want to include pictures, whenever possible, that show the product in use. This can demonstrate how easy it is to use, and give users more information about whether or not it's the right fit for them.
When you see a still image of the onion cutter below, you may not know exactly how it works or what's required of the user, but once you see it in action, it's clear that it's easy to use.
This even goes for businesses in the fashion industry, too. Seeing how ear rings dangle or how a dress flows on a model is very different from seeing it on a hanger, and that dynamic picture can help you increase your conversion rates quickly.
Add Images with Graphic Elements to Recap Features
While your primary eCommerce image should always be just the product on a plain white background, many brands choose to include images with graphic design elements like this one:
They'll use a tool like Snappa to add on logos, text, and designs to create an interesting image that conveys a lot of information quickly. This may be used to highlight certain features or benefits of a product, pointing them out with arrows or listing them like the image above. In many cases, these images convey key information and selling points that can help you plead your case fast.
eCommerce Image Mistakes to Avoid
So far, we've talked in-depth about what your eCommerce images should be and how to best create them. That's one valuable part of the equation, but knowing what product image mistakes to avoid can be just as important, too. A few wrong moves and you can hurt your campaigns overall.
Here are the top eCommerce image mistakes to avoid to keep you on track (and your conversion rates up):
Using "busy" pictures for the main display. You want your search results to look uniform and clean, and having a product-only image with a neutral (often white) background can help with this. Small thumbnails are hard to make out if they're too cluttered, and they also typically don't perform as well in search engines like Google Shopping. Have at least one simple-but-great picture for those thumbnails.
Only shooting from one angle. When I was buying my pots and pans, I researched extensively. The set I ended up buying was chosen partially because of the multi-angle images. The first picture, they were shown only from the side, and it looked like they had full stainless steel lids, but I wanted glass lids. Fortunately, there was a second picture right next to it showing those glass lids. Showing products from a single angle limits how much of it the user can actually see, and they might miss great features they love that would have convinced them to purchase.
Trying too hard to think outside the box. You want your pictures to be aesthetically interesting, which is part of the reason why you'll see makeup companies show shattered palettes; it's interesting and visually dynamic while still being helpful. You wouldn't necessarily want to see those eyeshadow palettes painted onto walls, or used to draw pictures, however, because it tells you nothing about the color itself and wouldn't be helpful for purchasing. Include pictures for each product that are helpful and relatively standard.
Using product images from different wholesalers without adjusting them. If you're a retail company, it's typically best to go ahead and shoot your own pictures if you're selling these items under your own brand. Kay's, for example, imports jewelry from different manufacturers, but they retake all of their own images so that everything looks uniform. The last thing you want is a hodgepodge of image styles on your site, which looks disorganized and can cause you to lose some credibility. At least edit the product images that come from other wholesalers with tools like Snappa, or consider retaking the images yourself. (Note that there are exceptions to this rule, so approach it on a brand-by-brand basis).
Conclusion
Creating eCommerce images is a relatively high-stakes activity. If your pictures aren't great, you'll almost certainly struggle to drive sales, which is the last thing you want. This means that you should invest the appropriate time, energy, and money into creating engaging, high-quality, high-performing product images that will benefit your business. Trust us, you can't afford not to.
Interested in editing any of your images to create dynamic graphics that help you sell, too? Start your free trial with Snappa today!
What do you think? How do you create stellar eCommerce images that sell? What strategies do you use, and what mistakes do you try to avoid? Share your thoughts and questions in the comments section below!