Disclaimer: As of 2022, Facebook has discontinued its "Our Story" feature from all Facebook pages.
Facebook is constantly making changes to improve its users' experience. New features are regularly added to the platform, and it's not uncommon for the company to update its style often, too. Facebook's algorithms are also updated regularly in a continuous attempt to better serve the people and businesses who use the platform. 
Sometimes, though, when new features roll out, they get missed by most Page owners, or they're relatively undervalued.
One incredible Facebook feature that too many businesses aren't taking advantage of–and that all Pages need to know about–is the "Our Story" section of the business page. So why should you be utilizing it? 
What Is Facebook's "Our Story" Section for Pages? 
"Our Story" is a new feature available on Facebook Business pages. You can find it in the new Facebook page layout underneath the cover photo, on the right-hand side of the page.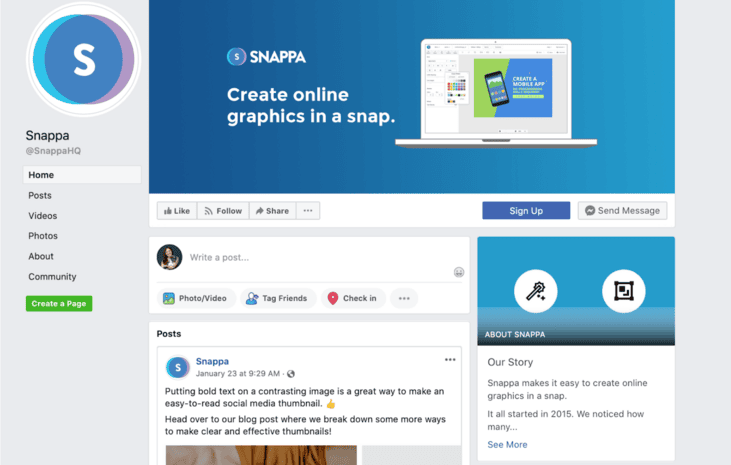 The "Our Story" section offers businesses an opportunity to showcase beautiful images of their business or brand, along with a brand summary. This section includes places for an image, a title, and the story itself.
Here's a quick summary of the requirements: 
The "Our Story" image, which is a great place to show off a nice visual that describes your brand. 

Your title has a 128-character limit, so choose every word carefully. You can leave it as "Our Story" if you want to, but this section offers an excellent opportunity to tell your visitors about your business at a glance.

You can share more details in the body of your story. Feel free to repurpose other marketing copy here that gives your readers a creative, engaging flyover of your business. Keep in mind that your Facebook page will only display 100 characters, so put the most important and attention-grabbing information first. 
Why All Pages Should Be Filling Out The "Our Story" Section
Every business should be filling out the "Our Story" section on its Facebook page because it offers a great opportunity for brand storytelling. It's yet another way to convey crucial information about your business to potential customers.
The "Our Story" section has high visibility, so it's a fantastic chance to impact how new members of your audience see your brand. Giving as much impactful information early on as possible is just another way to set yourself up for success.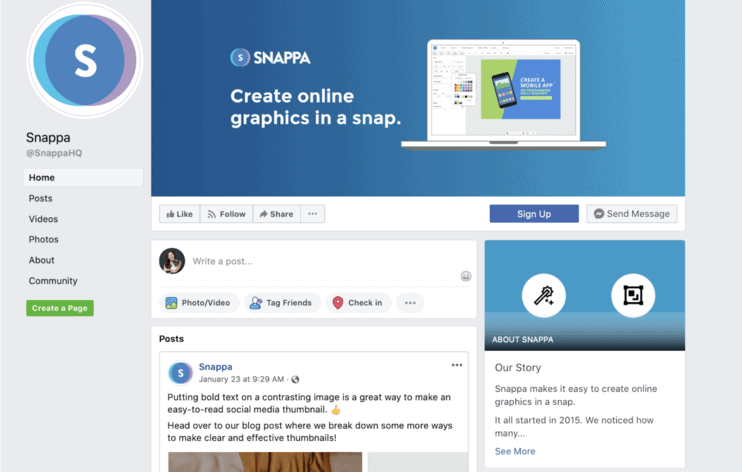 This section appears even above the "About" section on your page, so utilize it the fullest. Rather than being a standard list of operating hours, contact information, and pertinent links, "Our Story" is a place to showcase an engaging narrative. Use words that draw visitors in, and don't be afraid to be creative.
How to Upload Your Story to Facebook
Now that you have a firm grasp on what this section is meant to be and how you want to use, it's time to upload your story to Facebook. The process is super straightforward, so let's jump right in. 
First, navigate to the "Our Story" section. (Remember, it's on the right-hand side of your Facebook Business page, just beneath the cover photo. Click "Tell people about your business" to get started.
Once the screen expands, you'll see the places for your image, title, and text. You have the option of either dragging your 1200 x 445 image into the box, or choosing from images you've already uploaded to your Facebook Business page.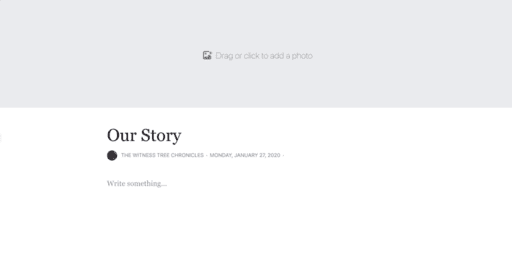 Before you select an image, we recommend you go ahead and use a simple design tool to ensure your image has the right dimensions. (Snappa's custom graphic tool can help you out with that.)
If you need to create an image, you can do so in a tool like Snappa and download the image as a PNG file. Once you've selected or dragged it into the tool, it will appear right away.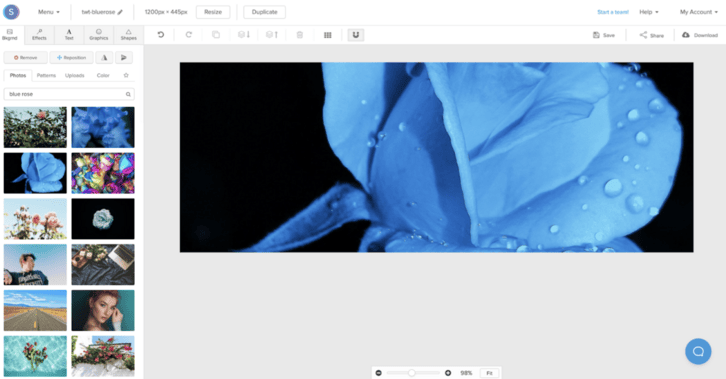 Next, notice the "Drag or click to add a photo" section. You can click it to add an image you've already uploaded to the "Our Story" header. Or, you can drag and drop the image.

Next, input your title. Remember, the "Our Story" title has a 128-character limit, so make sure your title really grabs your page visitors.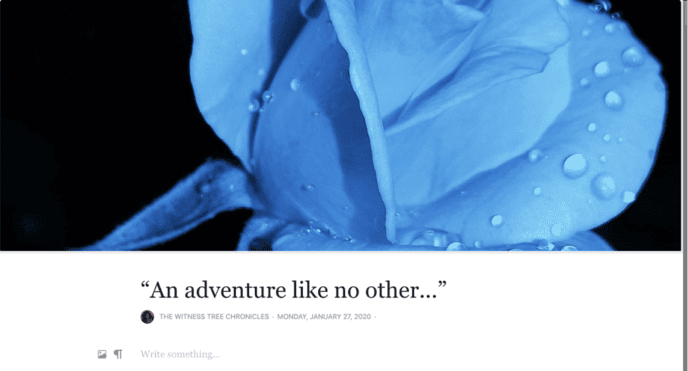 After that, you can add your story. While there's no limit on how long the copy can be, only 100 characters of it are visible on your main Facebook page. Make sure the information in those 100 characters makes your page visitors want to click and read more. 

After you've entered the information you want your visitors to see, it's time to publish! Save your work, then click the Publish button at the bottom of the screen to make it public.

Once you've published the "Our Story" section, take a look at how it displays on your Facebook Business page so you can make any needed tweaks.
Facebook "Our Story" Best Practices
Now that you've got the tools you need to get your "Our Story" section up and running, here are a few important best practices to follow. 
Keep it short and simple.

You want your story to be relatively brief so people can read it in under 90 seconds. These days, you can't afford to lose your readers' attention, so sum up your story in as few words as possible while staying upbeat and engaging. 

Use storytelling.

A great way to differentiate yourself from other brands is by leveraging storytelling in this section of your page. Use friendly, conversational language, and focus on the "who" and "why" behind the brand to explain how you created something special.

Choose a strong image.

An eye-catching, branded image or graphic would be great here. If you don't have branded photos or graphics to use yet, you can choose a nice, high-resolution stock photo that fits in with your brand aesthetic. The dimensions of your "Our Story" image should be

1200 x 445 pixels. Snappa's custom image tool allows you to input the exact pixels you need before you get started creating your image, which makes the process quick and painless. 
Conclusion
Making a good first impression is key to success for all brands. It's crucial to engage your page visitors as quickly as possible, and utilizing the "Our Story" section to grab their attention is an excellent way to do that.
If you need an easy, time-saving way to create your "Our Story" graphic with the exact dimensions you need, Snappa's got you covered. You'll also get access to a library of images, graphics, and templates for every social media platform.
Interested in creating gorgeous graphics to capture your audience's attention for your Our Story section, your Page's profile picture, and your cover photo? We can help with all of that! Start your free trial here.
What do you think? Are you currently using Facebook's "Our Story" section for business Pages? How have you optimized your story to connect with audience members? Share your thoughts and questions in the comments below!