How often does your business post on Facebook? If I was a betting person, I'd guess that you aimed for at least one (and maybe two) posts a day.
While it doesn't seem like a big number, that's a lot of posts—especially since plenty of businesses post more than twice a day. The first ten might be easy to come up with, but it sometimes gets increasingly difficult the longer you go, just because the sheer number of ideas you have to come up with is so large.
It can even be difficult for social media marketers to come up with a continual stream of Facebook posts, so our trick is to have a general store of Facebook post ideas on hand for inspiration. These Facebook post ideas can help us to fill out our Pages and create entire editorial calendars. In this post, I'll share my 14 favorite go-to concepts for awesome Facebook post ideas that work for all businesses.
1. User Generated Content
If there's one thing to take away from this post, it's to use more user generated content. User generated content (UGC) is widely seen as the most authentic type of content online, and the results it can offer your business are significant. Users trust it more, and they respond to it more; it has major selling power, more so than any other type of content you could ever create. Even the best copywriters don't hold a candle to UGC (much to our dismay).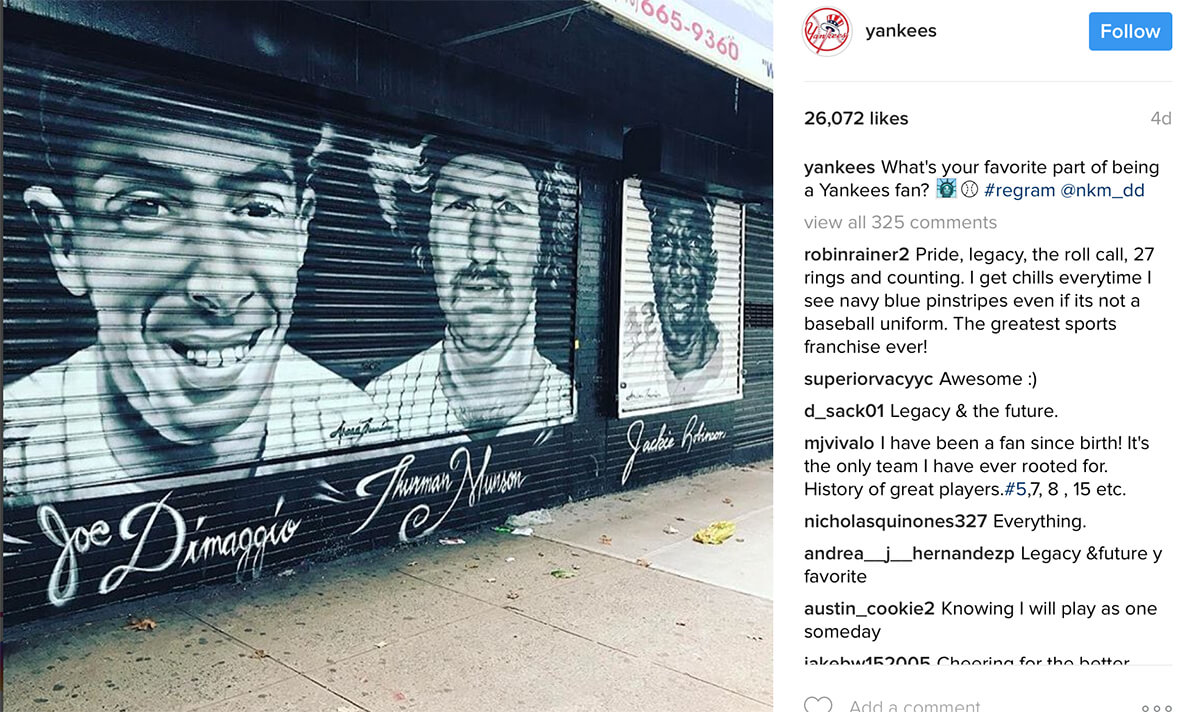 You can find and use UGC from a number of different sources, including:
Adding images to written testimonials and reviews clients leave you
Sharing images users share straight from Facebook or Instagram
Make an event around crowdsourcing ideas, like Lays' Do Us a Flavor
When you share UGC, you can tag users who shared the created the original content, and you can always thank them, too.
2. Blog Posts & Articles
Promoting your blog posts and articles on social media is one of the best ways to get clicks. And since you've already worked ridiculously hard on those blog posts and articles, it only makes sense to get some extra use out of them as Facebook posts.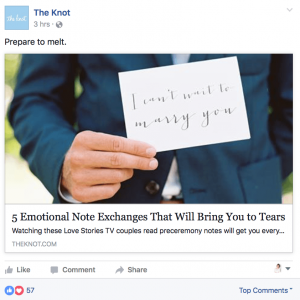 The key to getting more clicks and engagement on Facebook posts linking to your blog or articles is to do more than just list the title of the blog and a link. You should make sure the post sounds like it was written by a real person, and not just by a computer or automated posting software.
A few options for the text of the actual Facebook post include:
Give a quick summary of the post, explaining why users need to read it.
Give a sneak peak, like "Blog posts is one great idea for Facebook posts; click to see the other 13! (You won't believe #12!)"
Feature a quote from the post or article as the entire description, and make sure to put it in quotations.
3. Images & Information About Your Events
Events are exciting, and posting about them on Facebook can encourage event awareness, registration, and attendance. This tactic can also get you more engagement at the same time.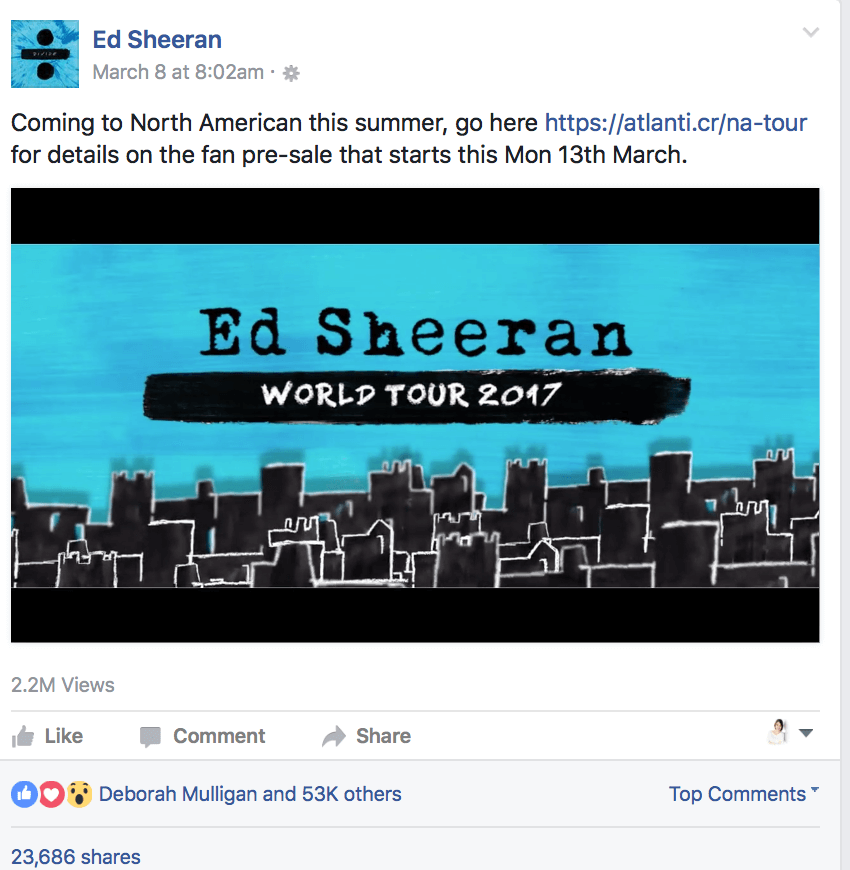 Different posts you can share about your events include:
Links to your Facebook event, and links to registration or pre-registration, also describing the appeal and basic information of your event
Images or videos with behind the scenes content of you preparing before the event, like getting the conference rooms ready or setting up a booth
Updates, images, and livestreaming as it's happening
Pictures and text recaps after the event was over; you can share extra nuggets of info like how many people came, or a quick highlight of the event

Facebook posts about your event can not only help promote your current event, but it can help demonstrate its value. If your event is recurring even on an annual basis, this can help it gain traction. Be sure to create a strong Facebook event cover photo to attract more visitors!
4. Relevant Industry News
Sharing relevant industry news is always a good idea. It doesn't have to be written by you, or be about you, or really even have anything to do with you. In fact, sometimes it's better if it doesn't.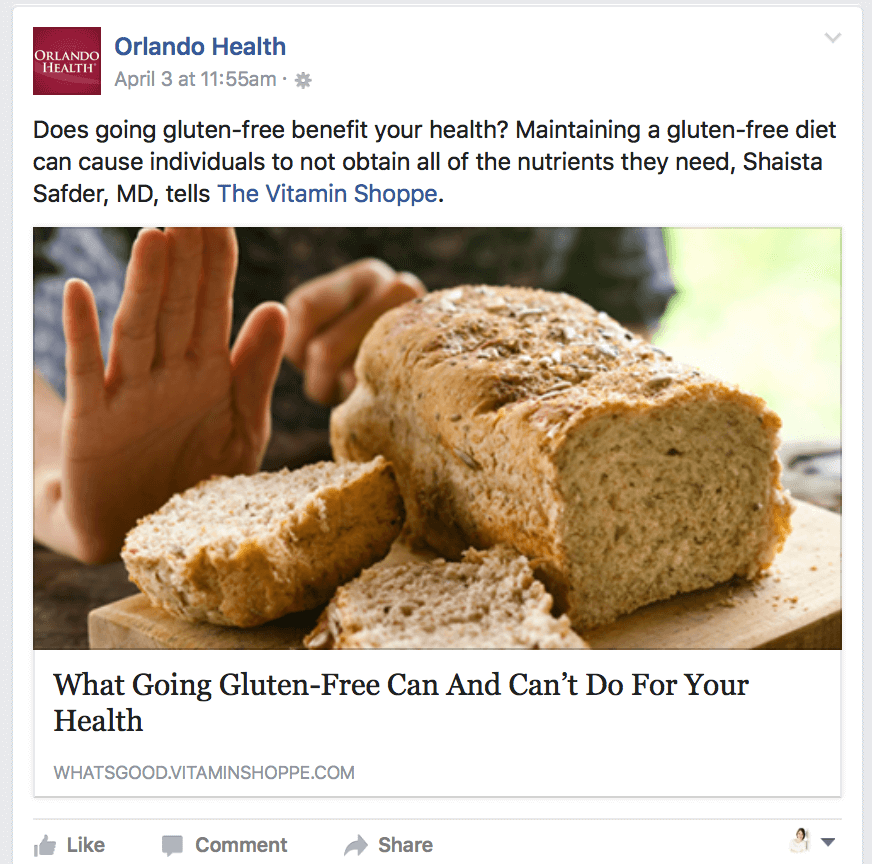 Instead, the goal is to have a conversation about something that affects you and your followers. By staying on top of industry news and sharing it quickly, you can also establish yourself as a thought leader who's always in the know. This makes you look great, especially if you can answer any questions your followers have in the comments. TechWyse does a great job with providing their readers with relevant industry information. They've created an infographic that outlines 66 Facebook acquisitions.
5. Posts from Your Local Community
Participation in your local community is often an extremely valuable undertaking for many small and medium businesses who rely on community support. Because of this, the more love you show your community, the more love they'll show you, too.
Examples of how to do this include:
Post pictures of your business participating in community events
Share information about things happening within your community
Build relationships with other local small businesses, and share their content in posts
6. Facebook Live Anything
Live video has exploded in the past year, and Facebook Live has become an essential tool that all businesses should be leveraging.
Facebook Live is exciting, and it has a sense of urgency that users love; they get a notification that a Page they're following has gone live, and they can watch the broadcast and interact with it in real time. Then, after the live broadcast is over, you can save the video and share it to your Page's timeline so that anyone who missed it can catch up later.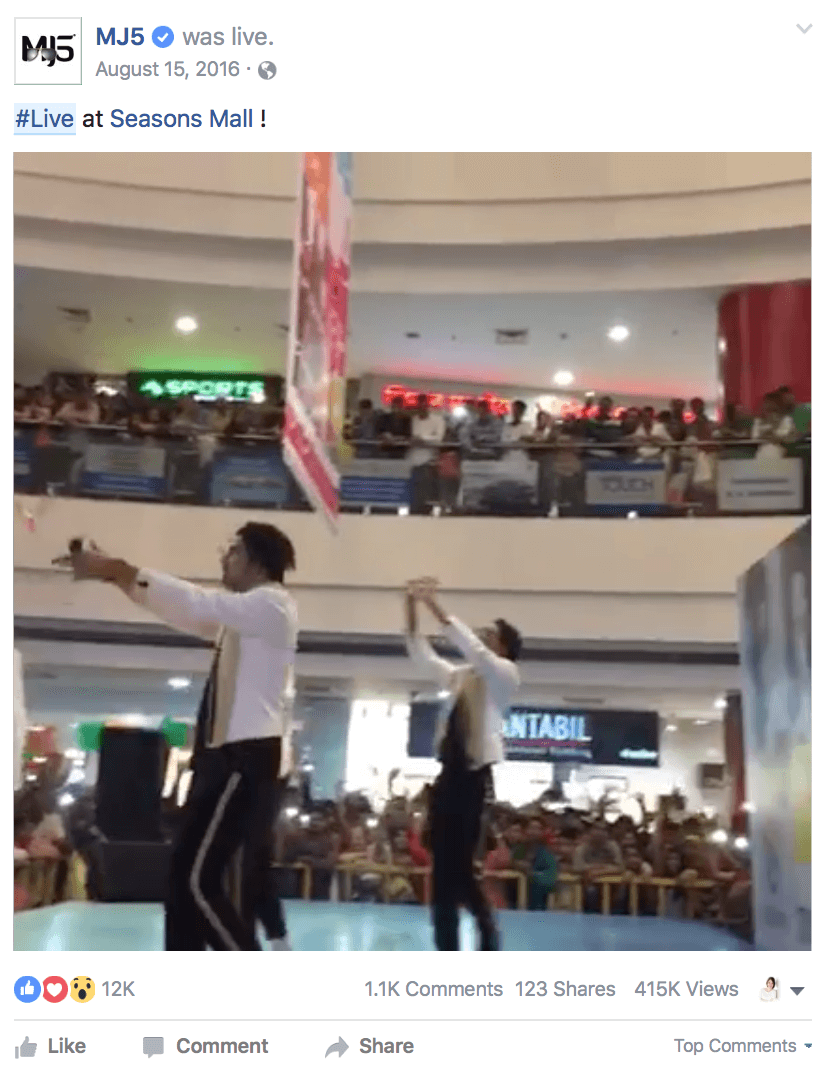 There are so many great use cases for Facebook Live that you shouldn't have any trouble finding a way to use this post for your business.
7. Stories About Your Business
At the end of the day, people want to know what makes you tick. What makes you, as a small business, better than those large corporations? People want to support you, and using social media to keep people feeling "in the loop" by showing your personal side can have great advantages for your business. And since stories stick with us so much better than random facts, stories can be particularly powerful.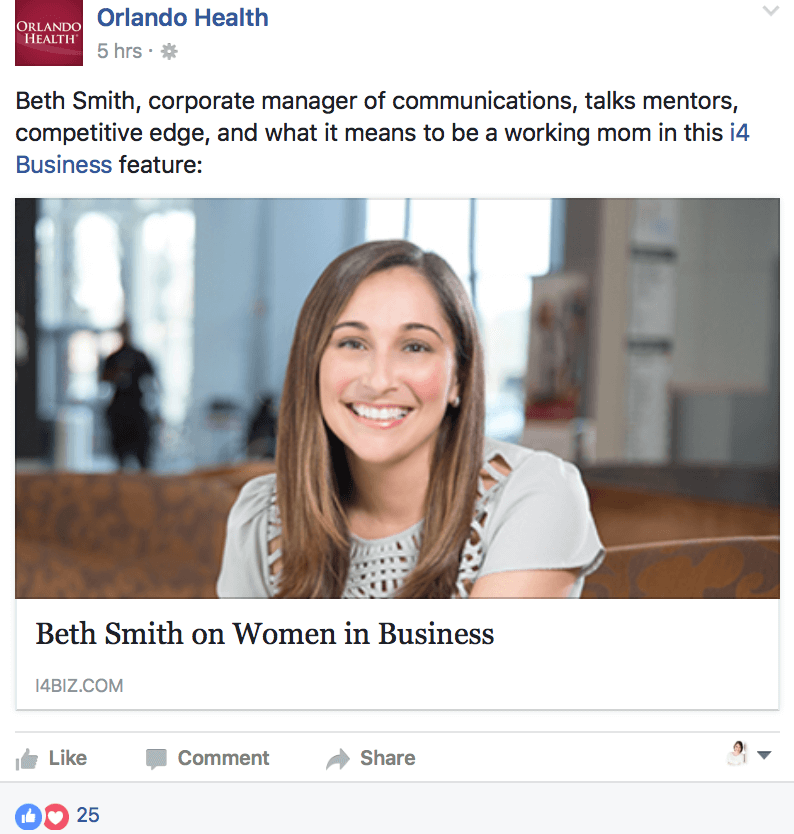 Different brief stories you can tell to shape your business and brand on Facebook include:
Announcements and what led your business to that decision/development/exciting change
Content featuring new hires or employee stories, giving your brand a personal face
Stories that show your business's social missions; this resonates with users
8. Trending Topics
When used correctly, creating a Facebook post centered around a trending topic is a great way to jump into a conversation and get a lot of engagement on your post. Trending topics can include big news in your industry, in your local community, or from the entire continent.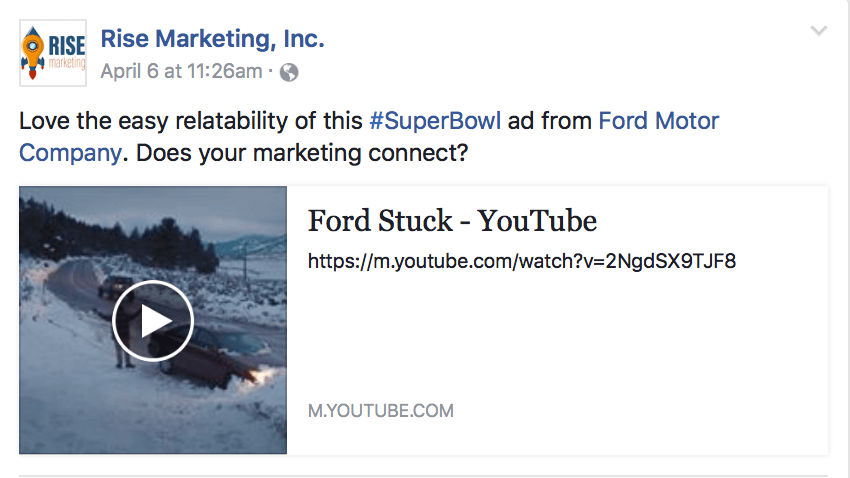 As sick as we all were of the U.S. election last year, for example, some businesses were able to jump in with great content surrounding it without taking sides. I saw a local restaurant post a status saying along the lines of "We all deserve a drink after the last few months, regardless of party lines. Happy hour prices all night!"
9. Behind the Scenes Content
Behind the scenes content is extremely popular on social media. It gives users that exclusive inside look that feels more authentic and transparent. Since social media thrives on authenticity and transparency (or at least the illusion of it), this is an outstanding tactic to use.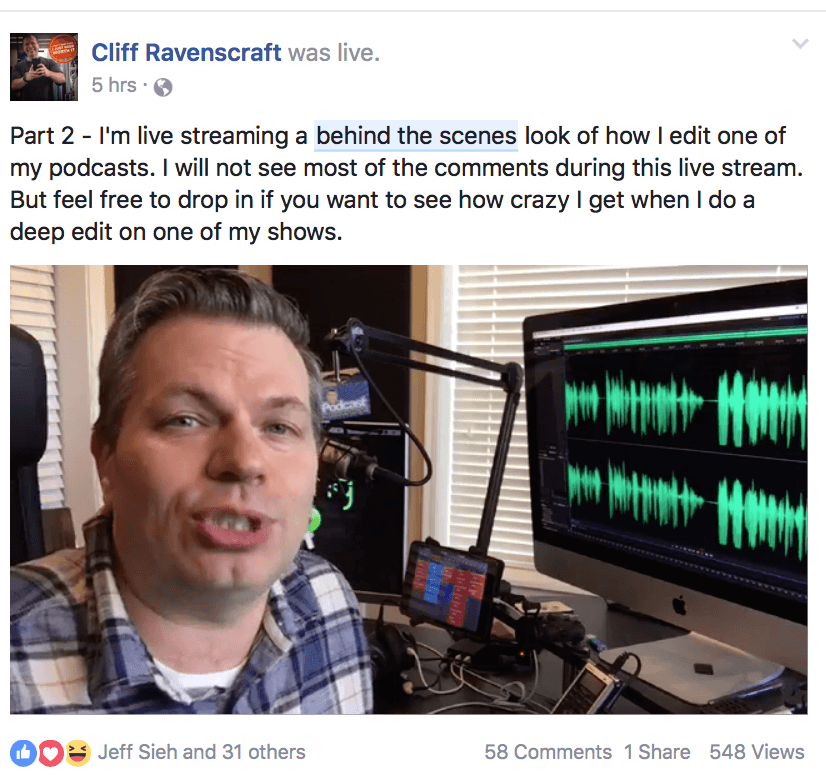 Great ideas of behind the scenes content include:
Videos or images showing how your product is made
A tour of your new office, or employee only areas
Content featuring office events, like company parties or employee training.
Want an extra boost of authenticity? Combined behind the scenes content with Facebook Live. Just make sure you practice first!
10. "What Do You Think?"
Most people will give their opinions even if you don't want it, so actually asking for your followers' opinions is a great way to get some big engagement on your posts. You can ask questions like "We're thinking about next month's blog post topics: what questions would you like to have answered?"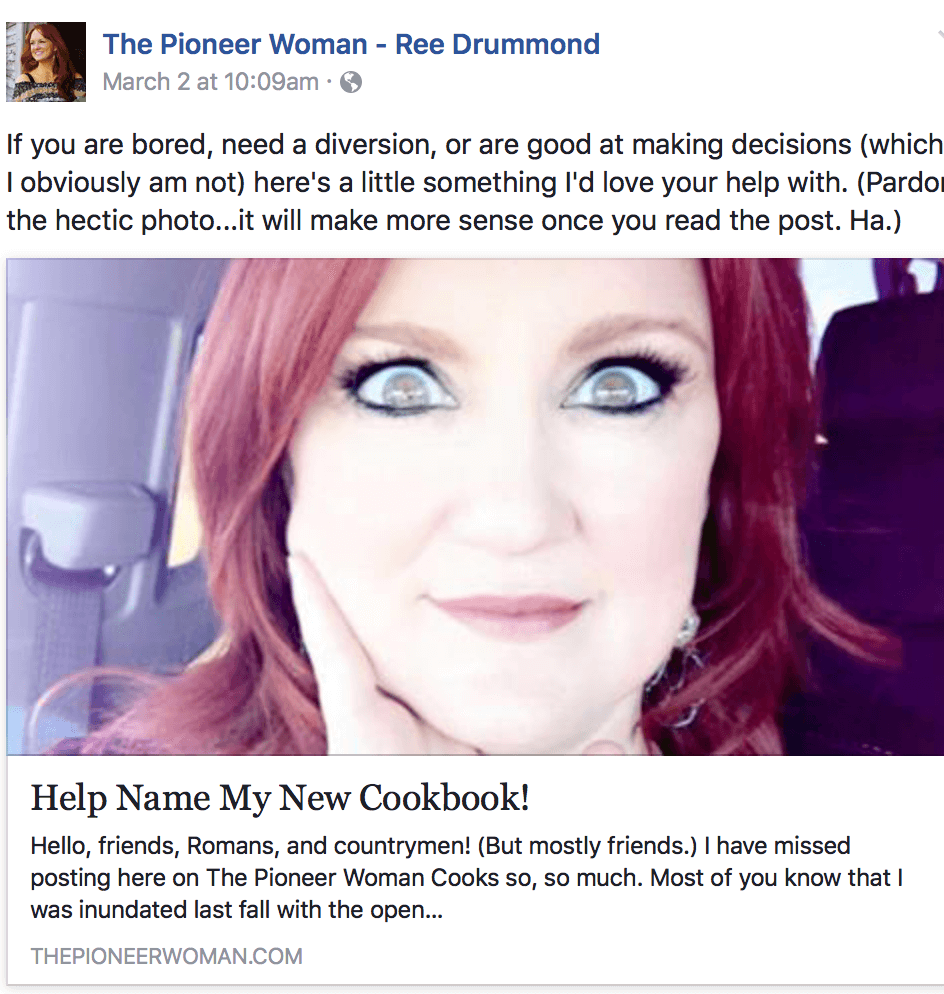 Other examples– which can be adapted for your industry–  include:
Which product in our spring line are you most excited about?
What do you like do on your day off?
Turkey or Ham: What's your Thanksgiving Tradition?
11. Inspirational Quotes
Inspirational quotes are readily available in mass quantities and help give your business's Page an uplifting appeal. Using great quotes or soundbites from industry experts and influencers gives you relevant content that your audience will love and experts may appreciate. When in doubt, though, you can always Google something like "business quotes" or "literary quotes" to find content that's best for you. Post it with a graphic you've made on Snappa or a free stock photo for best results.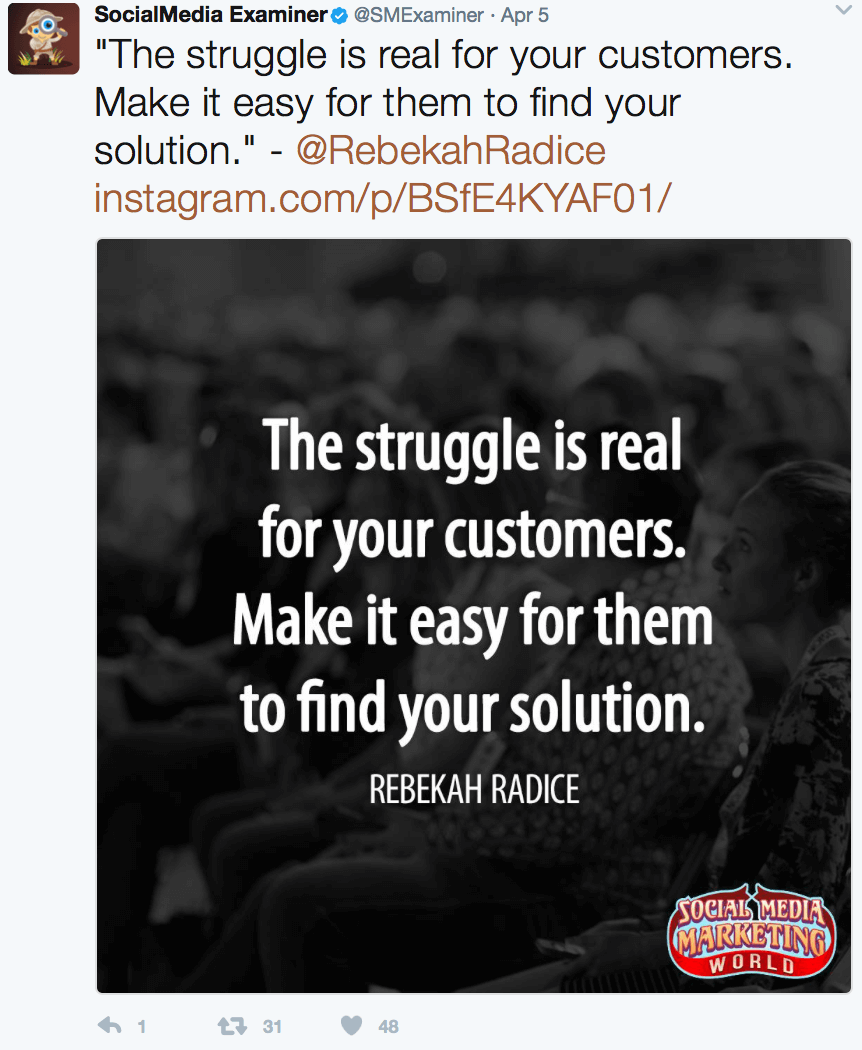 12. Social Contests & Giveaways
Everybody loves free stuff, and social media contests are a great way to generate more leads and get a ton of engagement on your posts. While I always, always recommend using contest software like Wishpond, Gleam, or Woobox so that you can actually generate leads, you'll need to promote the contests directly on social media.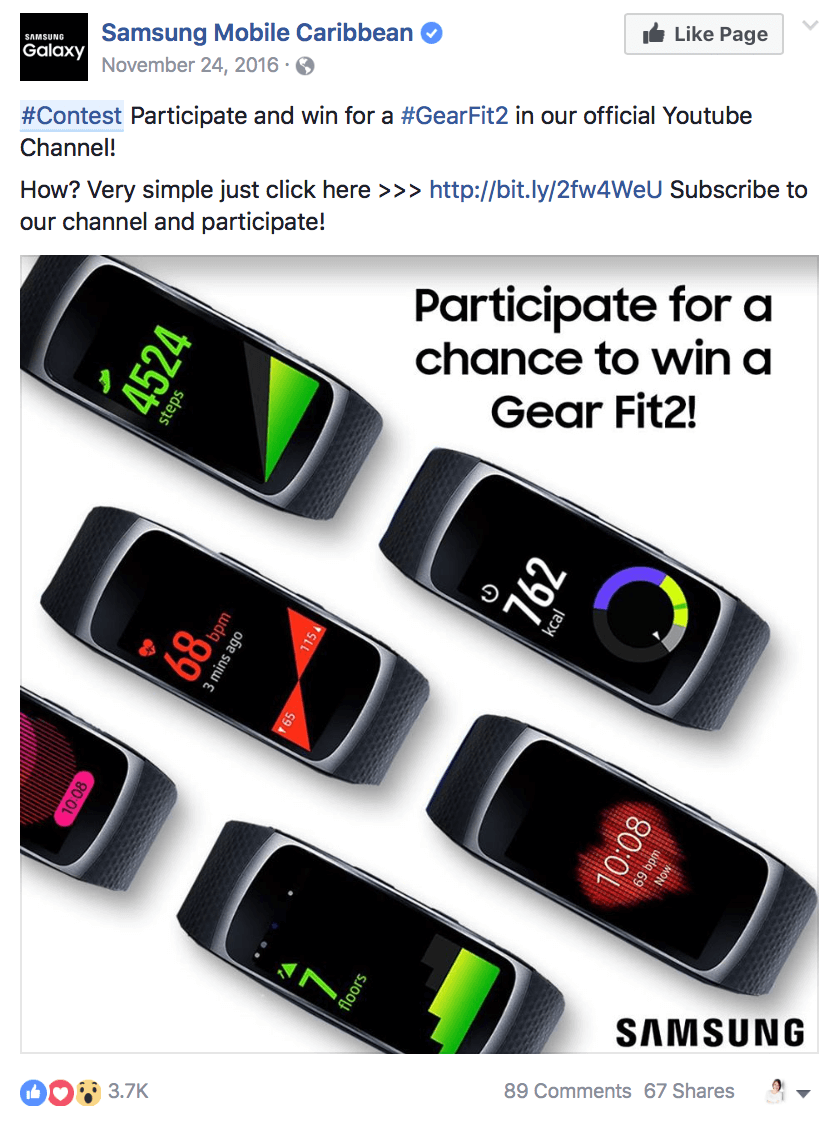 In addition to the great results, you can also get a ton of Facebook posts out of one contest as an added bonus. Posts should include:
Announcements of the contest, including reminders for users to stay tuned for more information and to participate
An announcement the day the contest begins, including prize information
Frequent reminders for the duration of the contest with urgent copy like "Enter now!" and "Only 3 days left"
An announcement that the contest is over, announcing the winners and thanking everyone for participating
13. Create Polls
Polls are a fantastic way to get a lot of engagement, and you also have the opportunity to conduct valuable market research without paying a penny while showing your customers that you care about their opinion. And as we mentioned above, everyone likes giving their opinion.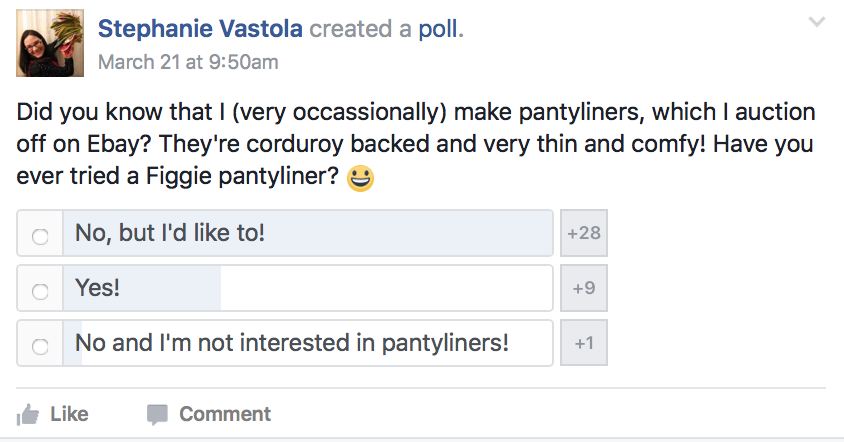 You can only create native Facebook polls in Groups or on Events, but this can still be a useful tool since many businesses participate in both. Just click "Ask a question," type your question, and add options users can choose from. Thank everyone in the comments section once the polls is over, and engage with as many individual comments there as possible.

14. Seasonal/Timely Content
You can't go wrong with seasonal and timely content, as long as it isn't controversial. Sharing information about special holiday promotions or discounts is obviously a great idea, but "Happy First Day of Spring!" can also be a great post on its own. Bonus points if you can work a quick product shout out in it, like "Happy First Day of Spring! Don't forget to get a new pair of our rain boots before the spring showers start coming in!"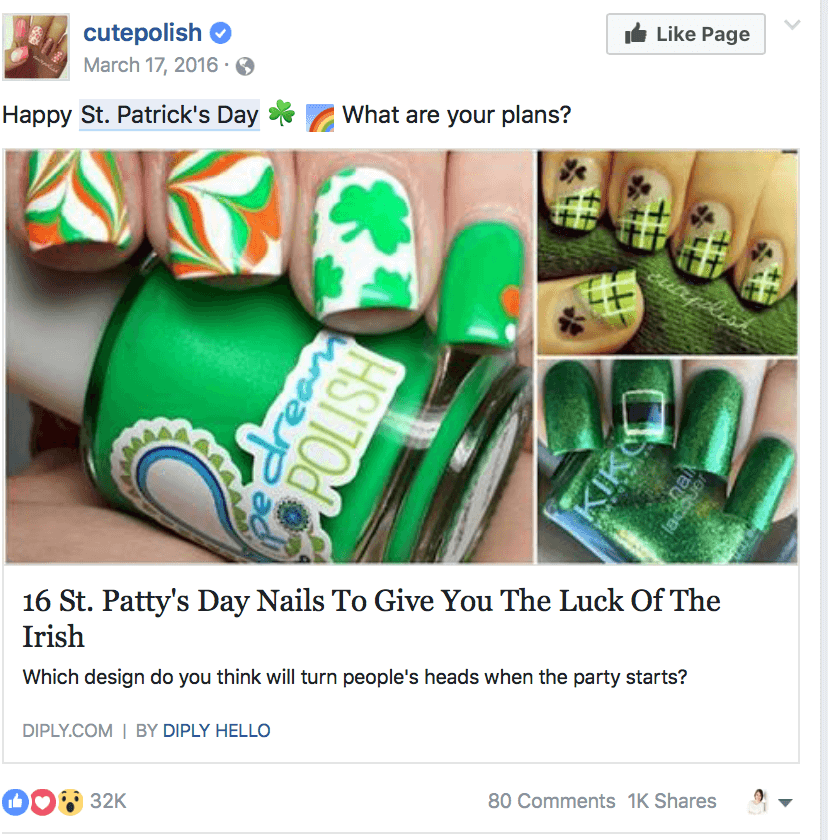 Extra Tips to Never Run Out of Content Ideas
Want to make sure you never run out of Facebook ideas? Even with the 14 sources of inspiration for your Facebook post ideas, it can still be difficult to generate the massive amounts of original content needed to keep your Page going.
There's a few more secrets that social media marketers use to guarantee they'll always have more ideas for their next Facebook post, including:
Always have a queue on hand. I can't possibly overstate how important this is. Take some extra time to create a store of extra Facebook content that you can keep ready to go whenever you're at a loss. Save evergreen posts for use at any time. When you get slammed with everything else that running a business requires, these posts will be ready. You can even save them as drafts on Facebook, or (even better) scheduling software like Buffer, Agorapulse or Hootsuite.
Create social media editorial calendars. Editorial calendars allow you to plan out an entire month's posts. This makes it easier to space it out similar content like contest promotions without neglecting anything. The above scheduling tools can help you create these calendars.
Reuse great content. Yep, this is kind of cheating, but everyone does it. Thanks to organic reach, most of your followers won't see your posts the first time around. You can change up some of your best posts in the past, tweaking the wording, and resharing it at a different time of day. You could, for example, use a different quote from a blog post that performed well before.
Final Thoughts
Coming up with Facebook post ideas again and again can be shockingly difficult, so having a few general go-to ideas on hand can make the process a lot easier. These 14 ideas can reliably help you generate plenty of content to keep your editorial calendar full and your Page engagement up.
What do you think? How do you come up with Facebook post ideas? What sources of inspiration do you use? Leave us a comment and let us know what you think!