Facebook users love video, making it a solid choice for businesses wanting to reach and engage their audience. They love video so much, in fact, that on-platform video content actually accrues up to 8 billion combined views per day.
Videos are a high-engaging, dynamic media choice, giving you the chance to really sell the emotional aspects of your message and to make a lasting impression on viewers.
In order to get the results you're looking for, though, you need to actually get users to watch the video itself. While auto-play in the Facebook feed can absolutely help attract attention, you don't want to rely on that exclusively. Some users have auto-play disabled, after all, and you still want people to be interested when they see only a title and thumbnail. This may be the case when they're seeing recommended video previews, when they're looking through search results, or when they're looking through your Facebook Page.
This is why Facebook video thumbnails are so important. In this post, we're going to take a look at everything you need to know about thumbnails for video on Facebook, including how to create thumbnails that practically guarantee clicks and views.
When Users See Facebook Video Thumbnails
Most users have auto-play enabled on Facebook. If this is the case, the video will start playing pretty much as soon as they see it.
Video thumbnails, however, will show up when the video doesn't automatically play. If users search for "how to make avocado toast," for example, they'll see a bunch of results listed, which feature the thumbnail of the video. And when they're browsing through your Page or see a recommended video list pop up as they're watching another video on the platform, they'll see the thumbnails then, too.
While Facebook can auto-generate different thumbnail options from the video itself, these almost never work out in your favor. The image ends up looking blurred, and if there are any people in the image, they're likely caught mid-blink or mid-sentence, and it's never flattering. You'll want to take the time to create a still image with bold thumbnail font that's optimized for clicks and views and that sufficiently explains what the video will be about.
The Size & Image Requirements for Video Thumbnails
Before you start creating your thumbnails, it's important to know about the size and file requirements for them so that you can upload them without any issues. If you don't, things could end up with the thumbnail being cropped in an awkward way, like this example: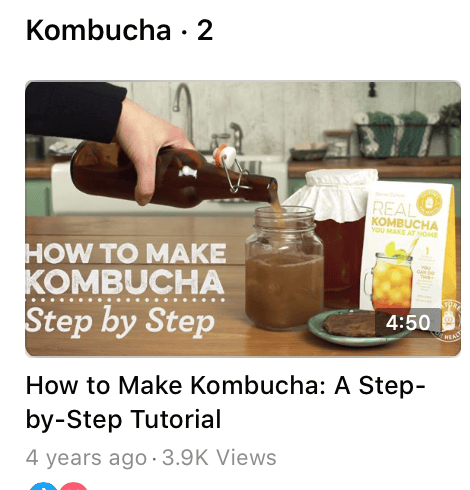 Here are the specs that you need to know:
You can use square or horizontal video formats, so you'll want to choose the right thumbnail
Aspect ratios are 16:9 or 1:1
The recommended Facebook thumbnail image size is 1200 x 675 pixels
Most file types are accepted, but JPG and PNG file formats are recommended
Facebook Video Thumbnails Best Practices & Examples
Getting the image size right is a great first step, but there are other best practices and design tips that you'll want to keep in mind!
Let's take a look at the four key Facebook video thumbnail best practices and examples of how to implement each one.
Choose High-Quality Images as the Primary Background
Facebook video thumbnails must be captivating, and if the thumbnail doesn't look high quality, people will assume the video itself isn't, either.
Make sure that you're using a high-resolution file that will render well. You also want to opt for clean, easy-to-make-out images that will pop on smaller screens even amongst busy feeds. Bright, contrasting colors are typically a good call.

Choosing gorgeous background images can be a great call. And if you don't have any of your own, don't sweat it. When you're a Snappa subscriber, you can access our extensive library of free-for-commercial-use stock images and add text, graphics, and logos as you see fit.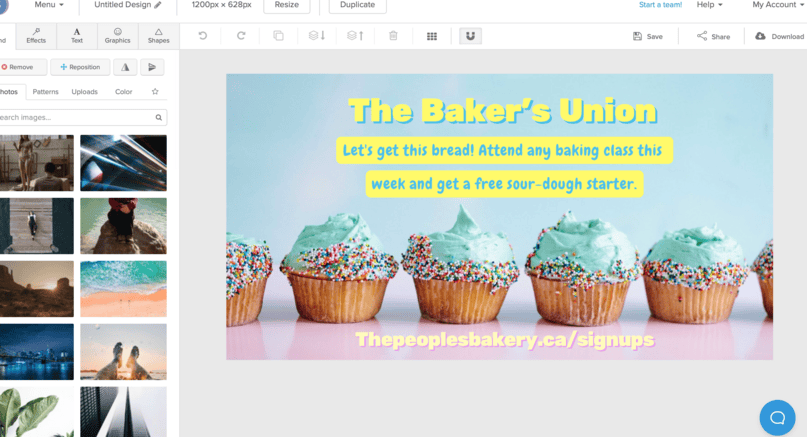 Use the Image to Summarize the Video
The point of the Facebook video thumbnail is to encourage users to click and watch because you've caught their attention. Choosing images that really drive home the point of the video will help with this.
Which would be more appealing, for example? A simple background with "How to Make Hasselback Potatoes," or the text overlaid on top of delicious, mouth-watering potatoes? You immediately know what you'll be seeing, which is exactly what you want before you click.

Make Sure Text is Easy to Read
Not all videos are easily summarized with a single image. Whether they are or aren't, adding text overlay to your video thumbnail to share the title of your video is a great design choice. People are more likely to notice the title when it's placed on the thumbnail than when they skim over it in the text that appears below the video itself.

If you do opt to add text to the video thumbnail, however, make sure that it's easy to read even from a smartphone. In the section above, you can see that it's hard to read the video title overlaid in white on the mashed potatoes. Use text bordering if needed, or change the color of the text for each individual video as needed.
Create a Branded Look
Adding proper social branding to your video thumbnail can do wonders for your brand awareness, and it might help increase views if people see it, recognize the content, and are excited to watch it.
Creating a branded look can be as simple as adding your business's logo somewhere onto the thumbnail, but it can also include having a standard design for every video thumbnail either on your platform or for each individual video campaign or playlist (the latter is typically easier to maintain).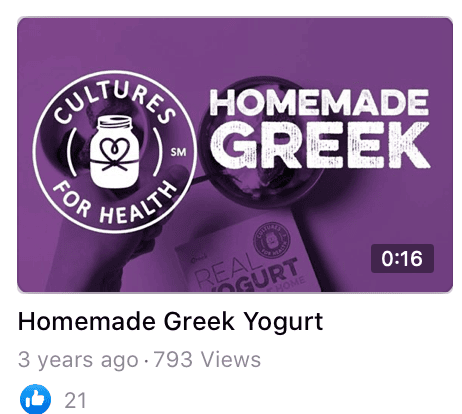 Cultured Health does this in the video example above, including their logo and brand name. They have a series of "how-to" content that have thumbnails with similar designs in different colors. It's a distinct look that their audience will recognize after seeing it once.
Final Thoughts
Creating video campaigns is an involved process, starting with the original strategy all the way through the execution of shooting, editing, and hopefully adding on closed captions. The last thing you want to do is drop the ball in the fourth quarter by neglecting seemingly-small details like the video thumbnail. Fortunately, with the right design tips and an easy-to-use tool like Snappa, you can pump out high-performing Facebook video thumbnails in no time.
Ready to step up your video thumbnail game? Start your free trial with Snappa today!
What do you think? What strategies and design tips do you use to create high-engaging Facebook video thumbnails? Which images drive the most views for your content? Share your thoughts and questions in the comments section below!