All businesses and brands (even single member LLCs) are always looking for new methods of connecting with their target audience. They're also looking for ways to stand out from the competition, and to showcase their industry expertise and knowledge. Quora is an often overlooked marketing source that can help you promote your brand.
For those who haven't heard of it, Quora is a question-and-answer site where the community of users both ask and answer each others' questions. It's a lot like Yahoo Answers, but the answers tend to be a little higher quality. It's got some great features that can be used for marketing, including the ability to set your areas of expertise and creating a specific profile that links to your site and shares relevant information. As an added bonus, it gives you an extra SEO result when users search for your name on Google, and sending them to your profile that's showing off your expertise is never a bad thing.
If you've never heard of Quora, that's ok! We're going to go over everything you need to know to use Quora for marketing, including setting up your profile and best practices.
Setting Up Your Quora Profile
If you want to get the most out of Quora for marketing purposes, you need to optimize your profile.
First, it's important to note that you need to use your own, real name; not your brand's name, and not some anonymous social media name. I don't show up as "Ana Gotter Writing LLC," my profile says I'm "Ana Gotter." People want answers from people, not businesses.
Next, your profile bio is extremely important. This is an extremely short snippet of information that you can use to tell users quickly who you are. You can share your interests and expertise. I think job titles are great to place here; mine, for example, reads "Writer, Blogger, and Marketing Consultant." This hits on the biggest writing services I offer. Since this bio will show up in search engines next to your profile name, this is extremely important.

Under your brief profile bio is a more extensive bio option. Here you can highlight your services, mention your business, and link to your website or add relevant contact information. You still want to keep this brief, but have enough information that users know they can trust your answers.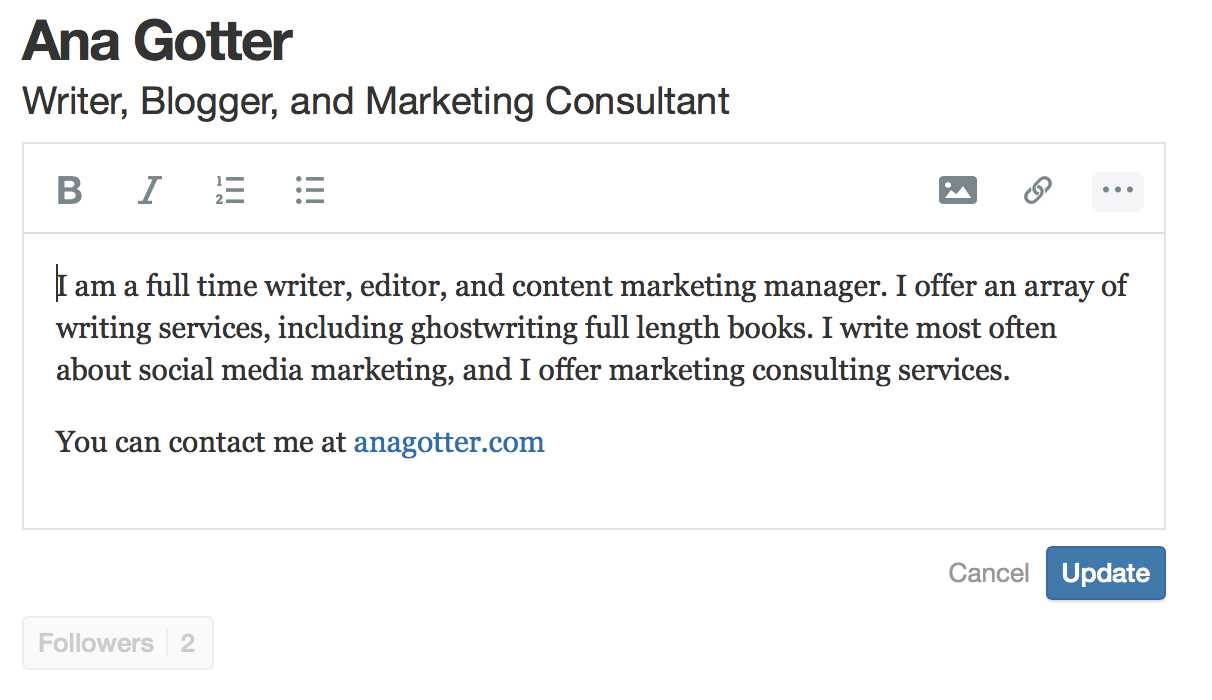 In the "About Section" to the right of your profile, you can add information like your location, past employment, your education. Most importantly, you need to add what you "Know About." Make sure to include all areas of professional interest here; this is important to helping you find relevant questions.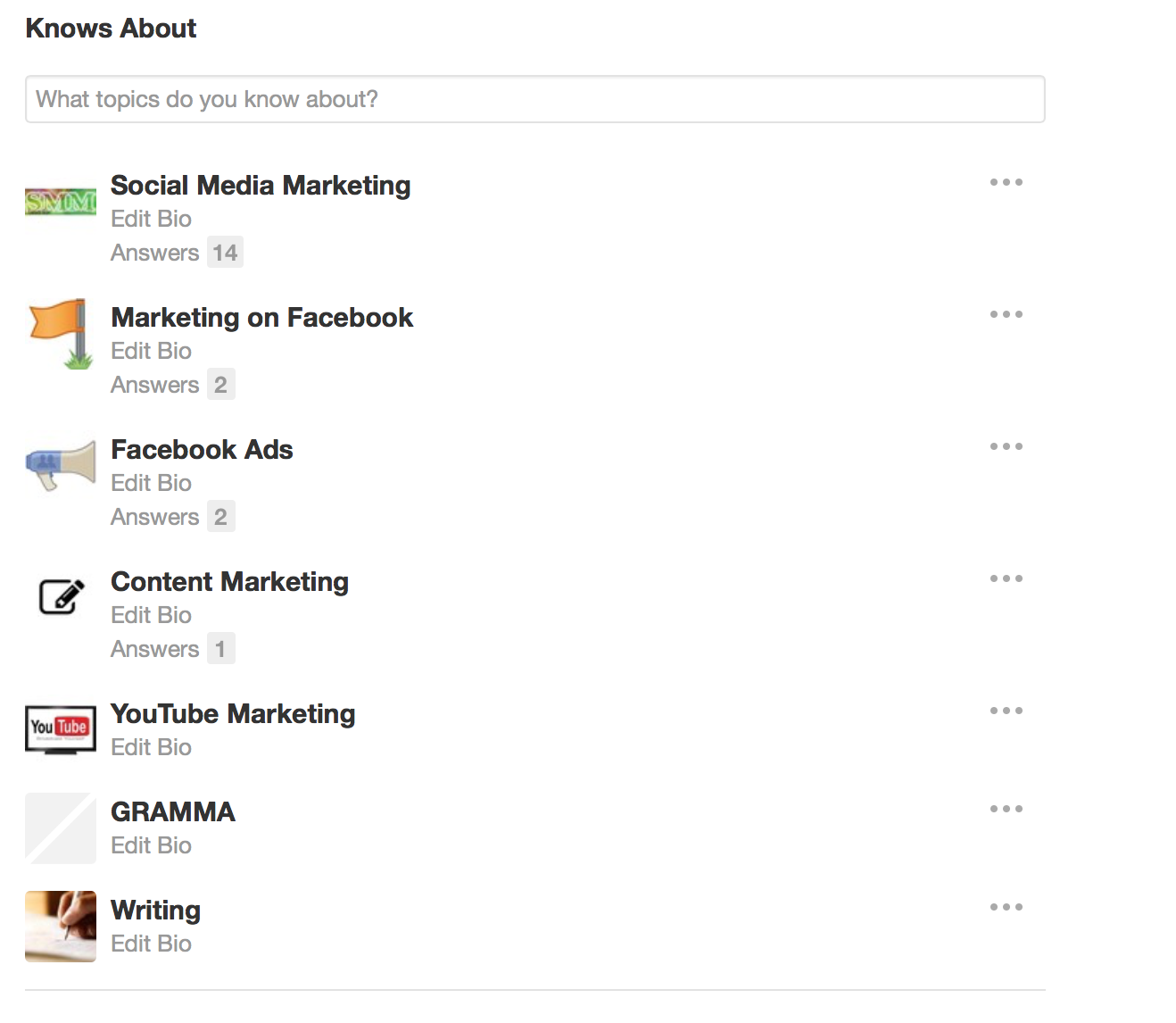 Finally, add a profile picture. The picture should be of you, like one that you'd add to your LinkedIn profile, not of your brand logo.

Once you've completed all the above steps, you're set to start finding questions to answer.
How to Find Relevant Questions
Finding and answering relevant questions will make up the bulk of your Quora marketing efforts. This allows you to showcase your industry expertise and indirectly (but efficiently) promote your business.
Quora will automatically suggest questions for you to answer based on your self-proclaimed areas of expertise. Because of this fact, it's essential to fill out that section thoroughly, as discussed above. You may even get emails with relevant questions that you can answer, but when you visit the site and click "Answer" in the top navigation bar, you'll be shown relevant questions recommended for you.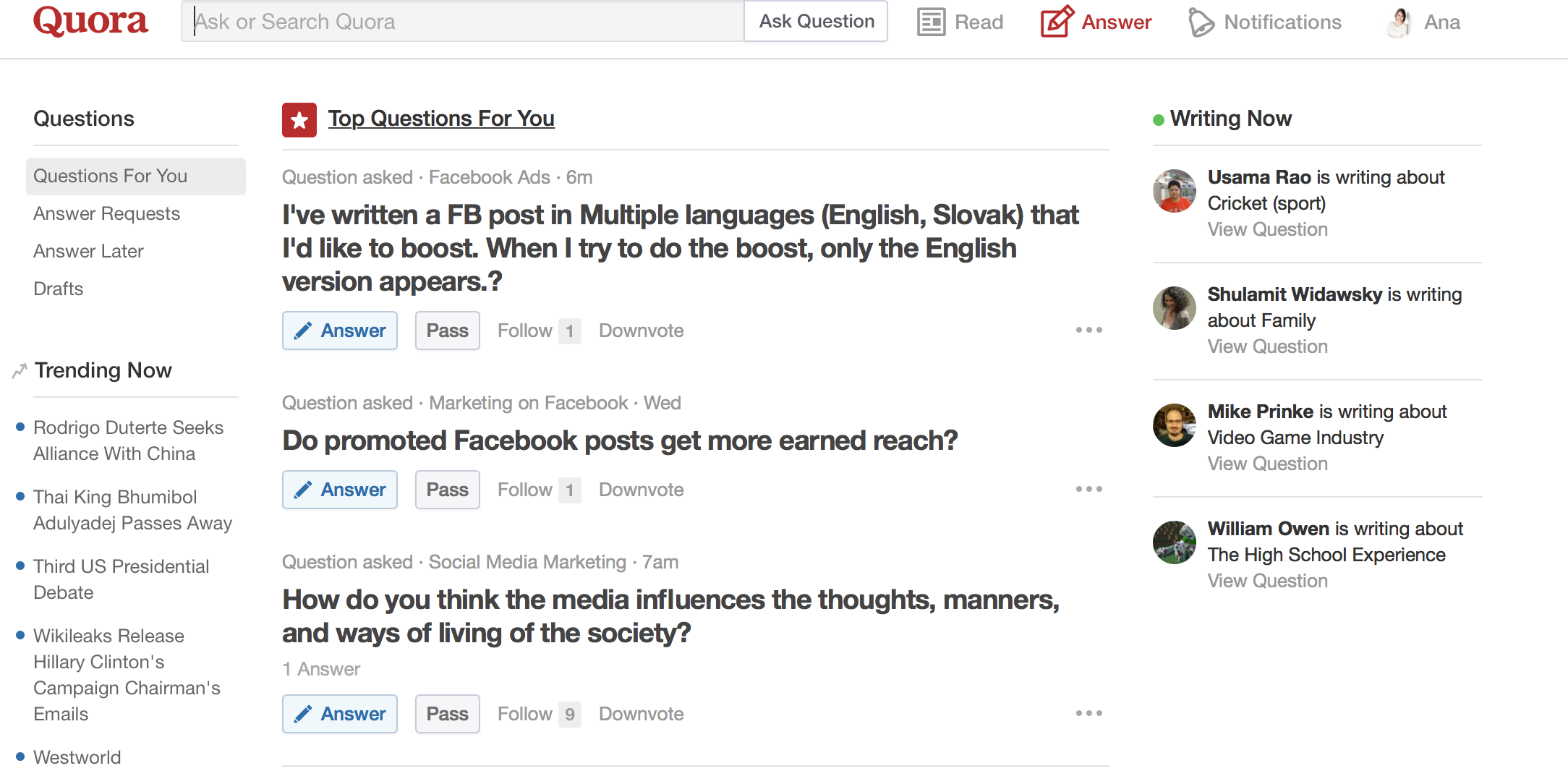 If there's nothing there, you can use the search bar to find relevant questions to answer.

Users can actually even single you out and request that you answer their question. You'll get a notification when this happens. When possible, always make sure to answer these questions if you can.
When answering questions, be thorough and extremely informative while still being personal. Being a self-righteous know-it-all, however, is off limits, and being rude to other answerers is not ideal (yep, I've seen this happen). The community votes on the answers that are most helpful, so keep this in mind. Particularly when it comes to questions in your industry, you really want to be considered helpful. Aside from this, there are a few best practices that you can use to increase your success.
Best Practices in Quora Marketing
Aside from having a picture-perfect profile and knowing how to find relevant questions, there are a few things you can do to get the best results out of your Quora marketing efforts.
If you want to maximize your results, a few great best practices you can use include:
No self promotion. This seems counterintuitive, but it's an important one. You can link to a relevant resource every now and then, but you shouldn't be linking back to your site and blog posts too often. If you do, Quora might actually shut down your account. Instead, answer the questions asked with great advice. You can mention your title if relevant, and people can click to your profile for more info. That's where you can promote yourself.
Ask questions yourself. Want to know what your customers think? Don't be afraid to ask a question. A kickboxing gym owner, for example, could ask something like "In my gym (insert name here), we try to change up the workouts on a daily basis- are there any exercises you recommend using either body weight or kettlebells?" Not only are you getting a potentially relevant audience checking out your profile and brand, you'll get amazing feedback from relevant customers that could help you improve your business.
Engage often. You know how they say dating is just a numbers game, and the more you put yourself out there, the better you'll do? The same is true for Quora marketing, and it's really true. By engaging regularly, you'll build a stronger presence. This will benefit you immensely.
Find and engage with influential people. If you're able to connect with industry influencers, raving fans, or potential customers that could bring you new leads, that's amazing. You don't want to be forceful or obnoxious, but using Quora to connect with people who could help you advance your business is huge. Whether you connect with someone who is looking for guest posts on their blog or who is looking to buy your services, be open to everyone you meet. When you ask a question, don't be afraid to target specific influential users when requesting answers; easy outreach, after all, is always a plus.
Conclusion
Using Quora for marketing and answering relevant questions is a great way to establish brand expertise and easily connect with a relevant audience. There's also a chance that by answering questions, you might connect with users that are actively searching for products or services exactly like yours. While you should never go heavy on the self-promotion, using Quora to showcase your knowledge, build rapport with users, and indirectly promote yourself and your business can benefit you immensely.
What do you think? Have you ever used Quora for marketing? How did you get the best results? Leave us a comment and let us know what you think!