Shopify is an incredible eCommerce platform, making it easier than ever for businesses and merchants to create a site for their business, market their products, and sell like never before. They have multiple different shopping cart and payment options naturally integrated into the platform, and there are thousands upon thousands of apps that can help you do everything from automating your accounting to creating shipping labels at a discount.
There are so many incredible options that sometimes merchants can still feel a little lost with some of the basics. If you can upload images of so many different shapes and sizes, for example, how do you know which one is best?
Fortunately, there are straightforward answers about the best Shopify image sizes, image subjects, and overall best practices. In this post we'll look at everything you need to know about the best Shopify image sizes and how to optimize them to help you sell more right away.
What Are The Best Shopify Image Sizes?
When it comes to Shopify images, there isn't a one-size-fits-all necessarily.
Let's take a look at different types of Shopify images and their ideal sizes.
Product Images
Shopify stores allow for a wide variety of images and variations on images. If you run a Shopify store, you might already know that Shopify allows users to upload over 250 images per featured product. Because there are so many options, it's important to make sure they all look great.
According to Shopify, the largest image size you can upload is 4472 x 4472 pixels with a maximum file size of 20 MB.
Files over 20 MB will take up valuable storage space on your website. Attempting to use larger images will impact the speed and functionality of your online store, causing your pages to load too slowly. This could drive up the bounce rate on your page, since visitors tend to leave websites that take too long to load or where images are broken. That's counterproductive when you want shoppers to spend more time on your site, not less.
Having the ability to use any file size up to that 4472 x 4472 pixel limit doesn't mean that actually using files that large is a good idea. Your site visitors are more likely to prefer seeing multiple, fast-loading, high-quality images that will give them a broad perspective on your product. Focus on using eye-catching, high-resolution images that don't slow down your site's functionality.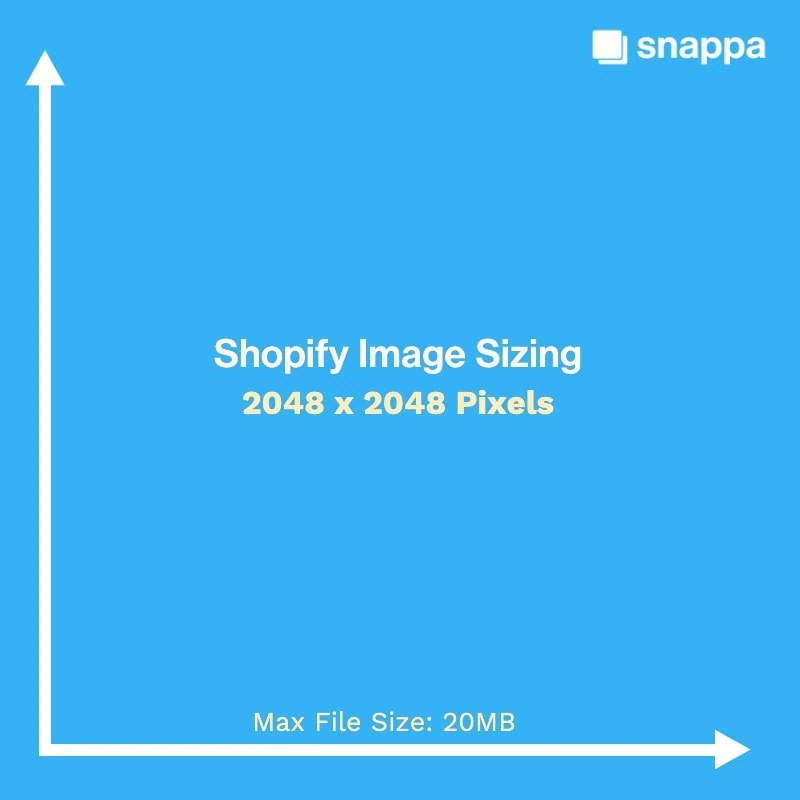 As a general rule, Shopify recommends that store owners opt for square images that are 2048 x 2048 pixels in size. These images work well on both desktop and mobile screens.
The size allows for high enough resolution that your Shopify site will have a snappy, professional look–which, in turn, will help you boost your sales. Additionally, the pixel count on a 2048 x 2048 image allows the user to zoom in on the image when they want a closer look. (Zooming capabilities begin when images are 800 x 800 pixels in size.)
Favicons
Favicons are the small icons that show up next to your URL, and they can go a long way towards brand awareness and creating a strong and complete user experience.
Your favicon should be 32 x 32 pixels wide.
Logos
Your brand logo may appear in different places on your site, depending on your Theme or custom site layout. It may appear at the top and center of your homepage, and it's often featured in the footer of many Shopify store pages for enhanced brand visibility.

Your logos should be 450 x 250 pixels.
Images for Banners, Blog Featured Images, or Full Shop Backgrounds
These are large images that will span across a large part of the website, so they need to be high resolution.
You'll want to opt for images that are 1800 x 1000 pixels here.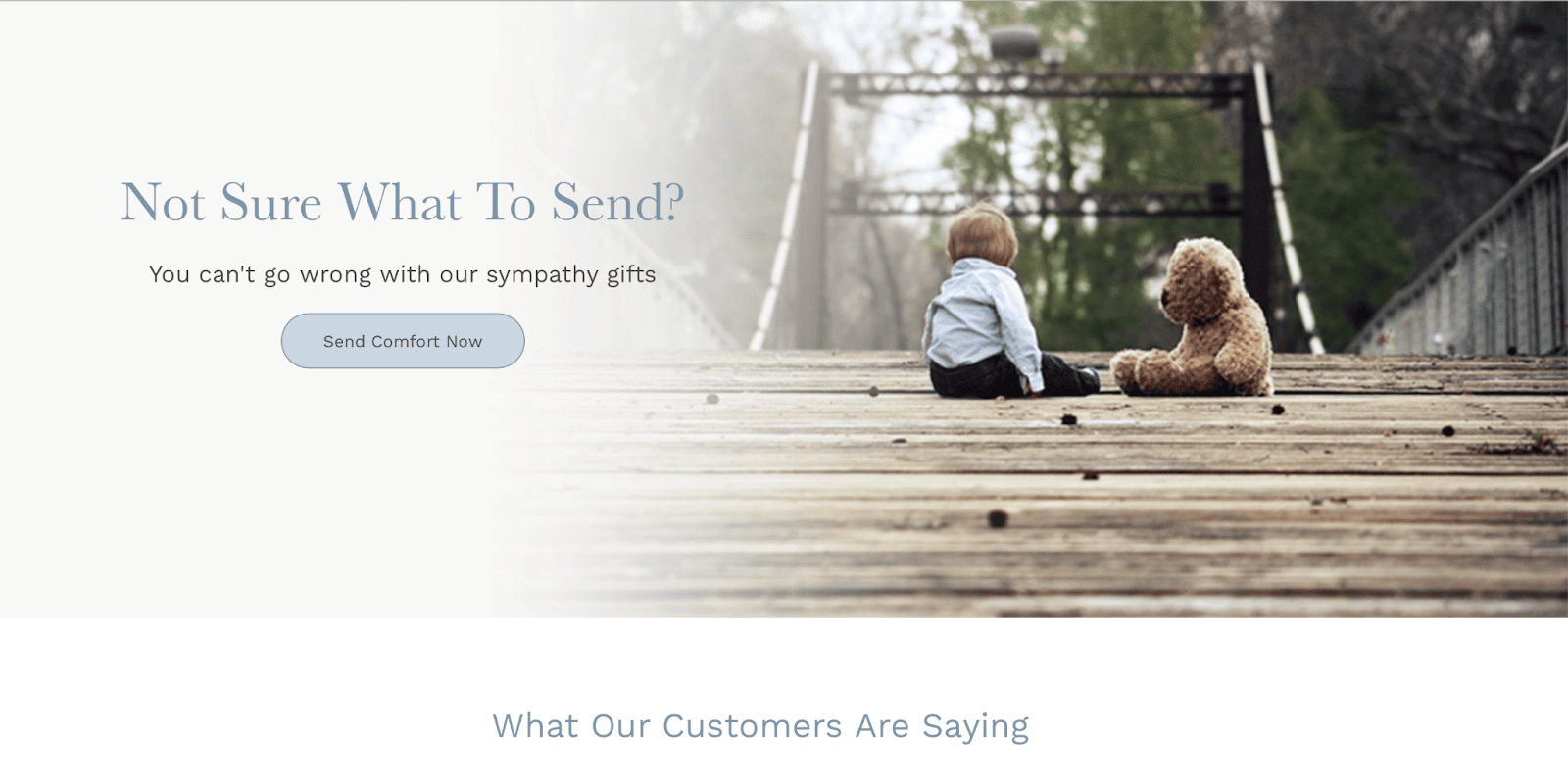 Popup Images
Plenty of brands offer incentives like free shipping or 15% off when you sign up for their newsletter. Shopify strongly recommends uploading images that are 425 x 575 for newsletter popups.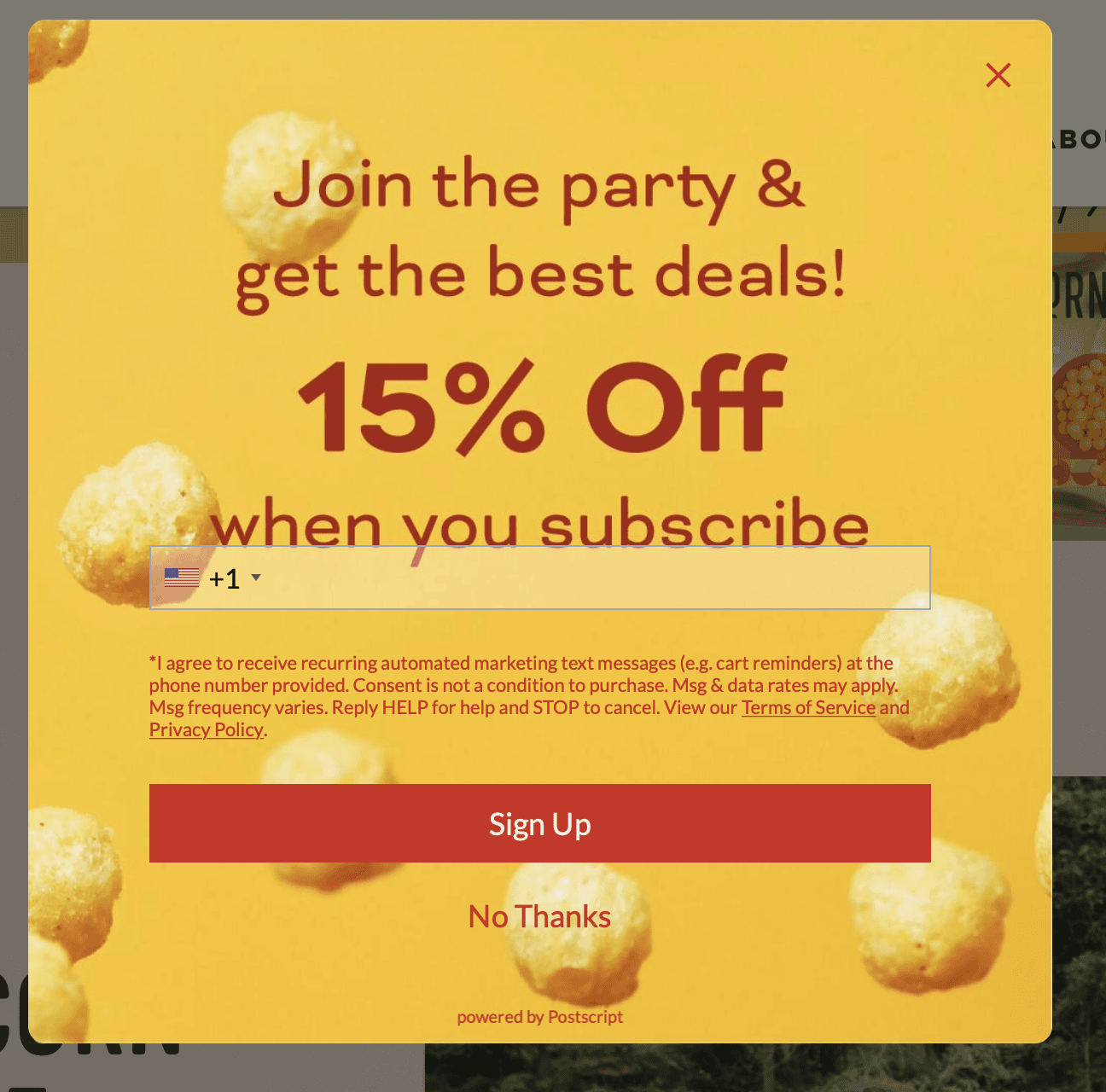 Background Image for Your Login Page
Have you ever noticed that some Shopify stores have gorgeous backgrounds on the login page to keep it interesting? This provides a strong branded experience for the customer. It's also a great place to use a large breathtaking stock photo.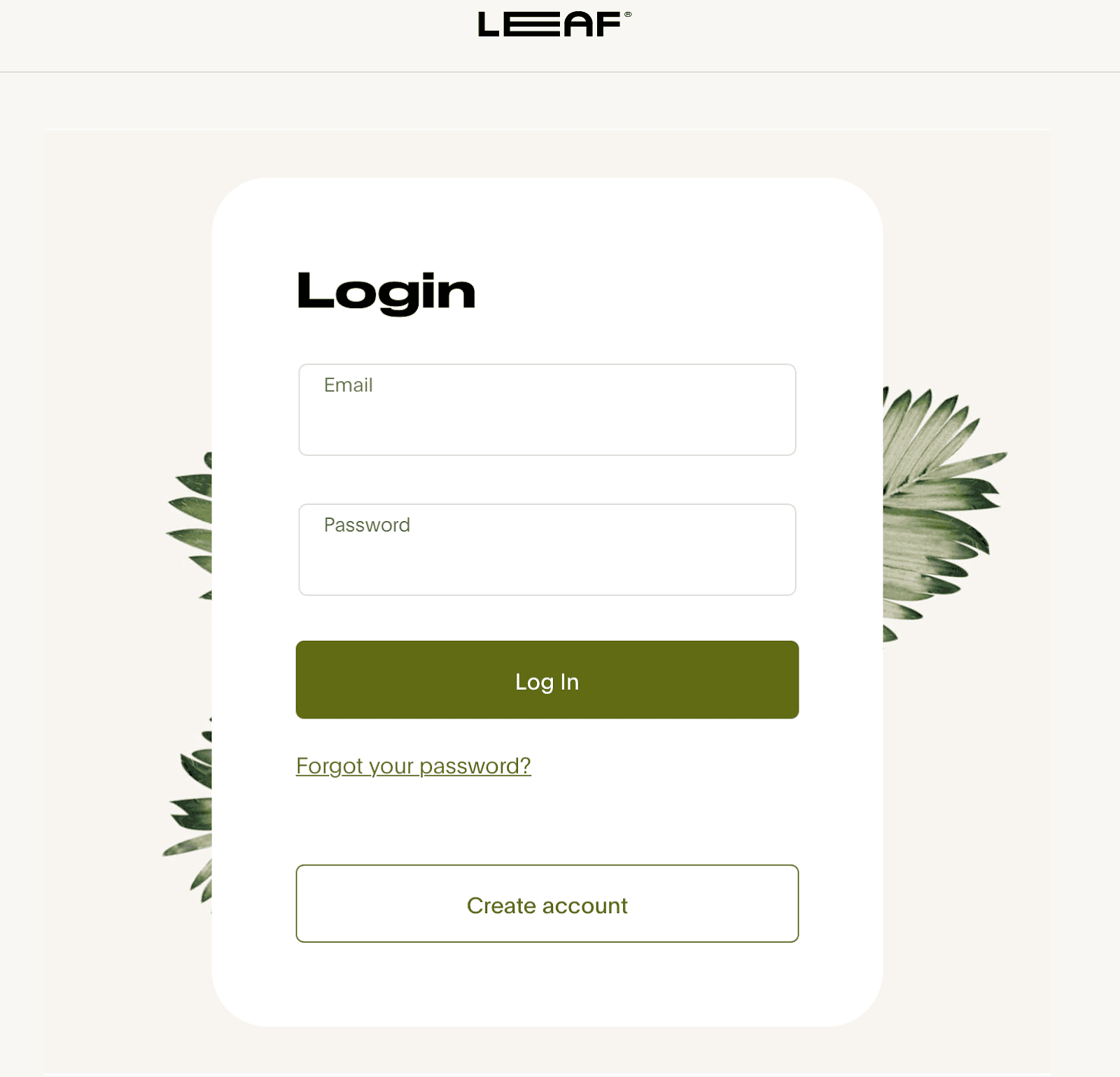 These images should be 1600 x 1000.
Featured Promotion Images
You likely have featured promotions somewhere on your site, potentially even your home page. These are meant to jump out at users and capture their attention. Opting for images that are 840 x 840 pixels is a good way to go.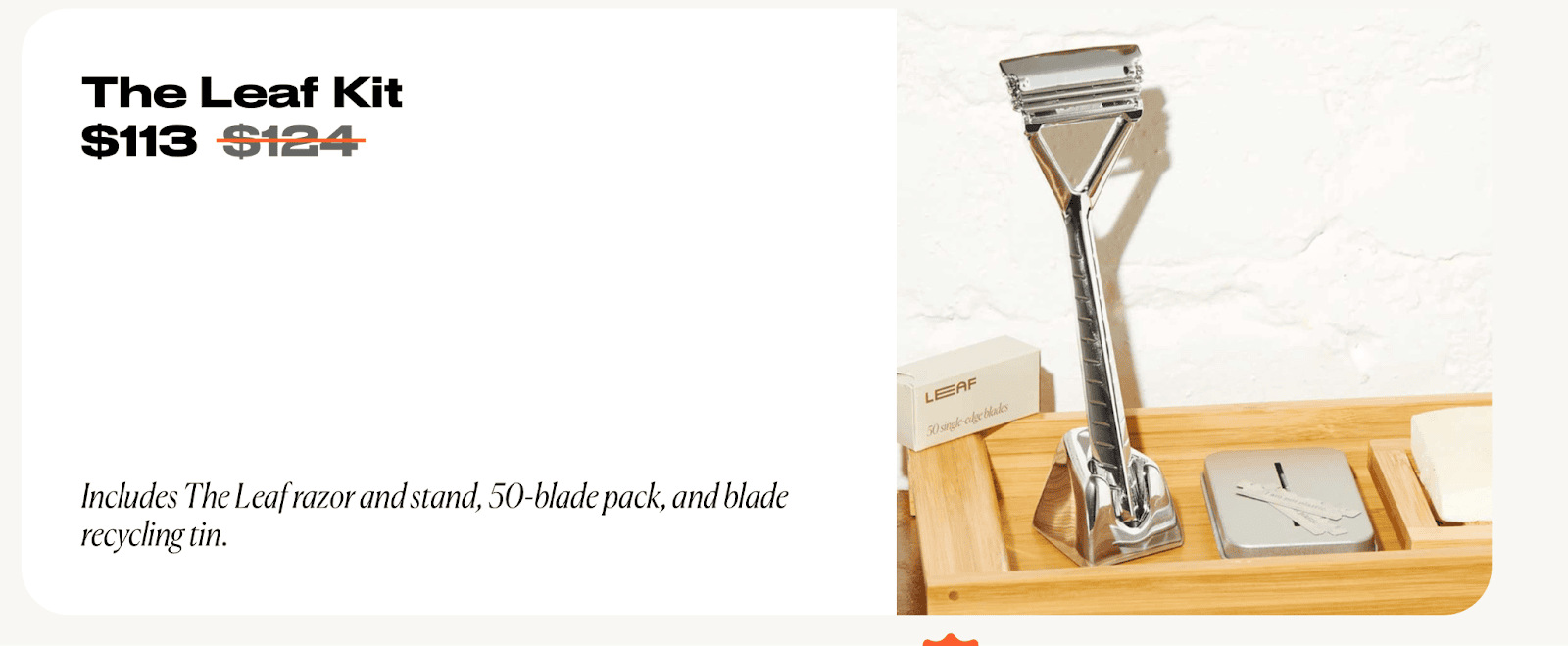 Gallery Images
Creating galleries of your products to organize them into different categories? Upload images that are 800 x 800 pixels.
Slideshow Banner Images
Some websites will have slideshows of product images dominating their home page. If this is a theme style that you've chosen, opting for 1600 x 1000 pixel images is likely a good choice, but make sure you check your specific theme.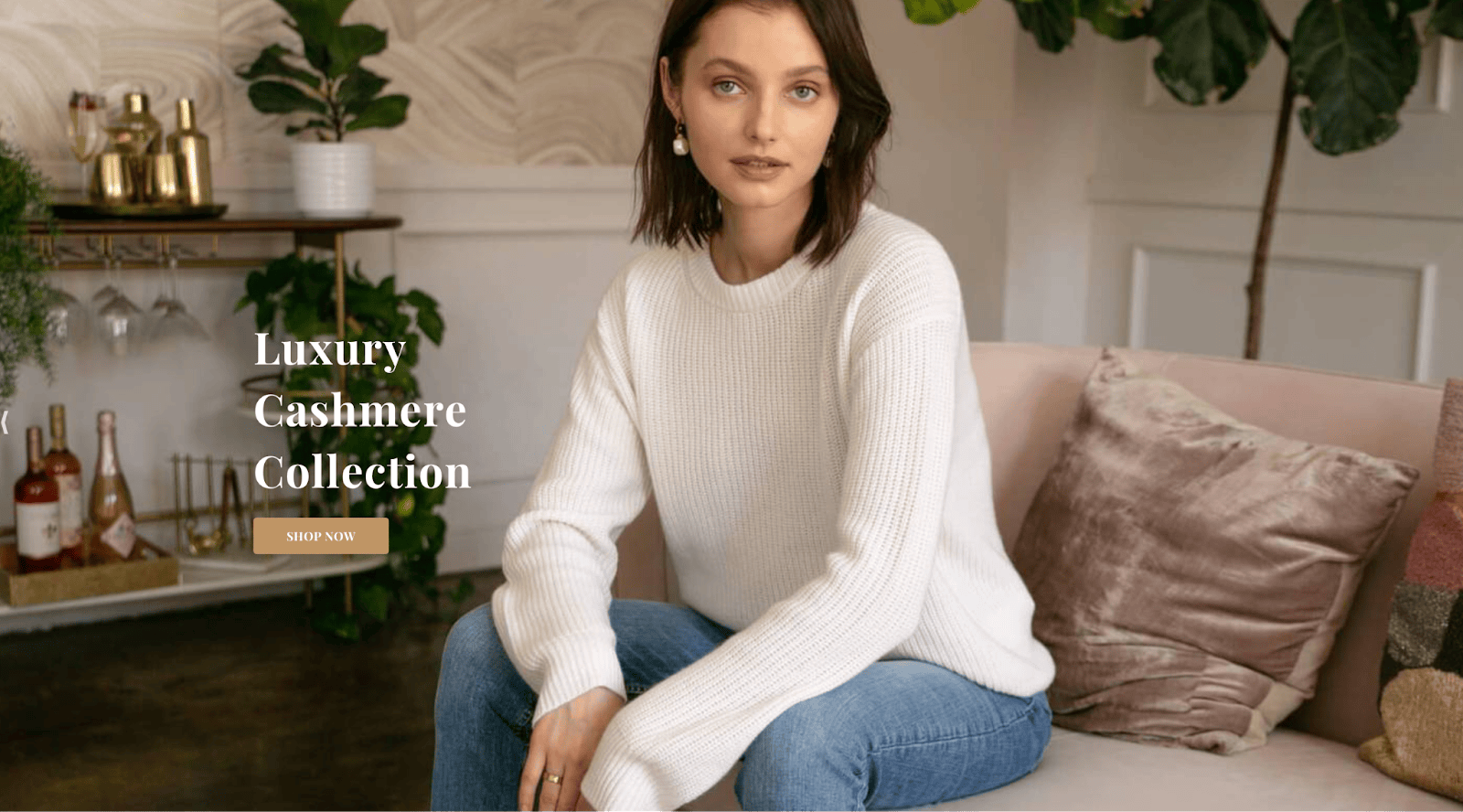 Checkout Page Banners
Again, it's essential to create a fully branded user experience at every stage of the buyer's journey. This includes the checkout page! Upload an 1800 x 300 image with your logo to create a checkout page banner.

Types of Images to Include on Your Shopify Store
When you browse different Shopify stores, you'll notice that like on all eCommerce platforms, there are a number of different images you can use to promote your product.
These include:
Product-only images, which are often placed on a neutral or white background. These are typically used for the primary product images, which show up in searches.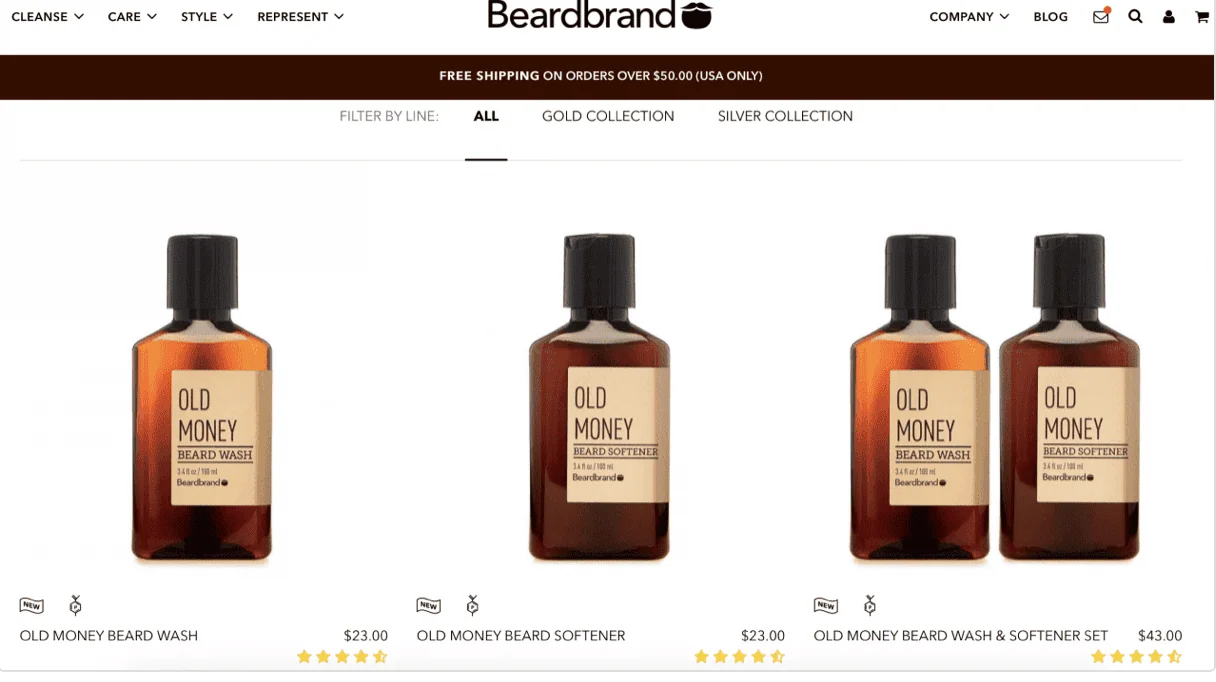 Images of the product in use, with a rich background. This can range from a woman twirling in the dress you're selling, or people standing sitting outside the tent you're looking to promote with the woods in the background. Showing the image in use can help people picture themselves using it and offer value.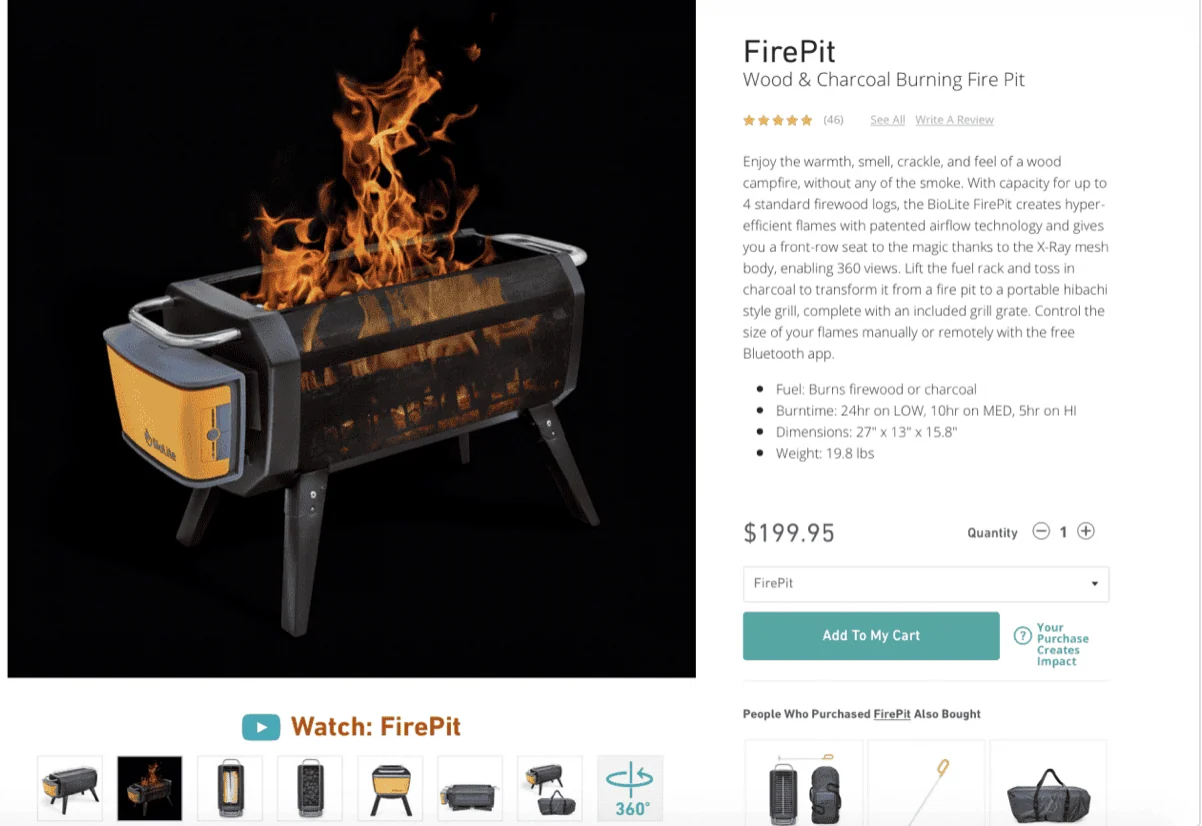 Photographs with graphic overlays, such as the one below which uses graphics or texts to establish context on use or size, or highlight different features. We can help with this at Snappa; simply upload your product image, and use our built-in graphics and drag-and-drop design tools to create high-converting images.
Graphics entirely used to offer information value. This could include a graphic showing three different variants, comparing sizes or options, or even a size chart.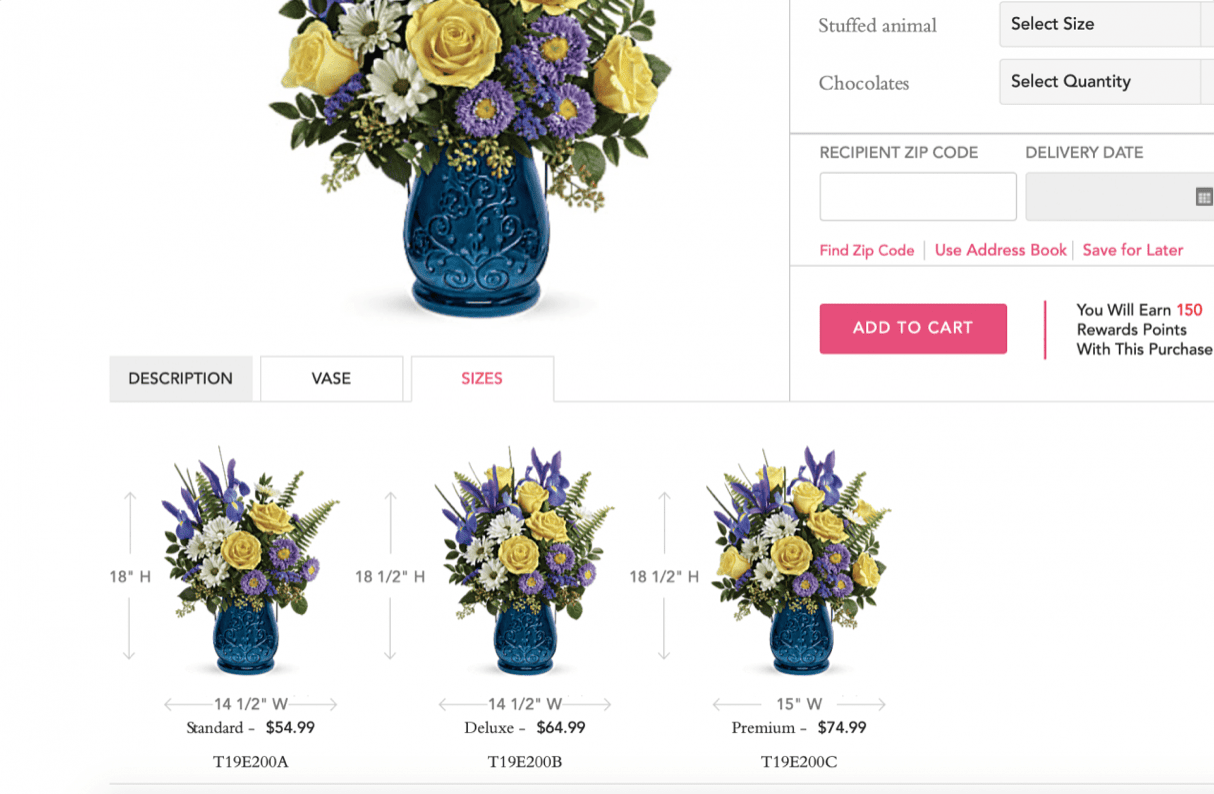 Shopify Image Best Practices
Want to make sure that your Shopify images are well-optimized to help you sell as much as possible, scaling your business into a massive success? Many best practices will vary heavily from business to business or from industry to industry, but all Shopify store owners need to be using these three rules of image optimization.
Use the Same Styled Thumbnail for All Primary Product Images
There are multiple types of different images that you can choose from to market your product, and opting to choose a single style to feature as the primary product image is an excellent choice. It will make your search results look uniform, giving your site a consistency that helps it to look established, credible, and professional.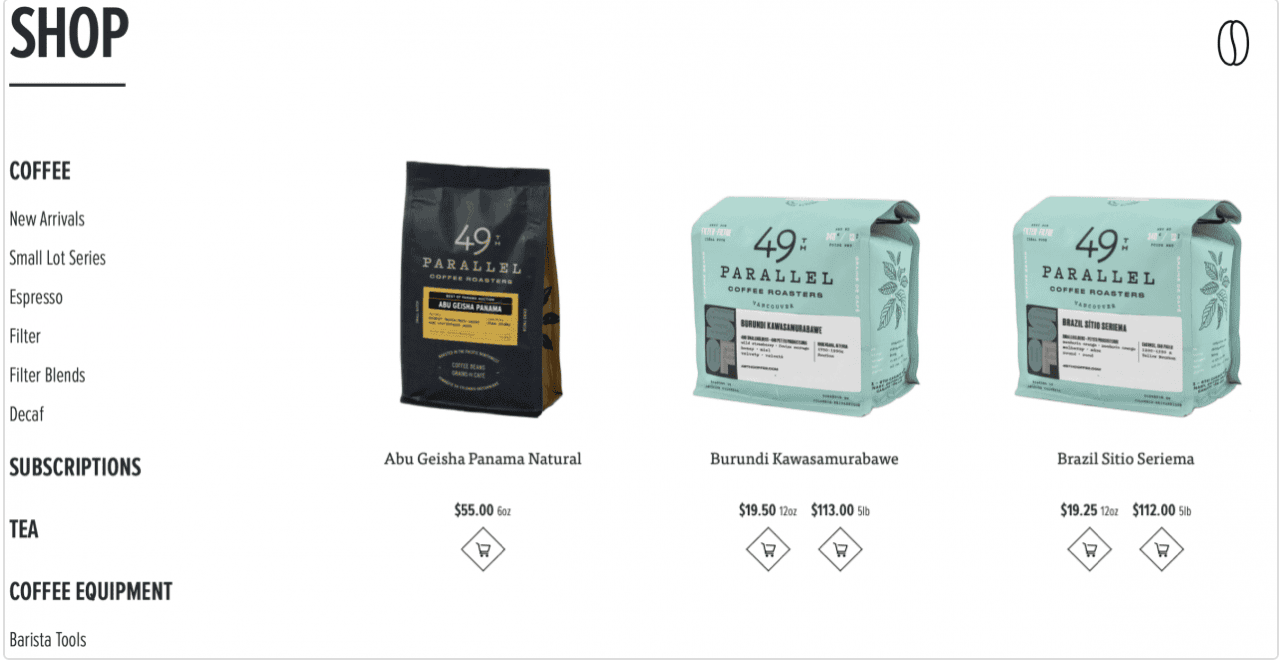 Most storefronts will opt to choose an image style like the above, with the product standing alone on a completely white background that blends into the site overall. It's neutral, and it helps people review their options quickly and see what exactly it is they're clicking on. Try out these images and see if they work for you.
Include a Variety of Images
We just talked about choosing a consistent style for your primary images, but that only has to do with your primary image that will first represent your product and get clicks.
You should still include a variety of other types of images on each product listing if at all possible. This can include up-close images of certain features of the products; in the example below, this is used to show the color, thickness, and texture of the hair extensions being sold.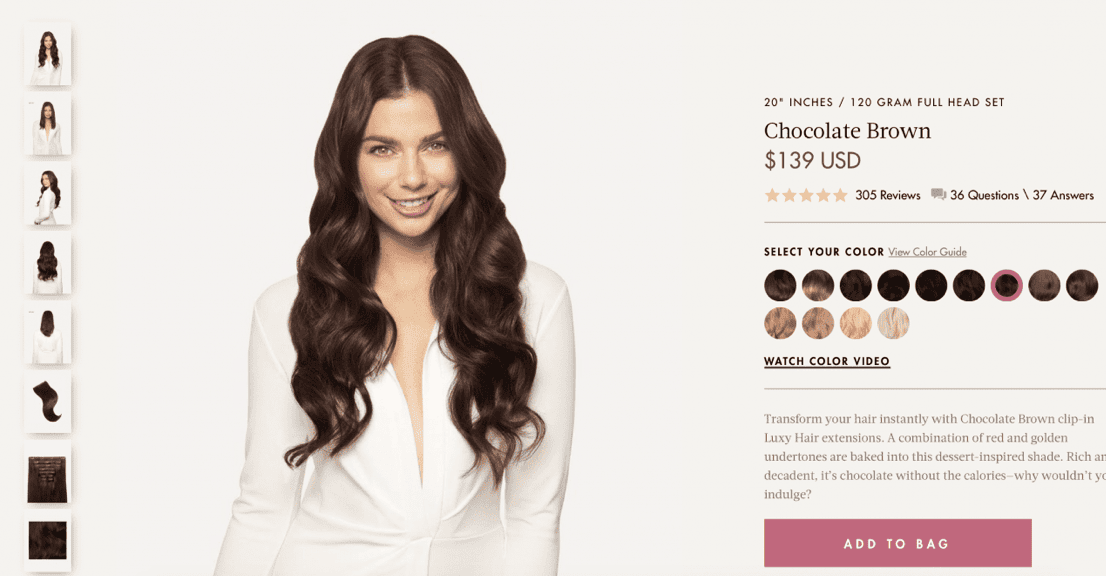 Remember that the more images users have, the more information they have. They can see the product from different views and angles, see it in use, and get a better idea if it's right for them. Not only can that instill more confidence in users to purchase, driving up your sales, it also increases the likelihood that they'll make the right choice for them and be happy with their purchase. This means lower return rates and increased profitability overall.
Test to See What Works
You might find that images with backgrounds work best as the primary images. Maybe if you're selling clothing, you find that they get more clicks when they're on the model instead of laying flat on a white background, for example.
The only way to know for sure is to test it out for yourself. Run dedicated split tests, only testing the images to see what gets you more clicks and more conversions.
There are tools that can help with this, including the Neat A/B app, which will cycle different images back and forth at set intervals until you have the answers you need, seeing what's more effective. This can be different in every industry and for every brand, so taking the time to run the tests can be a great call.
Know Which File Types Get the Job Done
When selecting images for your Shopify store, it's crucial to know which file type works best for the image you're trying to present. There are several to choose from, but the primary formats used most often are JPG, GIF, PNG, TIFF, and BMP.
In terms of file format, JPG is the most popular and commonly used Shopify image.
When you choose a JPG image, you can find an excellent balance between images that look high quality but are also compressed enough for your site to load quickly for the end user. In addition to JPGs, PNG images are also a great choice. The image quality for a PNG is a bit higher than a JPG, but that also means the file is going to be larger, which may impact load time.
That being said, there are other image formats to consider. Let's jump into the file types and look at their features.
JPG / JPEG
JPG / JPEG files (Joint Photographic Experts Group) are compressed images that still appear as high-quality renderings that are great for websites. When displayed with high resolution and a reasonable file size (ideally below Shopify's 4472 x 4472 pixel maximum), they can load quickly and look great in your online shop, too.
These images allow for a wide range of colors so you can get the attention-grabbing quality you want without putting too many demands on your website functionality, and you can also adjust the amount of compression in the image itself. This is the format Shopify recommends–with good reason! JPG files are great for photographs.
GIF
GIFs ("Graphics Interchange Format") are a type of bitmap (BMP) image that allows for animation. They're a great option if you're looking to add a pop of pizazz to your online store. But there's a major limitation when it comes to this file format. While Shopify allows you to use GIFs on your site, it also compresses the file dramatically.
Only 256 colors are allowed in GIF-format product pictures. Even though color options are limited for GIFs, anyone can view them, no matter what browser they're using, so that's a major benefit of the format.
PNG
Next to JPGs, PNG ("Portable Graphics Format") images are extremely common among Shopify site owners. Because PNG images are lossless data compression files, they can be sized down easily without impacting image quality.
PNG files also allow for transparent images. For example, if you want to feature a product image but you'd like a transparent background, you can do that with a PNG.
The only drawback to choosing a PNG file type is that the image files are normally larger than JPG. This can put a strain on your site and cause it to load more slowly than it should. PNG color palettes can display in 24-bit RGB color or grayscale.
PNGs are great for photos and images that include graphic design elements.
TIF / TIFF
Though normally a large file size, TIF ("Tagged Image Format") / TIFF ("Tagged Image File Format") files are raster graphics that can be edited in a number of different apps. TIFs are lossless data compression files, meaning they can be sized down while maintaining visual quality like JPGs.
However, TIFs are generally large so they're not always ideal for use on a website.
BMP
BMPs ("bitmap") are raster graphics that are versatile and compatible with all devices. They're normally not compressed, so images display in excellent quality.
That also means that BMPs are large files that could slow down your Shopify site unless you are able to properly optimize the images. A BMP image can display in both full color and monochrome, and the format allows for many color variations.
Conclusion
Shopify images aren't the only thing you need to sell on the platform, but they'll make a huge impact on whether or not your store is successful and profitable. Starting with the right types, ensuring they're uploaded to the perfect sizes, and then optimizing them fully for sales is something you definitely want to invest the time and effort into, as it will pay its dividends many times over.
Need help customizing your images for your Shopify store to make sure they'll sell? Start your free trial with Snappa today. 
What do you think? How do you optimize your Shopify images to help you sell? What Shopify image sizes have worked best for you? Share your thoughts and questions in the comments below!