We all know that leveraging influencers is one of the keys to success for content marketing and social media.
The reality is, it's pretty tough. Especially if you go about it the wrong way.
When I first started out, I did what a lot of other people do. I emailed influencers without engaging them first or providing any value. Most of the time, I never got an answer back.
But once I switched up my approach, my success rate was much, much better.
In this post, I wanted to share some highly effective tips for engaging with social influencers (and getting your content shared).
1. Mention influences in your post
Without a doubt, this is my number one pro tip when it comes to influencer outreach. By mentioning an influencer in your post, you're demonstrating just how much you value their expertise.
And let's face it, who doesn't want to get linked to in a blog post?
By linking to them, you make that influencer look good and expose them to a potentially new audience. And by doing so, you're building up a ton of goodwill.
At this point, it's much easier to reach out and let them know about your piece of content. Assuming you portray them in a good light, they're usually more than willing to share your content, assuming that it's valuable and helpful to his or her audience.
When reaching out, keep it short and sweet. Also, don't directly ask them to share. Simply write a personalized message, thank them for the content they produced, and link to the post you mentioned them in.
Here's a recent example when I mentioned someone in a previous post.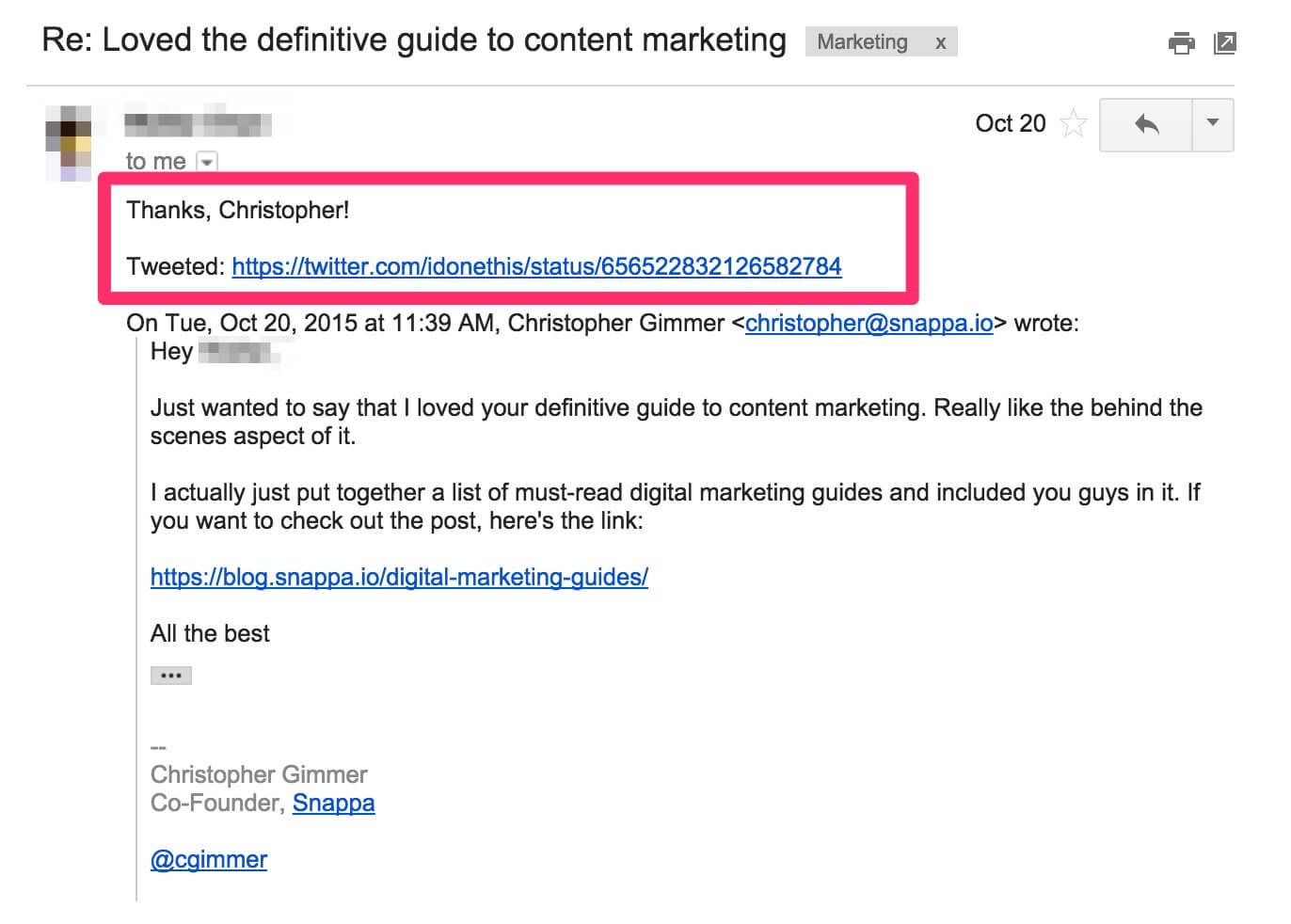 2. Implement the advice of influencers (and report back)
Want to know the main reason why most people don't get ahead?
Failure to take action.
Despite all of the actionable advice that an influencer will dish out, most people won't actually act on it. Instead, they'll feel like they're accomplishing something just by reading the post.
You might know this type of person. They're subscribed to hundreds of newsletters and read tons of blog posts everyday yet they they fail to take action.
Want to know how to impress an influencer? Actually implement their advice!
A while back, I was reading some content on the Backlinko blog. When Brian published a blog post about the Skyscraper Technique, I decided to take action.
By following his advice, I managed to write a blog post that went viral.
To show my appreciation, I emailed Brian to let him know how successful his technique was. I also told him that I was going to write a guest post about it and to see whether he wanted to read it.
He didn't just share my post, he wrote an entire case study for the Backlinko blog. Talk about a big win!
3. Leave an iTunes review
If you're anything like me, you listen to a lot of podcasts. And if you do, you'll notice that so many influencers have started their own podcast.
But here's what's funny…
While most successful blogs get hundreds of comments per post, a lot of successful podcasts only have a handful of reviews.
Why is this important? Because ratings are a key component for ranking in the iTunes charts. Therefore, every podcaster is dying to get another 5 star review.
So what do you think will stand out more? Commenting on someone's blog or leaving a 5 star review? You guessed it, the 5 star review.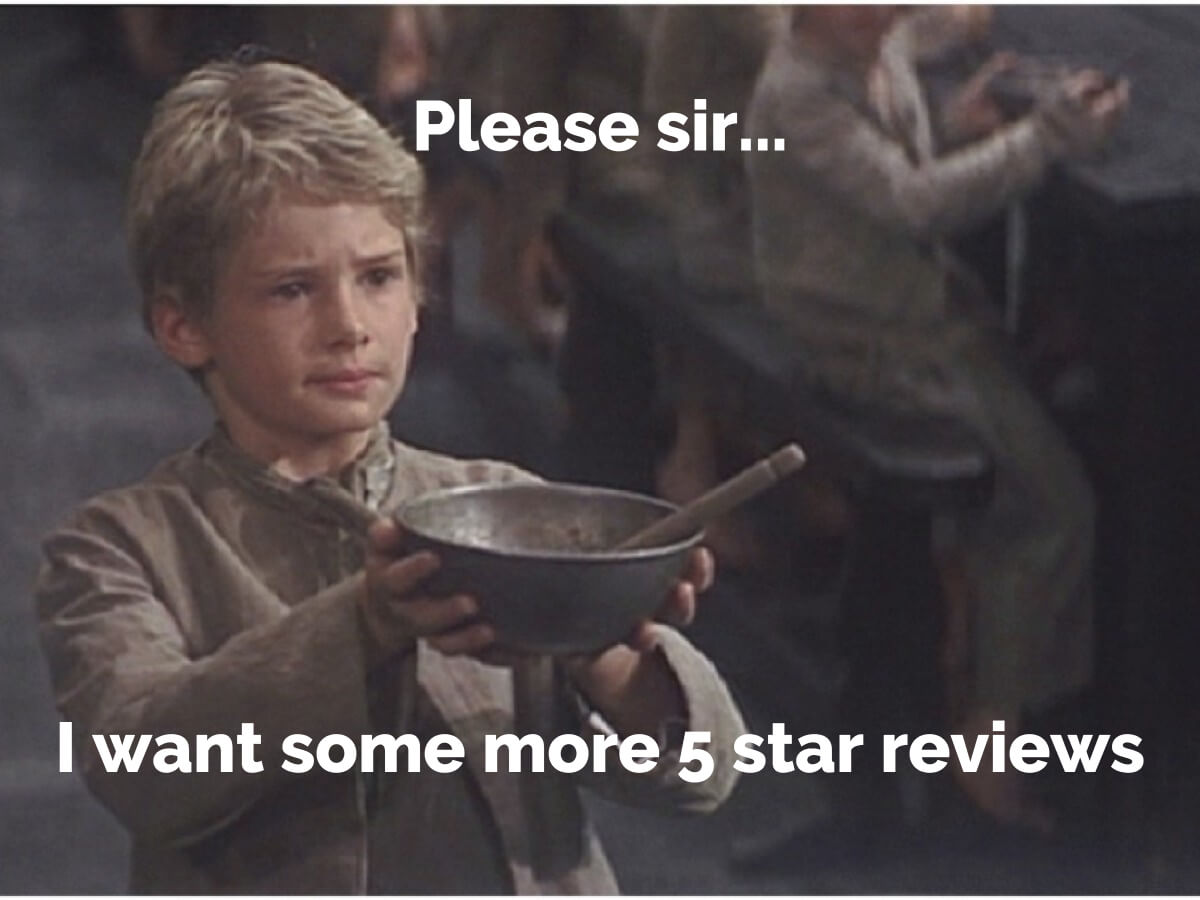 4. Leave an Amazon review
Guess what else social influencers have in common? A lot of them sell books on Amazon.
Just like iTunes, Amazon reviews carry a lot of weight in the book rankings. Therefore, Amazon authors are just as hungry for reviews as podcasters.
Don't believe me?
Just check out this tweet I sent to Chris Ducker after reading one of his books. After he thanked me for the compliment, he asked if I could leave a review. That's how important they are!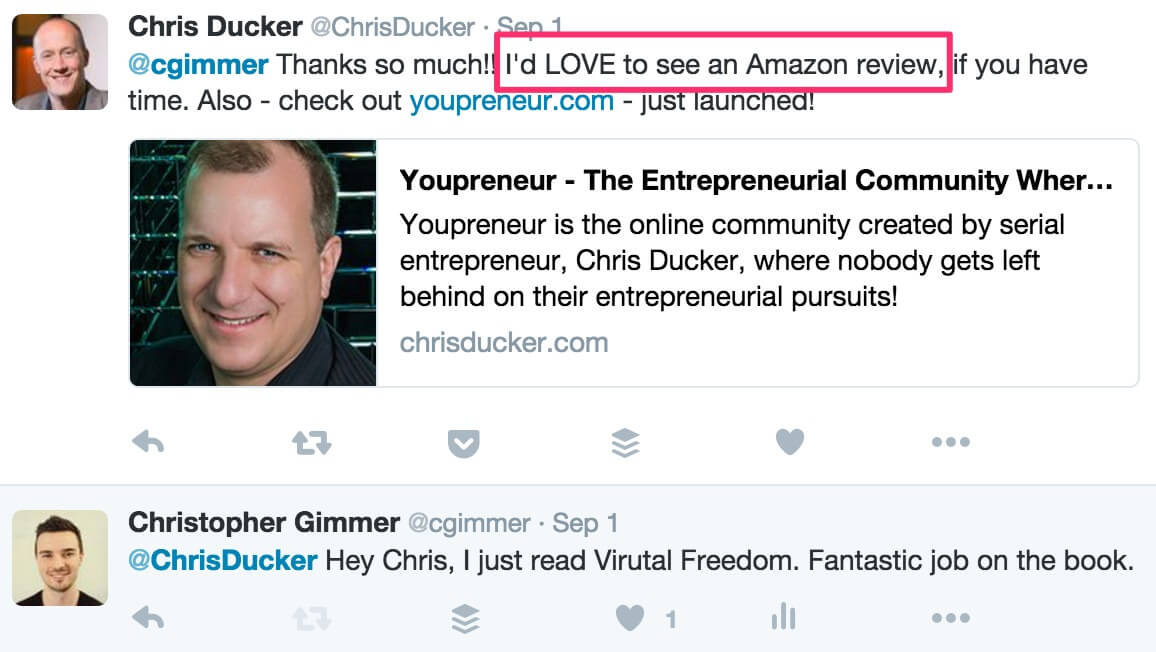 Now that I know how important reviews are, I make a point of leaving them whenever I read a great book. Then, I'll reach out to the author to let them know.
5. Subscribe to their newsletter
You might be asking yourself… how does subscribing to a newsletter engage with an influencer?
It's not just subscribing, it's making them aware that you are subscribed.
What you'll find is that most influencers who have a newsletter will send out some sort of welcome email. And in that welcome email, they'll often ask for a reply. Don't waste this opportunity to let that influencer know who you are and that you value them enough to join their newsletter.

6. Comment on their blog posts
I mentioned just up top that leaving an iTunes review will stand out a lot more than leaving a comment on a blog post. This is still true.
However, it doesn't mean that you shouldn't still comment on blogs.
The problem with blog comments is that most people are very spammy. There's nothing worse than people commenting on your post saying "Oh what a great post! I also wrote a post on this topic, here it is: [link]."
If you're using comments as a way to get on someone's radar, then you actually need to leave insightful comments.
Ryan Stewart talks about this in a recent blog post. Leaving an insightful comment landed him traffic to his website, backlinks, personal brand exposure and social media sharing.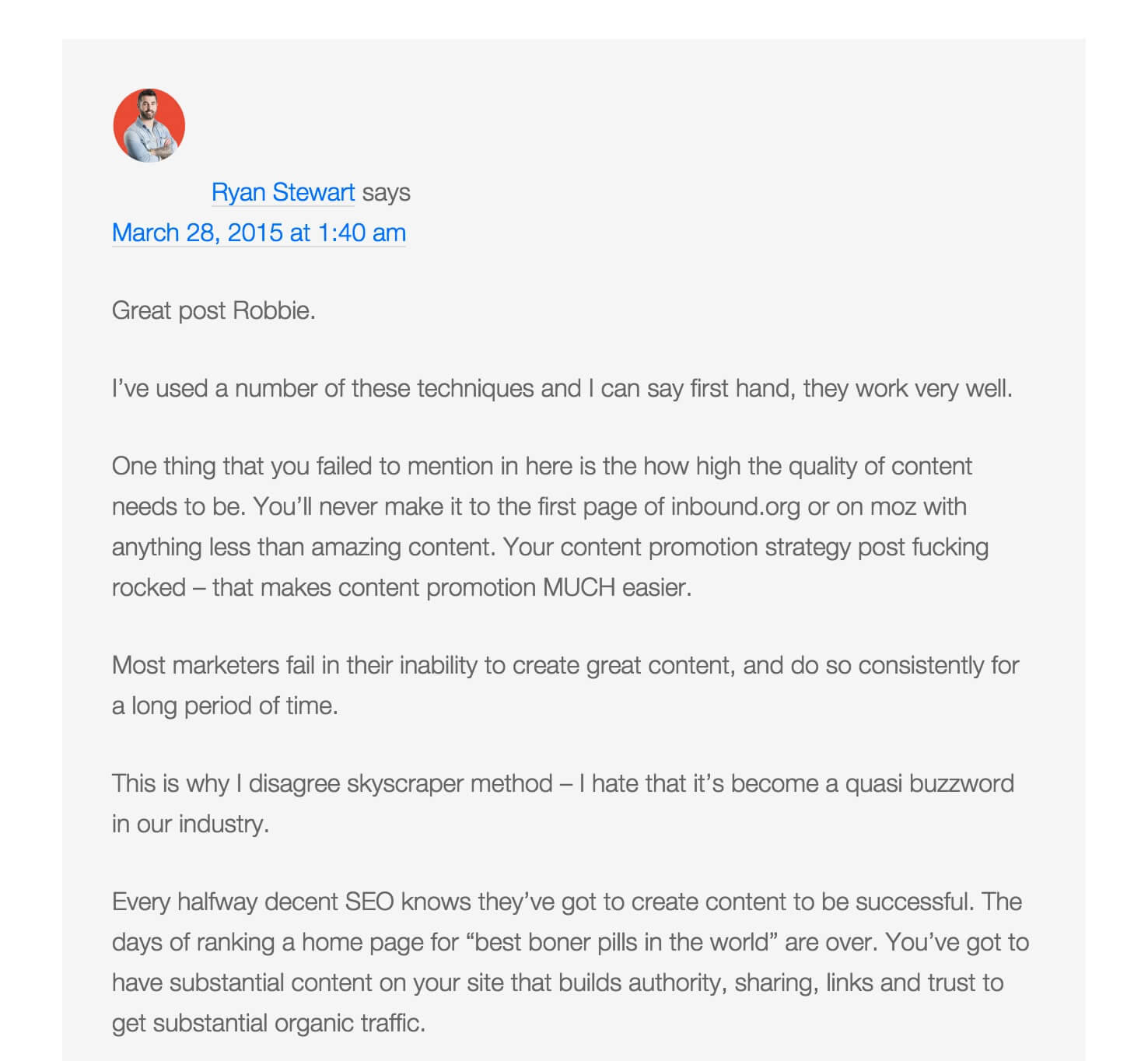 Note that this is a just half the comment Ryan left on the blog post.
On the Groove blog, they actively encourage participation in the comments. I decided to ask a question after reading one of their blog posts about hiring remote workers.
A few weeks later, they used my question as part of their weekly Friday Q&A series.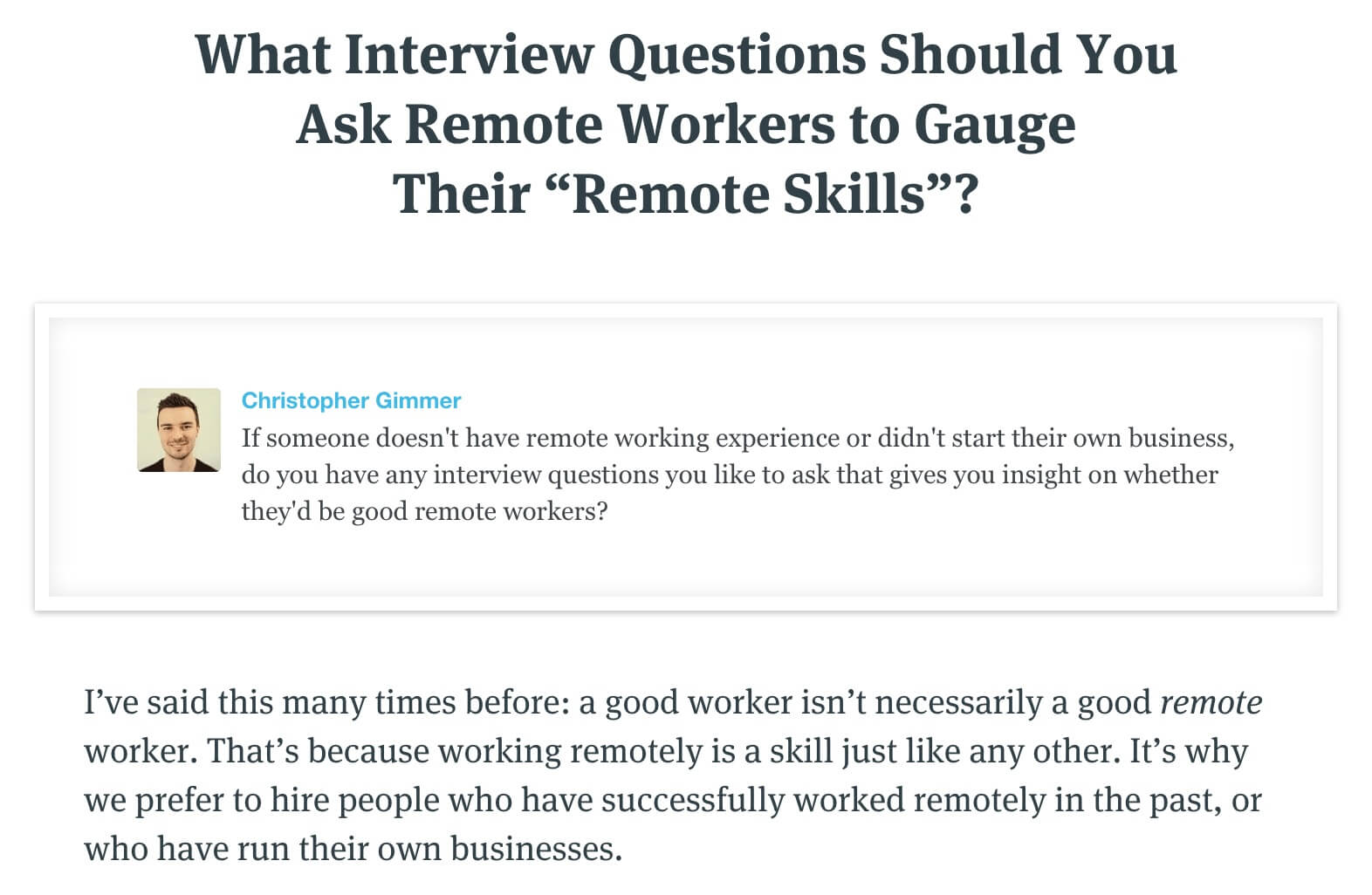 I'm sure that my comment will be remembered a lot more than some of the others.
7. Sharing and commenting on social media
I can't think of anyone on this planet that wouldn't want more shares on social media.
If you find a great piece of content online, get in the habit of sharing the content. Sharing is caring right?
But when you do share, always make sure to reference the twitter handle of the person who wrote it. This way, they get notified each time you share their content.
As you continue to share and comment on influencers posts, you increase your chances of the influencer taking notice. Once they start taking notice, they're much more likely to start sharing your own content.
Conclusion
Influencer outreach is not easy. But utilizing the techniques in this post will certainly increase your chances of building valuable relationships with influencers and getting more of your content shared.
If you have your own strategies for engaging with influencers, please mention them in the comments below.