Most resources that you find online detailing how to use social media for marketing are all geared exclusively towards B2C for-profit businesses who are actively looking to sell to their target audience. 
While some of those best practices and general principles pretty much apply to across the board, plenty of workers already know first hand that marketing to a potential paying customer is completely different from running social campaigns for nonprofit organizations.
The basic goals of social media marketing are the same for nonprofits and other types of organization: Increased exposure, improved brand awareness, and relationship building with your target audience. That being said, there are crucial differences that you'll want to consider and a few tips you should use for maximum results that are exclusive to nonprofits. 
Ready to get the most out of your marketing efforts? Let's take a close look at social media for nonprofits.
Why Social Media for Nonprofits Is So Valuable 
Social media is an outstanding platform when you want to reach more members of your target audience, increase awareness of what you're doing, keep people up to date with all your updates, and hopefully increase engagement and even donations in real life. 
Nonprofits don't exist in a bubble, after all; they need ongoing support, either in the form of customers buying products designed to raise money or in outright donations of time, experience, and/or money. 
You want to be able to stay in touch with people who are interested in your cause and to spread awareness of what you're doing, and that means getting set up with a public profile that makes it easy for people to find you, follow you, see your content, and share it regularly.
Relationship building is also going to be an important part of social media marketing for nonprofits. Shoutouts to volunteers and sponsors, sharing news of progress made, and engaging with your audience enthusiastically are all crucial elements of success on social.
How to Set Your Nonprofit Marketing Up for Success 
When it comes to setting up your social media profile and your strategies for your nonprofit organization, there are 6 key things you should do consistently:
Create intentional campaigns in advance
Keep things personal
Make heavy use of storytelling
Use nonprofit-oriented features when relevant
Share tons of images and videos
Set up a Facebook Group 
Let's look at each one in closer detail.
Have Intentional Campaigns Planned In Advance 
In some cases, nonprofit organizations are stretched relatively thin in terms of time and budget, but one thing that you can't afford to let slide is your social strategy.
And when we say strategy, we mean it; you want to consistently think of ways to keep your audience engaged and to help you accomplish your specific on-platform goals. 
You likely have fundraisers and campaigns you're working on at any given point, so that needs to translate over into social, too.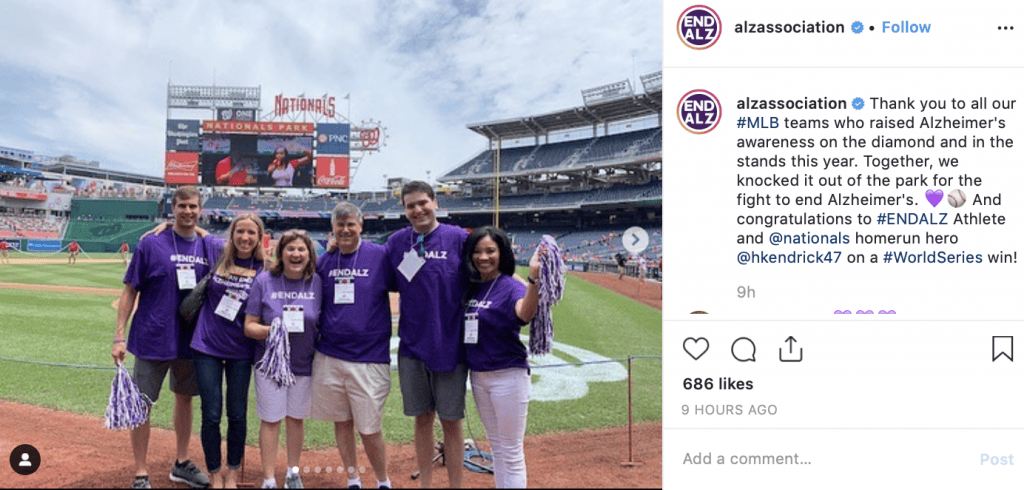 A nonprofit that helps families near food deserts, for example, could have a series of short videos talking to people who have been positively impacted by healthy, accessible food options being brought to them. They could also have another series of videos featuring experts talking about the issues. 
Space the videos out over several weeks, and group them into relevant playlists on each platform (IGTV even now has a "Series" feature that could work well for this purpose.
Personalize the Social Media Posts
In many cases, the best way to motivate people to come forward is to give them something to relate to.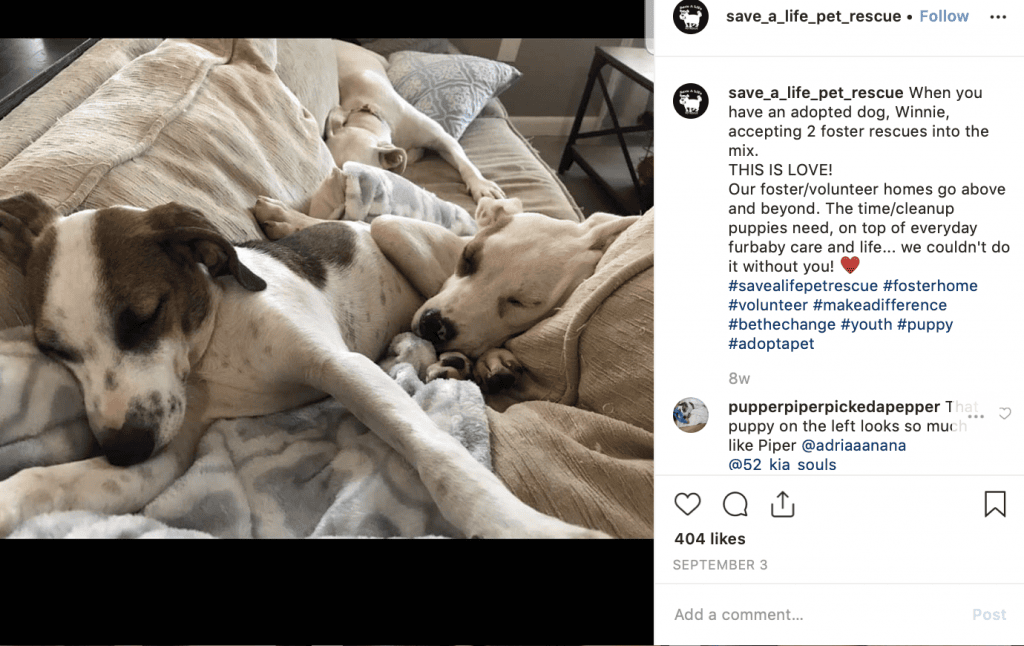 I once ran a campaign for a dog rescue, for example, that talked about how all donations helped save a life and then reminded viewers (a large majority of which had adopted their dogs from a rescue) that someone else's contributions is what brought their dog to them. They were encouraged to pay it back and donate, and the campaign had a record level of donations, because it felt personal.
Ask if they'd want to see their friend, loved one, child, or pet in the same situation that you're trying to resolve, and frame some of your campaigns around that messaging.
Use Heavy Storytelling 
This tactic goes hand-in-hand with the strategy above, and it's all about creating messaging and content on social media that your audience emotionally connects with. If you've got that emotional connection, they'll remember you. 
Get specific with your stories; those are the ones that feel the most real and resonate with audiences the most.
Examples of stories you could tell in both text, image, and video include:
Explaining why the founders started the organization and what motivated them to do so
Interviewing volunteers or employees, and sharing their story for why they got involved 
Telling personal stories of real people that you've helped 
Showcasing the benefits that each event or fundraiser created 
Explaining how the problems you're trying to resolve are impacting us all and why they need to be tackled head on
Take Advantage of Nonprofit-Oriented Features 
Some platforms have features that are specifically designed to help nonprofits drive results more successfully. Not all of them will be applicable to every organization, but take a look and see if any could help you.
The most significant of these features include:
"Donate" CTAs on Facebook. Note that in some cases, a "sign up" CTA for volunteers may be preferable depending on the organization.
Registering your nonprofit on Facebook for fundraising. You know those messages that you see pop up from friends asking you to donate to a cause of their choice because the mission means so much to them? You'd be surprised how often those self-led fundraisers actually generate donations. Make sure that you're set up on Facebook; this requires a 501(c)(3) status, a tax ID, and a few other criteria.  
"Donate Stickers" on Instagram. These stickers can be used by your followers or yourself on Stories to generation donations on-platform, which go straight to you. 
Share Lots of Images & Videos 
This is a quick tip but a powerful one: Leverage images and videos to their full capacity. Social posts with images and videos get up to 20x more engagement and reach than those without them, and some platforms actually require visual components to even be able to post (read: Instagram, Snapchat, Stories, and Pinterest). 
If you aren't sure where to get started, check out Snappa; we've got plenty of stock photos that are free for commercial use for our subscribers and easy-to-use, drag-and-drop graphic design tools so that you can create anything from an infographic to a YouTube video thumbnail in just a few minutes.
Conclusion
Social media marketing for nonprofit organizes can be wildly beneficial, but it must be strategic and focused on the core goals you're trying to reach. Take some time each month to map out campaigns that you want to run and content that you need to create; you can always use social media management tools like Agorapulse or Hootsuite to schedule the content in advance. 
And remember, above all else, to always strengthen your social content with strong images and video that you know your audience is most likely to respond to. This will boost engagement and reach significantly on every platform.
Looking for a little help with creating high-quality, engaging images for nonprofit social media marketing? Start your free trial with Snappa today! 
What do you think? Which strategies do you use to bolster your social media results for your nonprofit organization? What works best for you? Share your thoughts and questions in the comments below!