When Instagram Stories first rolled out, I remember actually saying out loud "but what's the point if it disappears in 24 hours? No one will want to use this."
I was very, very wrong.
Instagram Stories–which were a copycat of Snapchat's classic disappearing-after-a-day content– became a wildly popular feature, and it was so successful that Facebook eventually rolled out their own version, and they both moved from mobile-only to mobile- and desktop- friendly. Stories have developed rapidly on these platforms in the past few years, offering "Swipe Up" links, Story Ads, interactive stickers, highlight covers, and even Shoppable content that allows users to purchased tagged products.
If you're wondering why you should use them, it's not just about the fact that Stories have become more high-tech than we ever expected; it's because users love them. Consider the following statistics from Embed Social:
Instagram Stories are used by 500 million unique users every day 
One third of the most viewed Instagram Stories come from business accounts
96% of marketers surveyed plan to continue using Stories Ads over the next six months, which means that it's currently working for them
The biggest challenge with Stories for many brands isn't getting engagement on their content; it's reliably coming up with enough ideas to be posting consistently. In this post, we're going to look at 7 different types of Story ideas that you can use to build up your brand and engage your audience across social media.
1. Behind-the-Scenes Snippets
You really can't go wrong with behind-the-scenes content, whether you're using images or videos (and pro tip: you should always try to use a healthy mix of both for Story content).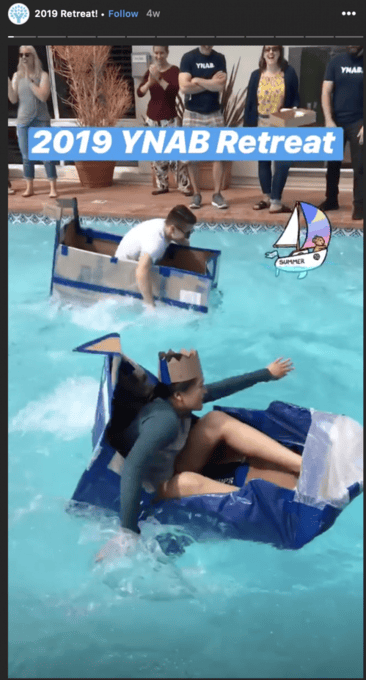 These tiny snippets and glimpses of life inside your brand feel meaningful to your audience, and it offers a kind of transparency that users are thriving on. Share pictures or video clips of an in-office birthday celebration, the process of setting up an upcoming event, or even peeks at how your products are made.
2. Educational Series
More and more brands are using Stories to offer brief, snapshot-like insights that inform their followers about things that are directly relevant to them. Fashion brand Stitch Fix, for example, offers fast style tips, and stacks them one after the other for what feels like a full series of helpful information in short, 15-second-or-less bites. Keep the information simple, keeping single ideas in a single Story.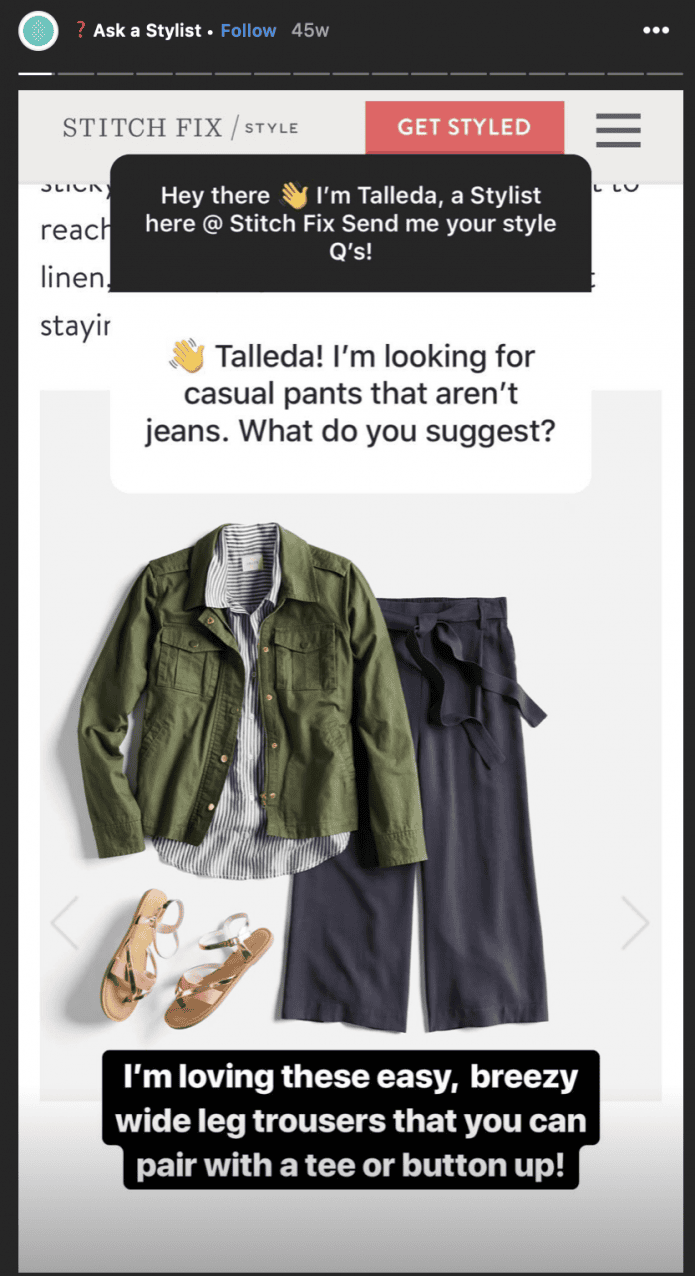 Some brands will have full IGTV stories offering educational content, and they use their Stories to drive people to the long-form stuff. This is a good option, too, and a great way to funnel people to where you want them most.
If you want to get promotional, you can even use this strategy to promote your own products and help customers choose what's right for them, as Lush does here: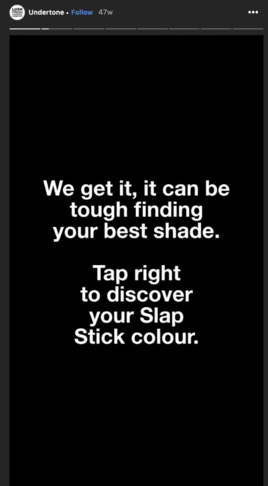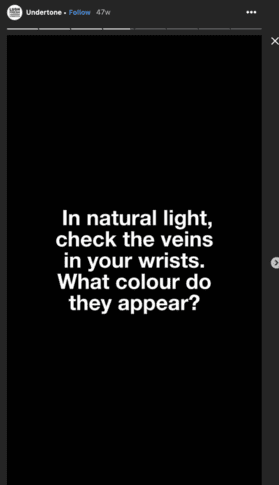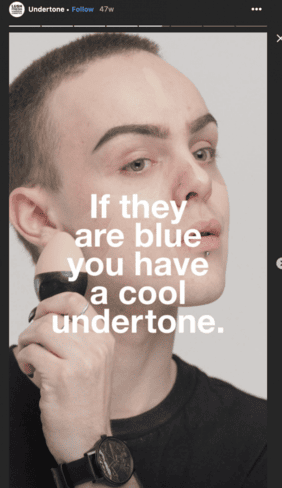 Want to take this to the next level? Use Instagram's new Quiz stickers, letting users answer multiple choice questions, and then using the next Story slide to explain the answer. Fun, engaging, and you can get extra metrics on how people are engaging.
3. Shoutouts & Shares of UGC
User-generated content is some of the most powerful marketing materials you could ever have, so it's only fitting that you can't create it yourself! While you can't make it yourself, however, you can promote it once it comes rolling in!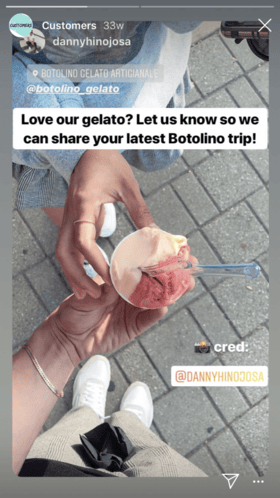 We've had entire Stories (and then archives on Instagram) focused on sharing UGC from customers, particularly after a big event or during a special campaign. This helped fuel excitement, and we always saw immediate and substantial spikes in UGC for about a week afterwards, with other people getting the message to share their content, too. A good go-to is always use the camera emoji, type "credit," and then tag the user, like you can see in the example above.
4. Interactive Stickers to Drive Engagement
Increasing numbers of platforms are offering interactive stickers to Stories, making them more fun for users and giving brands a new way to interact with followers and gauge their response. On Instagram, you've got everything from poll stickers to questions stickers, the latter of which lets users ask the brand questions that they can answer by going live or uploading new Stories in response.
Even hashtag stickers, like the ones used below from a Facebook Story, can be used to establish awareness of an event or your branded hashtag and drive people to a UGC-filled feed where they can learn more about you.
5. Story-Focused Brand Building
It makes sense that a feature called "Stories" would thrive on the actual telling of stories, but this isn't something all brands put together because of the short time frame. In reality, by creating content ahead of time with Snappa and just needing to slap on those interactive stickers, you can create and upload a stream of content that can tell a great story when each image or video is placed back-to-back-to-back. Orgain did this in their now-archived Highlight telling "Our Story," using short snippets to break down a powerful story about why the founder started it.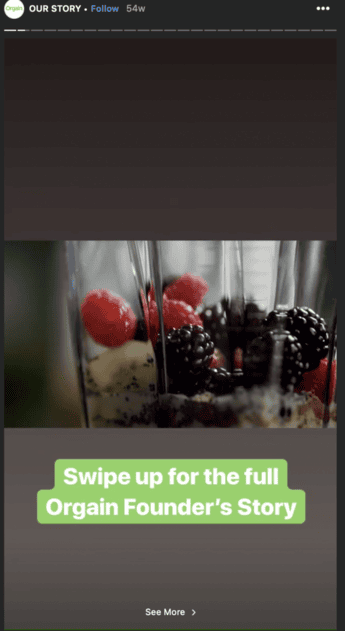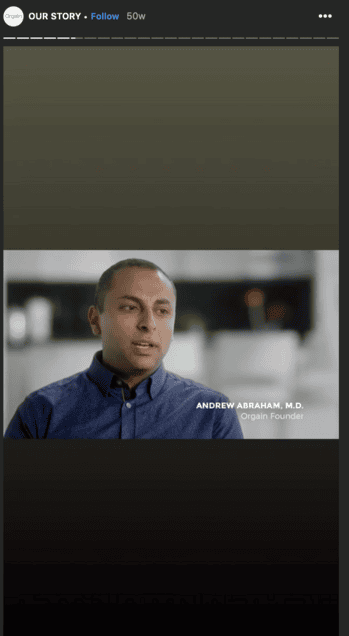 Stories (like tales, not the disappearing content feature) are essential for brand building, because they're memorable, relatable, and potentially emotionally resonant. Take advantage of this and use Stories to share our brand's history and keep people excited about what you do. Whether you're sharing the origin tale of your company or explaining why community work is so important, go all in on these and make it as personal as possible.
6. Partnerships with Other Companies
Partnering up with influencers or other brands can be a powerful marketing move in general, but it can earn you a lot of love in Stories. People will take notice if you're talking about other brands you care about, because they don't want it to just be all about you. Showing that you're professionally associated with other reputable accounts can also help your reputation, too.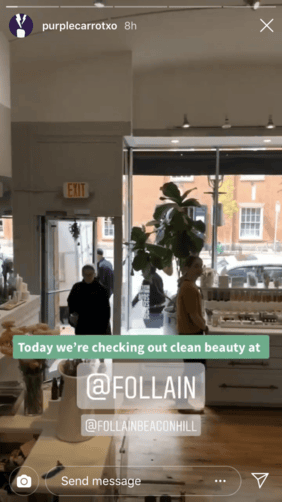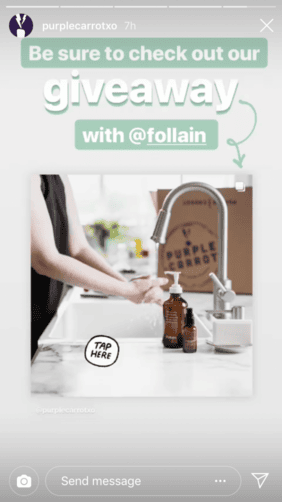 To take this strategy a step further, consider hosting an event, featuring a promotion or special in-store (like selling the store's products at your location), or hosting a contest together with a combined prize from both companies. This will get people talking about you (in a good way, as long as the prize isn't terrible!) and engaging in no time.
7. Images that Sell Hard
Shopping through Stories is here for Instagram, and if you've got those shopping, product-tagging features enabled on your account, there's no reason not to use Stories to try to sell more! Use Snappa to create interesting product images with fun but unobtrusive design elements and backgrounds added in to keep it interesting, and then tag the images once they go live!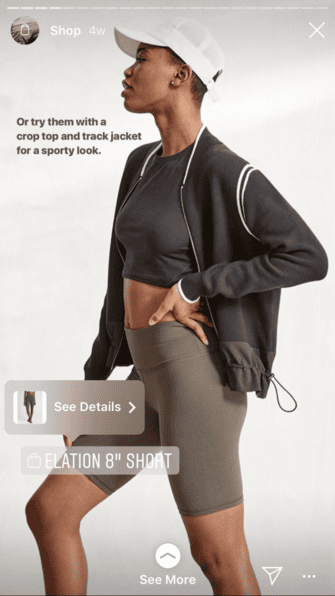 For best results, tag either one product per Story, or opt for no more than three items if you want to try to sell something as a set. This isn't like a conventional post where users can sit and review each one; that timer is ticking, so keep it simple.
Conclusion
Try to embrace the slightly quirky, graphic-heavy style that these images and videos thrive on, and remember that you can always use tools like Snappa to design perfectly-unperfect images that your audience will go crazy over. The drag-and-drop design software is easy to use, and it's definitely much simpler and offers more creative options than trying to navigate creation on your phone. And if you're looking for video content, check out Shakr's Stories Ads, which is free and helps brands put together short video Stories quickly.
Story content, no matter what platform you're on, should always be fun, engaging, and created specifically with your audience in mind. These 7 different Story ideas should help you generate ideas that meet the criteria of all of the above and then some, helping you to build brand awareness and even drive results like clicks and sales, too.
What do you think? How do you use Stories to build your brand? What social media Story ideas resonated most with you? Share your thoughts and questions in the comments below!