If it feels like there's a million and one things to consider when writing our blog posts, and that's because there is; you need to keep everything from word count to keywords to distribution in mind. Since blogging means trying to balance all these factors while simultaneously creating valuable, it's no surprise that WordPress featured images are often overlooked.
While it's not a surprise, it is a shame; utilizing high quality, consistently styled featured images on your blog offers a ton of benefits– starting with increased brand awareness and recognition for your business (but definitely not stopping there).
In this blogger's guide to featured images, we'll answer all your questions about why you need featured images on your WordPress blog, how to create them, and best practices to follow when choosing and creating them.
What is a WordPress Featured Image?
WordPress featured images will be the images that automatically become the post's thumbnail. Your featured image will be the visual representation of the post that it is assigned to. It will also become the default image that will automatically be used when your posts are shared from your site onto social media.
While some themes will automatically display your featured image at the top of your blog post (one of my sites does this), many will not; you can manually enter your featured image into your post if you want it to show up there.
Plenty of bloggers just let WordPress select any image to show up as the post's thumbnail; in many cases, this will be the first image in the post. You must manually set your featured image for each post. If you insert the featured image into your post yourself, placing it either at the very top of the post or within the first 3 paragraphs is ideal.
How to Set Your Post's Featured Image
To do this, scroll down in an individual post until you see "Featured Image" in the right side tool bar where you can also find the Categories and Tags sections. Click "Set Featured Image."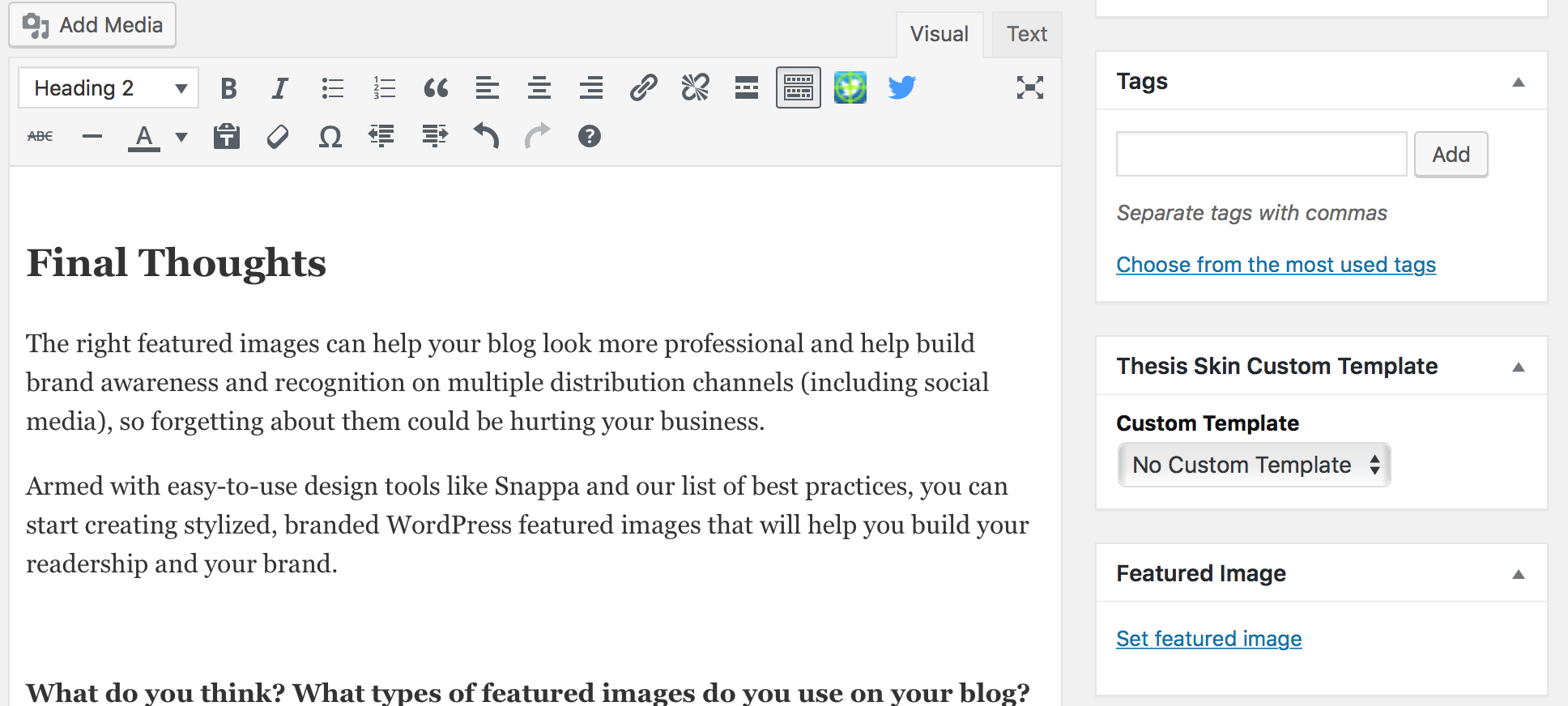 You'll be able to choose any image in your library, or upload a new one if necessary. You can add in Alt Text and titles just as you would with any other images in the post.
Once your featured image is set, it will show up in the Featured Image box. You can change it or edit it at any time.
Why You Need Featured Images on Every Post
WordPress featured images are easy for bloggers to forget about, but that doesn't mean that you should overlook them.
Using high quality, consistently-styled featured images have a large number of benefits. It will almost immediately improve the look of your blog, giving it a more professional appearance thanks to the consistent, uniformed look featured images can give.
Branded featured images can go a long way in helping new users find and learn about your business. Because these images are shared on social media, having an easily-distinguishable look for your featured images can help build brand awareness and recognition on distribution channels like social media and Medium.
Users will begin to notice the distinct look and recognize it as yours; this can get more clicks from users already following you, and help attract new users. Overtime, this can build a more loyal and engaged readership.
If you add in Alt Text to your featured image, you can also get an extra SEO boost. Place your keyword as Alt Text when uploading the image for an extra search engine perk.
What Dimensions Should My Featured Image Be?
Different blogs (and more specifically, different themes) may have featured images of different sizes. In WordPress, you can alter and customize your image settings so different image types will be sized accordingly.
At Snappa, our Featured Image template has dimensions of 1200 x 600 pixels which generally satisfies most themes.
If you go to Settings and then Media, you can customize different image specifications for your blog.
The thumbnail size lets you dictate a specific image width and height for all thumbnail images. Once your image is sized according to the specifications as much as possible, your image will actually be cropped accordingly. Because of this, sizing your featured images proportionately to your thumbnail size will prevent strange cropping issues.
Optimizing Thumbnails for Social Sharing
If you're using the Yoast SEO plugin (including the free version), you can also upload specific thumbnail images for different social platforms.
For example, the Facebook thumbnail size is 1200px by 628px. Using the Yoast plugin, you can upload a separate thumbnail to match that size. This ensures that no unwanted cropping takes place. Same goes for Twitter.
If you're using Snappa to create your featured images, you can make use of our image resize feature to easily create multiple thumbnail sizes for your post.
What Types of Images Should I Use?
This depends a lot on your specific blog. Many types of blogs will see the highest performance when using high quality photographs. Food blogs, wedding blogs, fashion blogs, and photography blogs are all examples of sites that would benefit from using relevant photographs as featured images.
The key here is to choose relevant images. Food blogs should have the actual food they're teaching users to make in the post as the featured image. A blog post about how to throw a wedding on a budget would benefit from an image that incorporated a representation of money in the image instead of just a generic wedding photo.
Many businesses—especially B2B businesses—benefit from custom-made graphic images like the ones we create and use on Snappa's blog. These graphics should also be high quality and relevant to the blog post. You can easily add your logo or some element of your business's branding in each of these images without it seeming forced or out of place.
Whatever type of images you choose, many businesses benefit from applying branding to their WordPress featured images.
Featured Images Best Practices (and Why They Matter)
When you decide what type of featured images you want to use on your WordPress blog, there are a few strategies and best practices to consider to get the results you want. Some WordPress featured image best practices include:
Use High-Resolution Images Capable of Scaling
Because your featured image will represent your post not only on your blog but across all of social media, you want to choose an image that will look good at a larger size than your post's thumbnail. When users click on your image on Twitter and Pinterest, you want the image to look just as good at a slightly larger size.
Choose Simple, Clean Images
Whether you're creating a graphic or choosing a high resolution image, go with images that are simple and clean-looking; this organization and simplicity makes the images easy to digest, grabbing users attention more quickly. You want to capture a user's interest immediately and convince them to click on your post, so the faster they're able to figure out what the post is about, the better.
Keep it consistent
Your featured images should typically adhere to the same style. If you add anything to your images—which I typically recommend doing—, keep these additions consistent; this can include your logo, the font of text that you use, and the information you place on your posts.

Always use relevant images
Have you ever heard "we read with our eyes first?" We also tend to look at images in a post before we actually read the text; our brain actually processes visuals 60,000x faster than text. The images you choose can attract users, or cause them to skip over your description entirely, especially on social media. Because of this, choose relevant images that represent your posts accurately, or you might see a big increase in bounce rates.
Make sure you have legal rights to the image
One prevalent issue in the blogging community—even amongst credible professionals—is the often accidental use of images that are actually copyrighted. Not only will this make you look bad, it's also actually illegal and opens you to legal and financial consequences. Since all images posted online are covered by copyright protection automatically, you have to be careful.
Unless you're sourcing images from copyright-free stock photo sites like StockSnap.io or Pixabay, you may get yourself into trouble. Ideally, you want images that are licensed under Creative Commons CC0 which all images included in Snappa fall under.
Final Thoughts
The right featured images can help your blog look more professional and help build brand awareness and recognition on multiple distribution channels (including social media), so forgetting about them could be hurting your business.
Armed with easy-to-use design tools like Snappa and our list of best practices, you can start creating stylized, branded WordPress featured images that will help you build your readership and your brand. This can ultimately even help keep users on your site longer, increasing the results you're getting from your content marketing campaigns. Whatever types of images you choose, just remember that consistency is key to getting as many benefits as possible from your featured image.
What do you think? What types of featured images do you use on your blog? Which blog has your favorite series of featured images?  Let us know what you think in the comments below!