Having a blog where you can provide value to your viewers and show your expertise is essential for your business. However, sometimes businesses with blogs struggle to retain their readers or bring in new viewers.
Is it because your content doesn't provide enough value? Maybe. But low retention in your blog posts can be associated with too much text.
There are many blogs that exist, but the best blogs provide you with more than just a blob of text. The best blogs increase your user's experience by providing relevant and quality visuals that enhance their reading.
We've seen several blog posts that have done incredibly well by adding visual content. In this article, we've outlined the key steps to writing a successful blog post with the use of proper visuals.
The Importance of Visual Content in Marketing
The move to visual content can be a tough transition for blog owners like yourself. You may have invested a lot of money into creating these valuable text posts and you're failing to see the results that you want. You might be looking at your analytics and seeing an increase in the bounce rate of your blog posts.
So the question then remains: how can I retain viewership on my posts? And how can I make sure that the value I provide in my text posts are being fully absorbed by the reader?
The answer is through visual content.
Visual content is essential for blog posts now. Statistics indicate that 10% of information is retained after a 3 day period, while 65% of  information associated with an image is retained after 3 days. This can explain why social media marketers are quickly moving towards using more and more visual content. This can also be associated with the top social media platforms having major visual components (Snapchat, YouTube, Facebook, Instagram). People want to see more pictures and video. Visual content is simply easier to consume compared to text.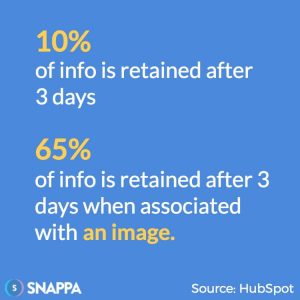 With that in mind, what you shouldn't do is add images randomly throughout your content and posts. The key is to include relevant and value-adding visuals that will help enhance the user experience.
If you're talking about the importance of using Instagram for your business and you include a meme of Kylie Jenner… that's not exactly going to help your reader retain information. If you include an infographic about the growth of businesses using Instagram, it will be much easier for your audience to visualize the value that you're providing.
The Types of Visual Content to Include in Your Blog Post
Infographics
Infographics are a great way to showcase statistics and data into a visual image that is easy for viewers to see. Another good thing about infographics is that they're sharable. An infographic that is well put together and provides valuable information is more likely to be shared and seen by more people. Creating an infographic to go with your blog post can lead to more visitors on your blog if you embed the post link to your social media when you share the infographic.
Images
Use images throughout your blog posts. Jeff Bulas states that articles with images actually get 94% more total views.  Images enhance your blog posts and help your audience finish the articles. When using images, make sure that they are relevant to the text and are high quality pictures.
You can easily find free high quality images on websites such as Stocksnap.io and you can put them together in a nice graphic with words using Snappa.
Video
Video is currently becoming a highly engaging piece of content and YouTube is another great platform to market your blog. If you have the time to learn video marketing, you can reap great results. Embedding videos with your blog post will help your readers absorb more of the information and will help spread your content to more people by posting it on YouTube.
See how BoostrapBay garnered over 750 000 views with only 16 videos.
Screenshots
Sometimes explaining a step-by-step tutorial with words can be difficult and there is miscommunication present between your text and the reader. A better way to explain a step-by-step tutorial is with screenshots that the reader can follow along with. Not only are you giving your audience a nice visual piece to look at, but you're improving their user experience. This will minimize your users' time spent figuring out what you're trying to say. You can even take the next step with screenshots and provide arrows and indicators on the screenshot to help show your users' where exactly you want them to navigate to.
Data visualization
Explaining the growth or decline of numbers can be extremely dense and boring. Using data visualization graphics such as charts and graphs can better educate your readers and will reduce information overload. Explaining numbers in text is hard to visualize, so providing a graph demonstrating patterns and change can help tremendously and will prove to be much more effective.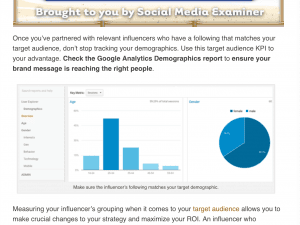 Memes
If you're looking for an informal and trendy way to visualize your content to your audience, memes have emerged to do just that. Although memes are considered informal in most situations, a relatable or humorous meme can create that "viral" effect just like an infographic.
Examples of Brands Using Visual Content
NastyGal is an ecommerce store that sells women's apparel. While they sell clothes online, they have a blog called NastyGalaxy which discusses topics around music, culture, style, and female advice. The biggest takeaway from this successful blog, is their strong emphasis on visual content. Each blog post is accompanied by several images, gifs, and memes that are highly relevant to the post itself.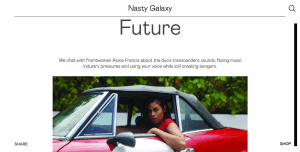 NastyGal is growing at an incredible rate and their use of visual content is certainly a contributing factor to their worldwide success.
The Hubspot is another great example of a blog which uses visual content effectively. Hubspot is a blog that discusses topics such as marketing and sales, so most of their content is information heavy. Hubspot uses visuals to help guide their users to the end goal. The types of visuals that you would see on Hubspot's blog include screenshots, third party examples, and infographics.
Final Thoughts
Text blog posts have always been great for content marketing. But, your audience is looking for something more and they're seeking out visuals components such as video and images to help them consume more of your blog in a quicker manner.
Incorporating visual content into your blogs used to be a time consuming and expensive activity. The emergence of online resources and the easy accessibility to tools around you have closed this gap and allows you to incorporate visuals at low costs.
The difference that visuals can make on your blog posts are enormous. Brands have seen massive success within the past few years by incorporating visual content into their content strategies.
It is your turn to take advantage of this and use the resources given to enhance your valuable blog posts. You have the information, it's a matter of distributing it to the consumer in the easiest way possible for them to absorb and remember.
How do you use visuals to improve your blog posts? Have you noticed a difference? Let us know in the comments below!