Infographics are an underused but often high-performing medium that more content marketers should be taking advantage of. It's a visual display of information, making it easy to digest and interesting to look at. This means more shares, both on social media and other sites.
That's the high-performing part.
The underused part of the equation often comes into play because infographics can be intimidating to create. More than that, it can be time consuming and very, very expensive to hire designers to create just a single image once.
This doesn't have to be the case, however, thanks to professional-quality, customizable infographic templates like the ones that we have available here on Snappa.
In this post, we'll discuss what you should look at when choosing an infographic template to use and the 9 most popular infographic templates for small businesses.
What Should I Look for in an Infographic Template?
Infographic templates are not all created equal; there are plenty that you can find online that might look good at a first glance, but end up being less than stellar.
Here's what you should be looking for when choosing a template:
Easy customization, so you can make it yours
Ability to upload your own logos directly, instead of just relying on the images they have available
Ability to change color scheme as you see fit
Ability to move and resize all components on the infographic
Appropriate size, so you can make sure that your infographic will be shared or be optimized for certain platforms; you'd want to shoot for square-shaped infographics for Instagram, and longer infographics for Pinterest
A clean look with plenty of white space, to prevent it from looking messy or cluttered
Note that all of Snappa's templates –and all the templates on this list– meet these requirements. Let's take a look at 9 of Snappa's most popular infographic templates and how to use them.
1. The Checklist
Checklists are excellent infographics to use when you want to create value. They're actionable, and sometimes users will even download them, print them out, and use them. They often make great lead magnets, too.
Snappa, therefore, has a particularly straightforward checklist infographic. It's simple and to-the-point, and as an added bonus, it's the perfect size for Pinterest sharing. The stand-in text is entertaining, but you could easily swap it out with "10 Ways to Protect Your House from Burglaries" or "Things to Do to Ensure Your Restaurant Passes Inspection."

There's also a lot of room for creativity with this. You can adjust all colors, fonts, and formatting. You can also use Snappa's store of pre-uploaded graphics and images to make the infographic even more visually interesting, adding small logos or symbols next to the checklist items.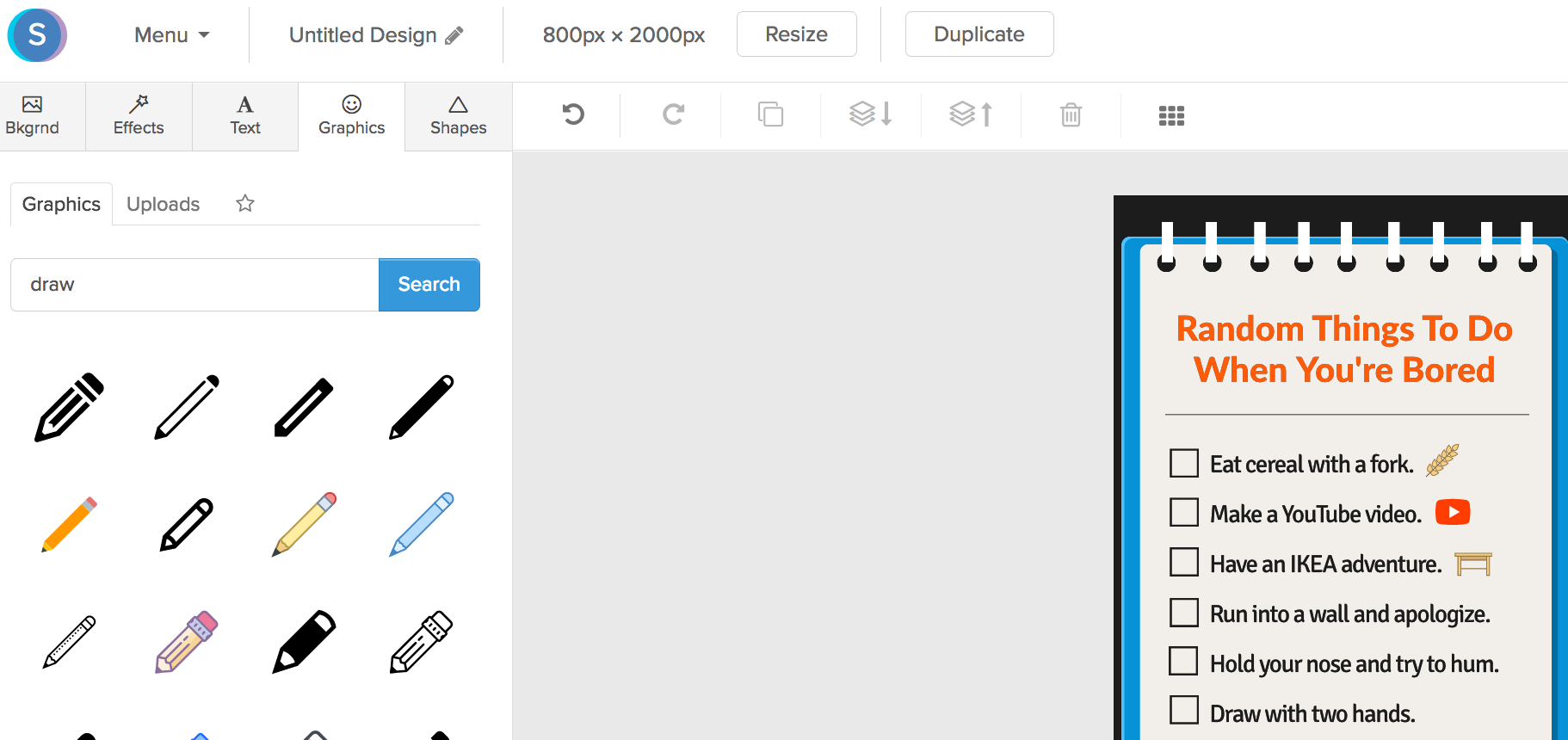 2. The Timeline
Timelines are another popular type of infographic which can be used to visually demonstrate chronological events and when they occurred.
Snappa's timeline option is the perfect template for this purpose, with easy to swap out logos and a simple design. This is important, because some timeline infographics get too complex and they end up looking messy and confusing.
Everything on this template is fully customizable, so if you need to move up the dates to fit more onto the space while keeping the dimensions in place, you can absolutely do that. You can also adjust the size of the text boxes with a few quick clicks.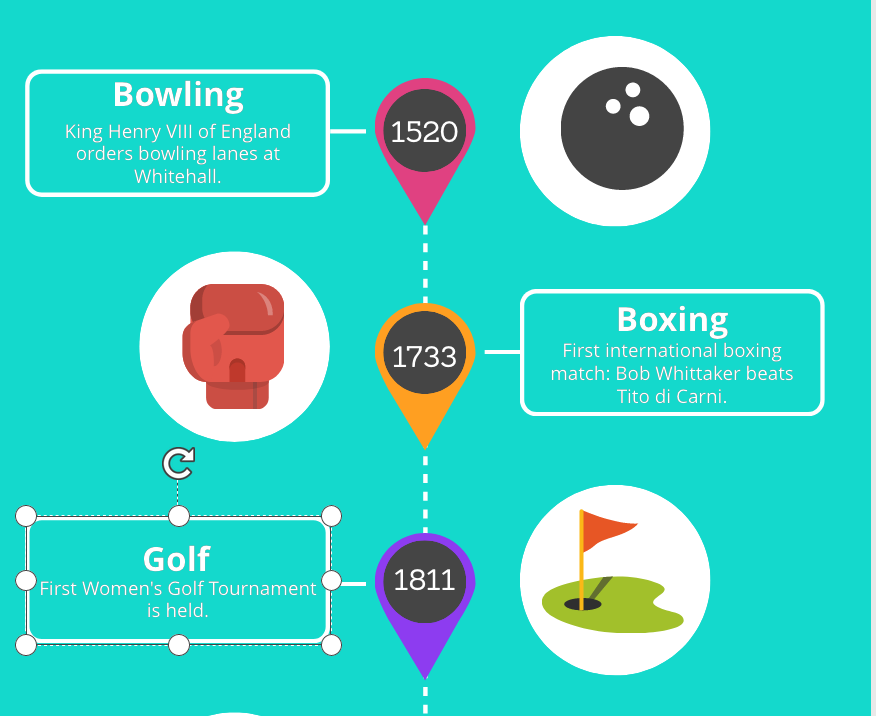 3. The Do's and Don'ts Template
Fear sells, and if you can make it actionable, even better. This is what makes the Do's and Don'ts lists so appealing as an infographic; you're highlighting mistakes that users should avoid, capitalizing on the fear that they may be doing something wrong, and making it actionable by showing them what to do instead.
Snappa's Do's and Don'ts template, much like our Checklist template, is exceptionally simple in design. This works to its advantage, because these lists should be clean and simple to be the most impactful.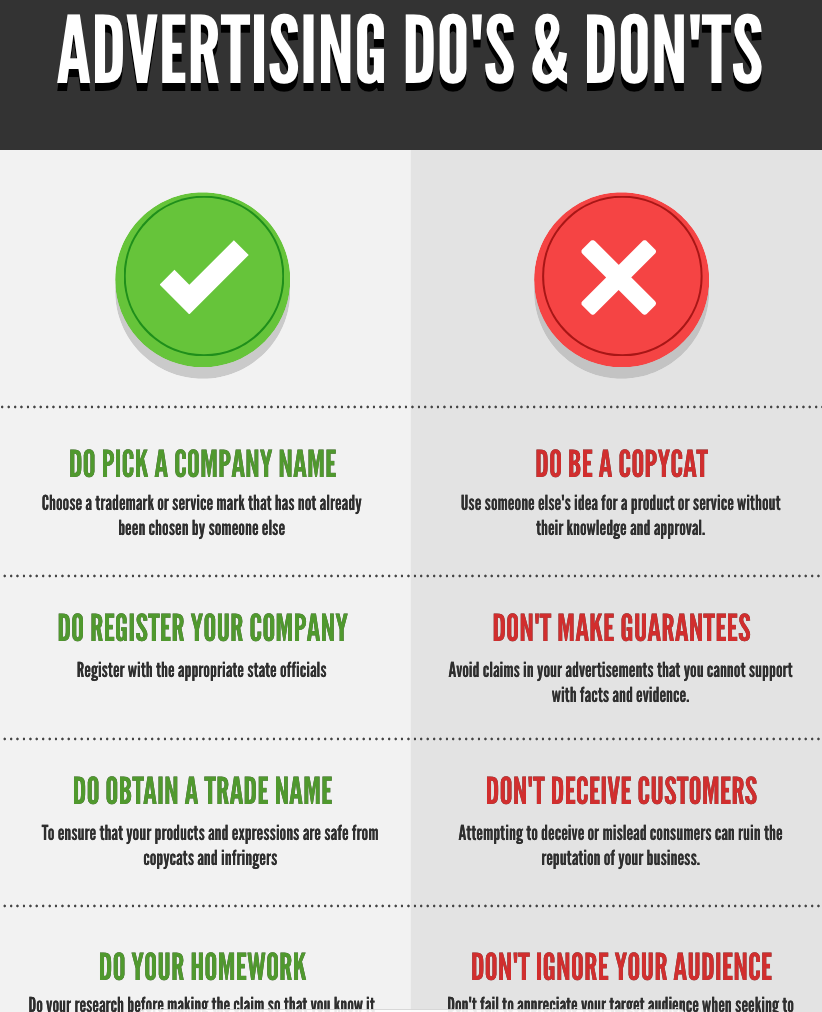 While these templates are fully customizable (like all Snappa templates), I'd make a strong recommendation to keep the basic formatting consistent where there's a brief subtitle for each do or don't, and then an explanation underneath it. It's also important to keep the boxes lined up neatly; some infographics don't, and this isn't as aesthetically pleasing.
4. The Flow Chart
Flow chart infographic templates are versatile. You can use them to show how to complete a process, step-by-step, or to demonstrate cause and effect. You can even use them to create a more unconventional timeline, which our default setting on our flow chart infographic does at Snappa.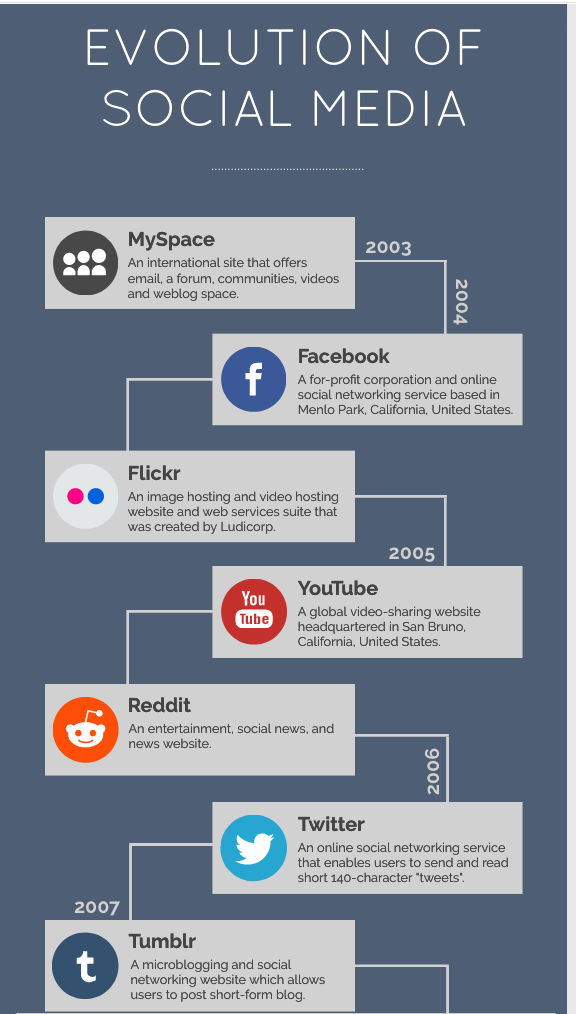 Need a little inspiration for how to switch this infographic around? Here's an example of how this could be converted into a step-by-step procedural infographic: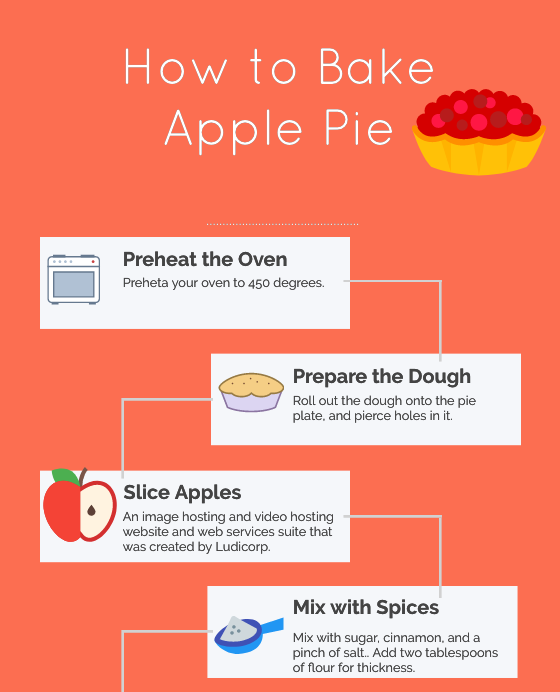 5. The How-To Template
This is another particularly versatile infographic template that can be repurposed for a large number of different uses. This could take users step by step through the process, highlight fun facts, or give general tips for how to accomplish something.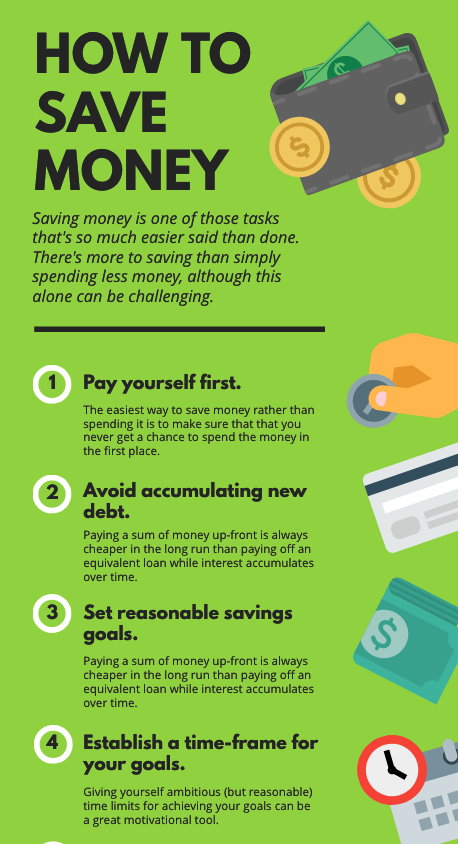 While you can center the text if you prefer, part of what makes this template so popular is the white space on the right side of the image that gives room for larger graphics (like the credit card and dollar bills).
If you're looking for a really fast infographic template to use, this is a good one; just swap out the few images, adjust the color and the text, and you're ready to go. You don't have to be precise with the sizing on the side graphics, unlike other templates where it would be more noticeable, so this is a big advantage.
6. The Thorough Infographic
Fast facts are great, but sometimes the content you're converting into an infographic needs a little more than a single line of copy. These infographics may contain four or five main sections of information, with around a paragraph of text.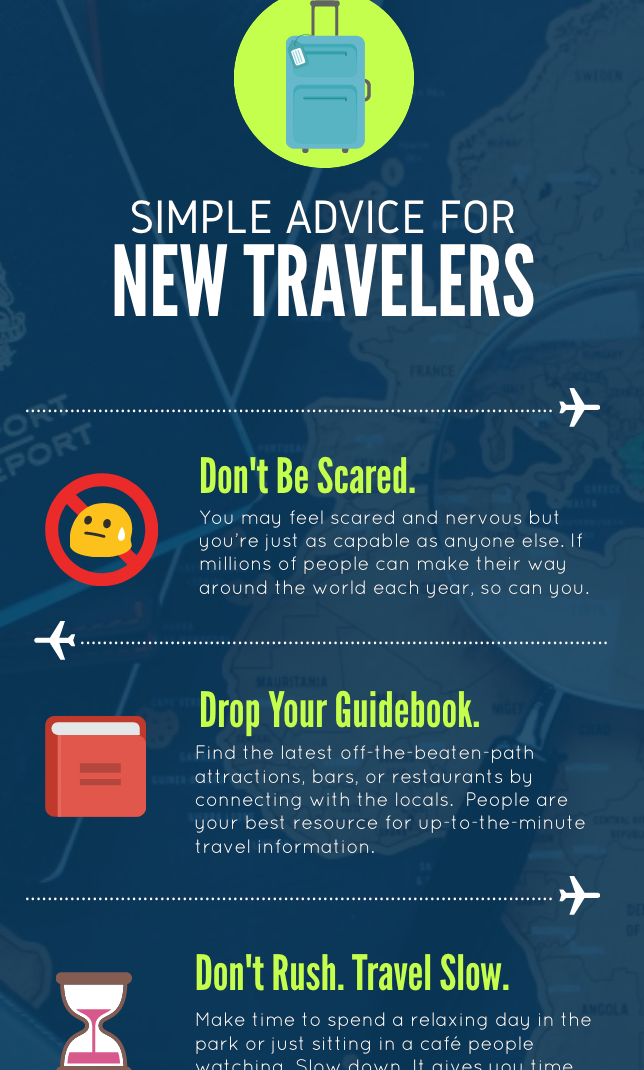 This format also allows you to provide several actionable tips of information within each subsection.
7. Fast Facts
Want to share a lot of information in brief snippets really quickly? Our fast facts infographic template is the way to go.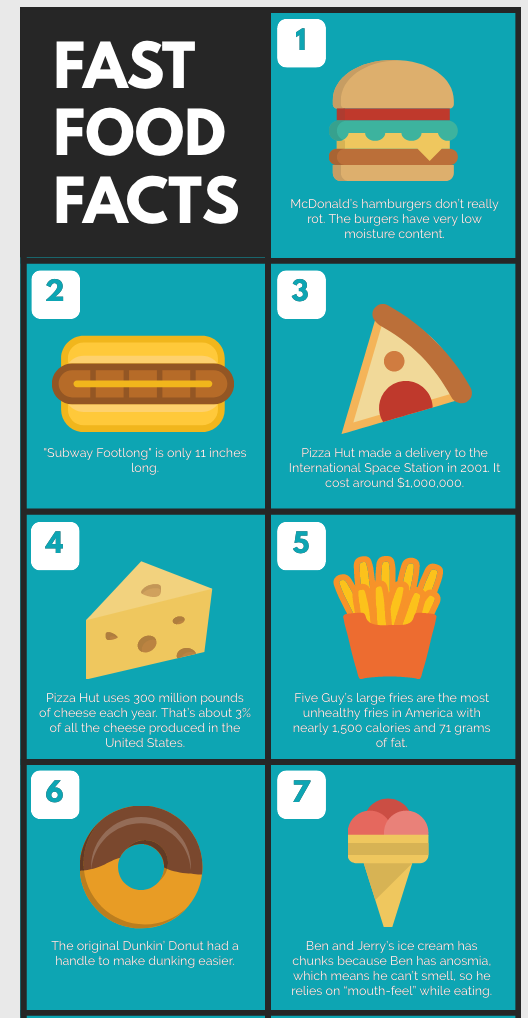 This is your chance to share all the fun facts of your industry. Because the infographic is divided up into distinct sections, they can be unrelated and it won't feel disjointed. There's also plenty of room for large graphics, making the infographic more visual, or shrinking them to add more text.
8. The Statistics Conveyer
Statistics can strengthen any blog post, and the same is true for infographics. Infographics filled with stats are often highly shared, because they contain large amounts of valuable data in compact, easy-to-scan formats.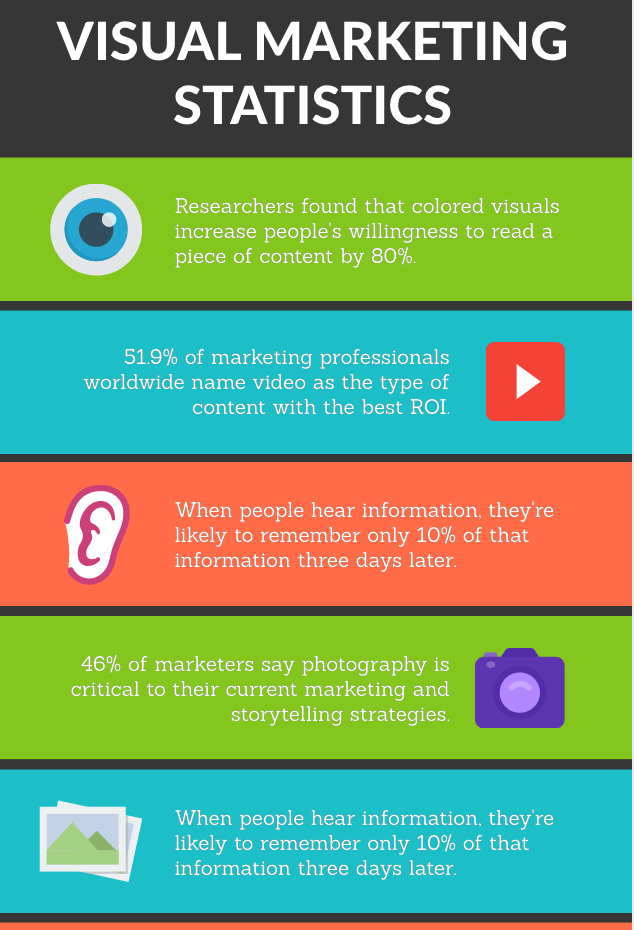 Statistics are valuable on their own, but you can increase the likelihood that your infographic will be shared by making them visual. They aren't that visually interesting on their own, after all, and it is an infographic so it must be aesthetically pleasing. Make use of Snappa's excellent graphics to keep it interesting.
9. The Multi-Sectioned Infographic 
Some infographics need to be divided up into multiple, distinct sections. Maybe one part has a fast-facts section while another features statistics, or maybe you want to break it up into different subject headings.
Finding an infographic template that's already divided up will save you a lot of work.

This Snappa template is statistics-oriented, for example, but there's still room in several places to elaborate on the information being shared. It also breaks down the statistics based on subject and category of information, making it quicker to read and create.
Don't Forget to Add Your Logo
Last but not least, we want to leave you with one more important tip: make sure you add your logo to every infographic you create. Sometimes content isn't shared correctly online, so by adding your logo and/or brand name to the bottom corner of every infographic you post online, you'll guarantee that you'll still be getting credit for your work and building brand awareness.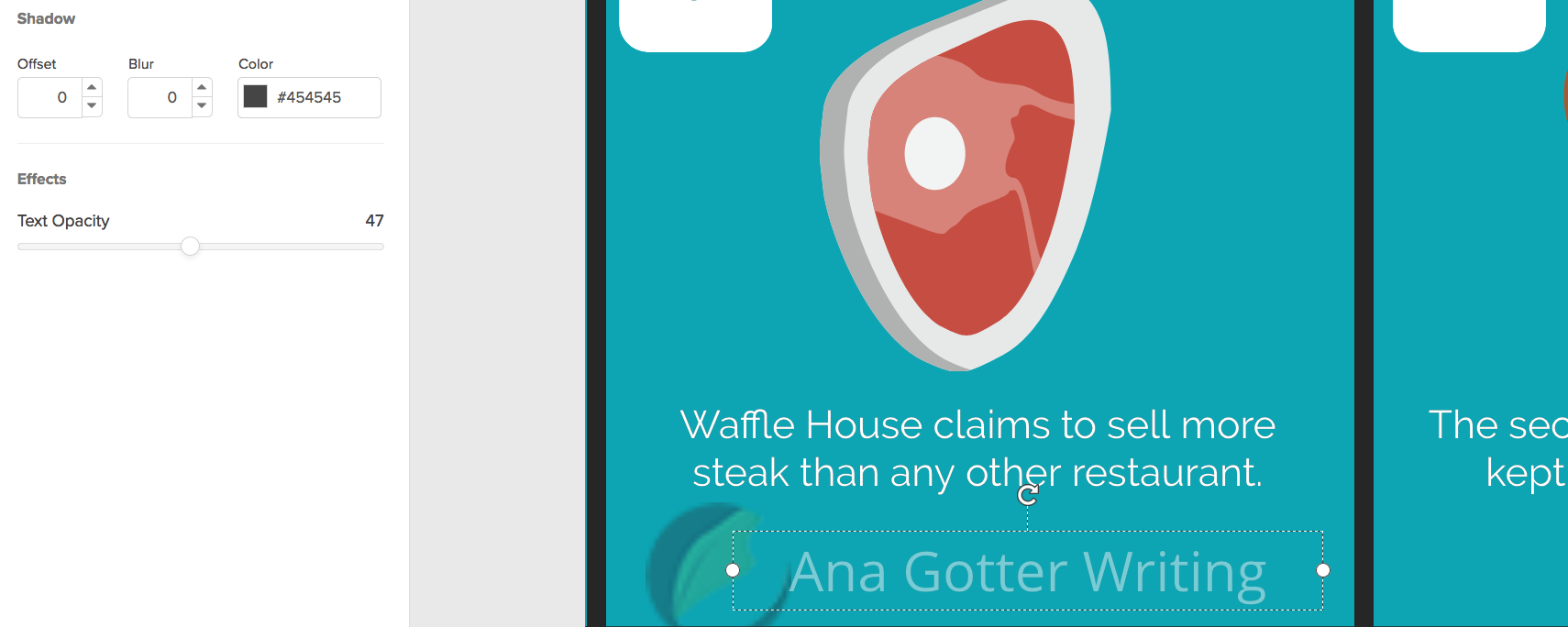 On Snappa, you can upload custom graphics. You can also adjust opacity of text and graphics to make it look more like a watermark if you want to make the branding more subtle while still guaranteeing that your name will be on it wherever it goes.
Final Thoughts
Infographics can yield huge results, and these 9 templates have made this powerful medium instantly accessible to all small and medium businesses, even if they're on a tight budget. If none of these match quite what you're looking for, remember that Snappa has plenty more templates available to choose from, so browse through the library to see what will work best for you.
Are you ready to make your next viral infographic? Sign up for your free Snappa account and get started.